Erica Mena has been making headlines for all the wrong reasons. Following a controversial incident involving the reality star and her co-star Spice, reports now indicate that she has been fired from her role on Love & Hip-Hop: Atlanta. 
Erica Mena Terminated & Cancelled
After recently facing immense backlash for spewing a racial slur toward her co-star, Spice, Erica Mena has been fired from the set of Love & Hip-Hop: Atlanta. On Saturday, September 2, Love & Hip Hop made an official statement on their Instagram account, addressing the issue. They stated: 
"The Love & Hip Hop franchise has never shied away from hard conversations in our community. Working hand-in-hand with our partners, viewers will see the impact of Erica Mena's remarks play out in the final three episodes of the season. Effective immediately, she will not appear in the next season of Love & Hip Hop: Atlanta." 
Mona Scott-Young, the producer of Love & Hip Hop, also weighed in on the situation indirectly. She posted on social media, "Handled," before promptly deleting the post. 
Fan reactions 
Fans of the show had mixed reactions to the news. 
One fan commented, "Also ya'll fired Erica Mena but Evelyn Lozada is still appearing on the next season of Basketball Wives after doing the same thing to OG. The selective outrage is annoying af." Another user wrote:
"I am so glad Erica Mena was fired. Well overdo in my opinion. There should be a permanent ban on her. Actors were fired from Grey's Anatomy due to slurs as in the past. Let's elevate the network's decision and protect it. Racial discrimination is prohibited and should never be tolerated. Colorism is a problem in our community. I know it's hard for ya'll to see consequences for your mouth but this isn't 2013 anymore."
Lil' Scrappy Retracts Support For Mena
However, there were those who came to Mena's defense, including rapper and reality star Lil Scrappy. Taking to Instagram Live he stated: 
"I think that's pretty bozo of them to fire somebody after they set sh*t up. They set you up and put you.. they get you all hyped up." He additionally stated: "I don't "f*ck with Erica" and thought it was a bad move for the show. "
He later backtracked on his comments, exclaiming:
"I just seen the clip and that sh*t's f*cked up. You know, I don't ever want to wish someone to be fired or put in jail or dead," He then added on saying that Erica was "wrong," saying that "Colorism is real. We do know that. Racism is real. Hate is real."
Updated By: Yasmine Duhé (9/5/23 at 6:47 pm)
Erica Mena Faces Backlash For Using Racial Slur –Is The Reality Star Racist?
Erica Mena is under fire for using a racial slur against co-reality star Spice, during a recent episode of Love and Hip Hop: Atlanta. The heated exchange between Mena and Spice occurred during a sit-down arranged by their co-star, Shekinah. 
The Breakdown
Erica Mena is currently facing backlash after a recent episode of MTV's Love and Hip Hop: Atlanta. During the episode, aired on August 29, the reality star spewed a racial slur at Grammy-nominated artist, Spice.
The initial discussion centered around Mena's ex-husband Safaree Samuels, and his emotional response to Spice's health scare versus his lack of emotion during their divorce. In response, Mena said: 
"Your friends and he felt that way; I was his wife and he felt nothing." Mena explained. 
Spice then responded by saying:
"You feel like you're the first woman to be divorced, and you're the first woman to be left with two children to fend for. I've been doing this for 14 years, welcome to the club."  
Erica then countered, "I've been doing it for 16." 
Erica Said What?!
Continuing the exchange, Spice responded to Erica by pointing out that Mena's firstborn doesn't like her, while her own son loves her. As the argument escalated, Mena flipped the table in frustration. She then exclaimed, "That b*tch should have died!" referring to Spice's hospitalization. 
Spice retaliated by repeatedly stating that Mena's son dislikes her. Following this, Mena directed a racial slur at Spice, saying: 
"You monkey, you f*ckin blue monkey."
Soon after, the Stepmother star then proceeded to get in the car, mimicking monkey noises. 
Erica Mena's Past Racist Behavior
The recent incident has sparked outrage on social media, with many calling Mena out for her racist behavior. 
One user wrote "Erica Mena is a white latino racist cosplaying as black woman. To call THEE Spice BLACK & MONKEY then a BLUE to say she should have died? YOU DESERVE EVERYTHING THAT COMES TO YOU!! EVERYTHING SINGLE THING!!"
Another user wrote,  "These non-black women want to occupy BLACK spaces, have children with BLACK men then go around calling BLACK WOMEN monkeys whilst making monkey noises. Erica is trash! This isn't just colorism, it is racism"
This isn't the first time Mena has spewed racial remarks. It has been multiple claims of Mena being racist towards Black people over the years:
Erica Mena Blasts Tony Rock & Dehumanizes Jhonni Blaze 
In 2014, she called actor Tony Rock a "monkey" after he insulted her. Mena also referred to reality TV star Jhonni Blaze as a monkey in the same year saying 'Still Monkey Mad." In response, Blaze wrote on Twitter saying:
"You met your match besides calling me a monkey or delusional stripper that twerks."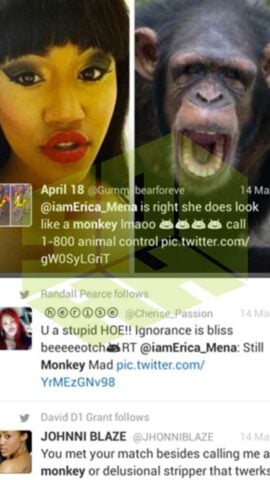 Trouble In Cleveland
In 2015, an incident came to light involving Mena where she was accused of making racist remarks directed at promoters in Cleveland. According to reports, Mena was allegedly overheard by witnesses using derogatory language, stating:
"I don't like working with these black monkeys. I don't usually do business with these black monkeys." 
Erica Continues To Be Racially Degrading 
Following this, it was reported that Erica, upon arriving at the hotel, proceeded to directly address the staff with racial slurs, referring to them as "black, broke, monkeys" and using explicit language. 
Additionally, in 2019, she made derogatory comments about others' children, calling them "nappy-headed."
Kanye West Accused of Being Anti- Semitic
The controversy surrounding Mena's racist remarks highlights a larger issue within the entertainment industry. Many individuals in the limelight have been exposed for their problematic behaviors, including rapper Kanye West, who faced accusations of anti-Semitic mistreatment towards tech entrepreneur Alex Klein.