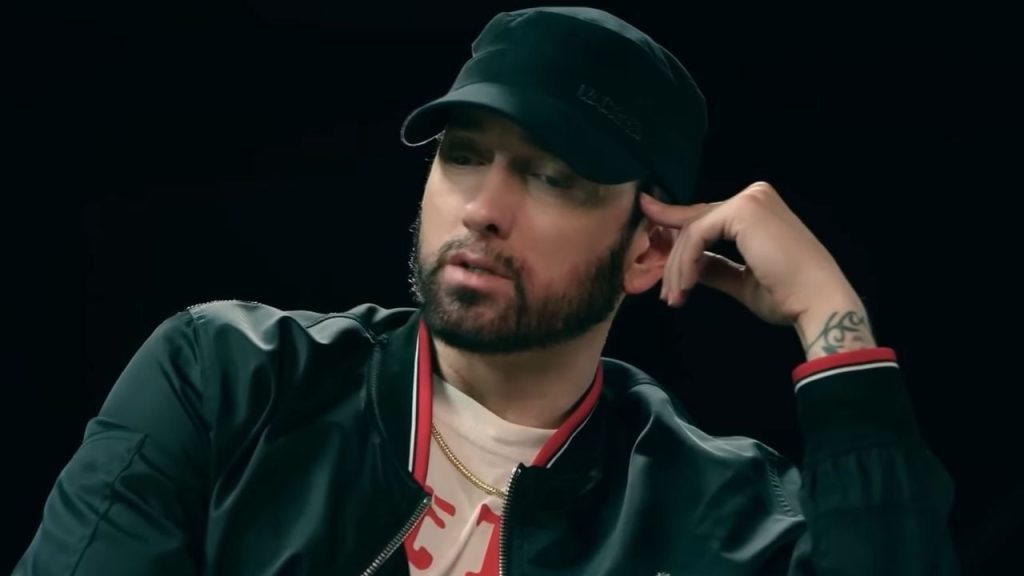 Eminem has sent a cease-and-desist letter to Republican presidential candidate Vivek Ramaswamy, demanding that he stop playing his music during campaign events. According to reports, the legendary Detroit rapper has now revoked future privileges for Ramaswamy to use his music. 
Eminem Slams Presidential Candidate With Cease-and-Desist
Ramaswamy, a Republican presidential candidate, faced backlash from Eminem after using the rapper's hit song "Lose Yourself" during a campaign event at the Iowa State Fair. Following his speech with Iowa's Republican Governor Kim Reynolds, Ramaswamy played the song as his "walkout song" and even rapped the lyrics to the crowd. 
However, Eminem's representatives sent Ramaswamy's campaign lawyer a cease-and-desist letter on August 23 to Ramaswamy's campaign lawyer, demanding they stop using his music.
Eminem's Camp Blocks Use Of "Lose Yourself"
The renowned rapper's objection to Ramaswamy's use of his music was confirmed by a representative for music licensor BMI. The Daily Mail reported that Eminem's camp no longer allows the candidate to use his songs on the campaign trail. This decision prohibits Ramaswamy from utilizing any of Eminem's music in the future.
"Rapper Eminem has objected to Republican candidate Vivek Ramaswamy using his music on the campaign trail," the Daily Mail reported. "A representative for the music licenser BMI informed Ramaswamy's campaign earlier this month the candidate can no longer use Eminem's music."
Ramaswamy Responds
Ramaswamy's spokesperson responded to the letter by stating that the candidate will refrain from rapping and leave it to the "real slim shady." This lighthearted remark showed that Ramaswamy did not harbor ill feelings towards Eminem's objection. 
Additionally, former UFC fighter and commentator Jake Shields commented on the situation, suggesting that Eminem had become "such a dork" while poking fun at Ramaswamy's cool demeanor.
Ramaswamy quoted Shields' post and joked about it while tagging Eminem:
"Will The REAL Slim Shady Please Stand Up? He didn't just say what I think he did, did he?," Ramaswamy said. 
Eminem Slams "Shady" Housewives 
It's not the first time the "Slim Shady" rapper has voiced his opposition to political figures using his music without permission. The rapper has been critical of former President Donald Trump, another Republican, for what he perceives as divisive actions and "brainwashing" his supporters.
Eminem has also previously filed an opposition against The Real Housewives of Potomac stars Gizelle Bryant and Robyn Dixon for using the brand "Shady" in their podcast. He believed it would "ruin" his brand due to his nickname being "Slim Shady." 
Johnny Marines Sends SOHH A Cease-and-Desist Letter
In another cease-and-desist scenario, it was reported that The BreakfastClub co-host DJ Envy and music executive Johnny Marines were involved in a real estate ponzi scheme with real estate flipping company, Flip2DAO. In a cease-and-desist letter obtained by SOHH, Attorney Henry Marines, Esq. categorically denied Marines' involvement.