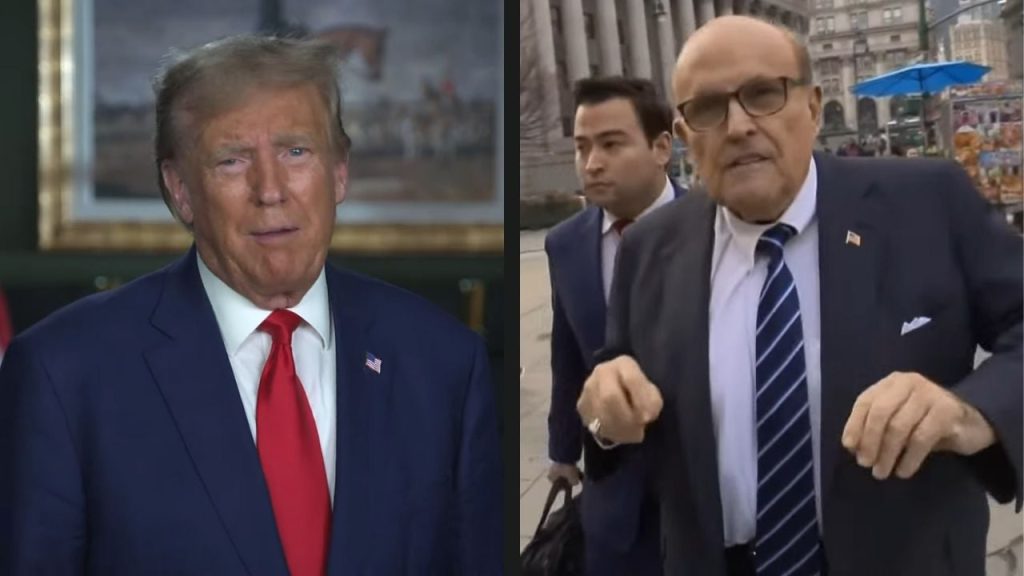 Former U.S. President Donald Trump, currently facing charges under the RICO Act in Georgia, has enlisted the services of Atlanta rapper Gunna's lawyer.  Meanwhile, former NYC Mayor Rudy Giuliani turned himself in to the authorities in Atlanta as part of the same RICO case against Trump.
Trump Hires Gunna's Lawyer 
Donald Trump has officially enlisted the services of Atlanta rapper Gunna's lawyer, Steve Sadow. This move comes after Trump's previous lawyer, Drew Findling, left his legal team. Sadow, who successfully represented Gunna in the YSL RICO case, after he was indicted along with Young Thug. 
While being Sadow's client, the "Fukumean" rapper took a plea deal and was released from jail in December 2022. Sadow has also worked with other high-profile clients in the music industry, including Rick Ross and T.I. 
In a statement to ABC News, Sadow expressed his belief in Trump's innocence and his determination to dismiss the case or have an impartial jury deliver a not-guilty verdict:
"I have been retained to represent President Trump in the Fulton County, Georgia case," Sadow said. "The President should never have been indicted. He is innocent of all the charges brought against him. We look forward to the case being dismissed or, if necessary, an unbiased, open-minded jury finding the President not guilty. Prosecutions intended to advance or serve the ambitions and careers of political opponents of the President have no place in our justice system," Sadow added. 
Trump is facing multiple charges, including conspiracy to overturn the 2020 election in Georgia. He is expected to have his mugshot taken and be released on August 24. 
Giuliani Turns Himself In
Giuliani, on the other hand, was booked into the Fulton County Jail on August 23, and his bond was set at $150,000. During a press briefing following his booking, Giuliani denounced the case as an attack on the American people while a group of Trump supporters gathered outside the jail in protest.
Prosecutors are pushing for Trump's trial to commence by November 3, with his bond set at $200,000. The case has drawn attention and speculation, with many eagerly awaiting the unfolding legal proceedings and their potential impact on the former president and his inner circle.
Updated By: Chris Samuel (8/24/23 at 3:15 pm)
Donald Trump, Former Mayor Rudy Giuliani, Kanye West's Former Publicist & Young Thug Face RICO Charges In Georgia
Former President Donald Trump, former mayor Rudy Giuliani, Kanye West's former publicist, Trevian Kutti, and Atlanta rapper Young Thug all face RICO charges in the state of Georgia. The charges include election fraud, racketeering, and other offenses. 
Trump & Giuliani Indicted
A grand jury in Fulton County has indicted Trump and his associates for election fraud, racketeering, and other offenses related to alleged attempts to overturn the 2020 election results. Rudy Giuliani, known for his initial use of the Racketeer Influenced and Corrupt Organizations Act (RICO), has also been indicted on RICO charges by the Fulton County DA's office for his involvement in supporting Trump's efforts to overturn Georgia's election results. 
The indictments against Giuliani and Trump were reported on August 14th and 15th, 2023, respectively.
Ye's Former Publicist Also Involved In RICO
Trevian Kutti, who formerly served as Kanye West's publicist, also faces charges linked to Trump. 
The indictment alleges that Kutti attempted to intimidate Ruby Freeman, an election worker in Fulton County, Georgia, following the 2020 presidential election. Kutti allegedly visited Freeman's home in January 2021 and pressured her into admitting baseless fraud claims. 
During the encounter, Kutti identified herself as a "crisis manager" and warned Freeman that if she didn't admit to the fraud claims, she would face arrest within 48 hours. These intimidation tactics came amidst Trump's unfounded accusations of election fraud after his loss to Joe Biden.
In other Ye-related news, Patrick Krason, the now-former campaign treasurer for Kanye West's 2024 presidential campaign, recently resigned amid accusations of campaign finance violations and submitting falsified invoices against campaign manager Milo Yiannopoulos. Krason's resignation followed after being hired in December 2022.
Young Thug Currently Facing RICO Charges
Furthermore, Atlanta rapper Young Thug is also facing RICO charges in Georgia. He is accused of conspiracy, participation in criminal street gang activity, as well as drug and gun charges. 
This adds to the growing list of individuals facing legal challenges in the state.
SHEIN Faces RICO Charges 
In a separate RICO-related case, fashion retailer SHEIN, based in China, faces a major legal setback. The company has been hit with a RICO lawsuit that alleges its involvement in a federal infringement scheme.
Originally Written By: Kelci Brown