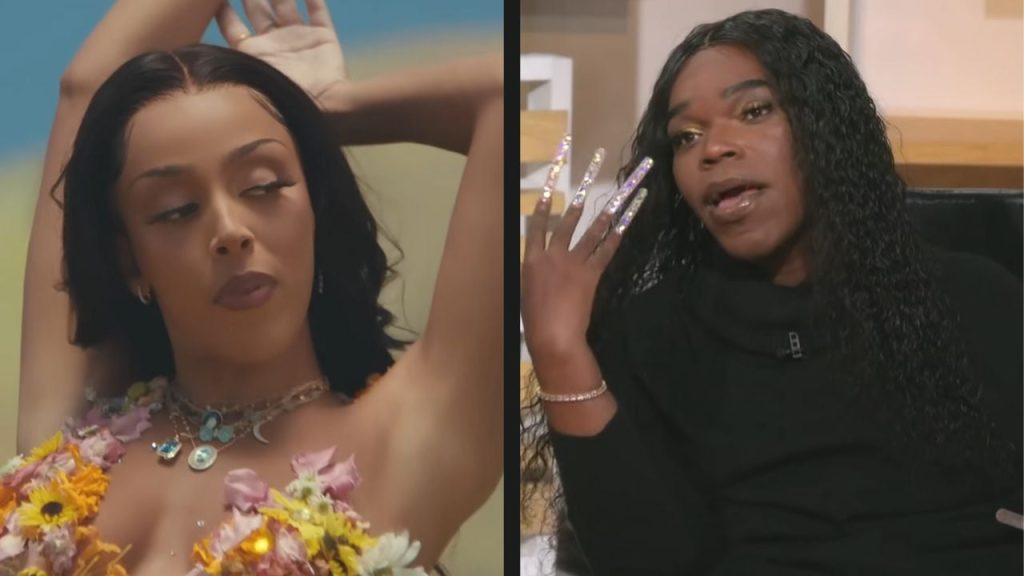 In a recent post on Twitter, Rolling Ray accused Doja Cat, the "Paint The Town Red" singer, of stealing catchphrases from him and Nene Leakes of the Real Housewives of Atlanta. Doja announced that he will be releasing merchandise for his latest single on August 5. 
It's Giving…Thief
Doja Cat is set to release merchandise that reads "I Said What I Said," for her latest single on August 5, but Rolling Ray claims she has taken phrases without giving proper credit.
In a recent Twitter post, Rolling Ray, known for his catchphrases "Bobby I Love You Purr," and "It's Giving," accused Doja Cat of stealing catchphrases from him and reality star Nene Leakes. 
Taking to Twitter, he called out The "Paint The Town Red" singer, saying, "She steals everything, first from the queen of brooklyn (may GOD rest her soul, she deserved better) Me, & now NENE!"
Whose Phrase Is It Anyway?
The phrases in question are "It's Giving" and "I Said What I Said." During a heated argument on Bravo's Real Housewives of Atlanta reunion with cast member Kandi Burruss, Nene Leakes popularized the latter. On the other hand, Rolling Ray has made "It's Giving" his signature catchphrase throughout his career.
However, it should be noted that neither Nene Leakes nor Rolling Ray have trademarked these phrases. However, this isn't the first time the two have had friction. 
In August of 2022, Doja Cat trademarked "It's Giving" for her upcoming clothing line, sparking a dispute between her and Rolling Ray. 
Rolling Ray Says Doja Still Owes Him
The disabled influencer also revealed through a recent tweet that Doja Cat had agreed to give him a percentage of the earnings from the merchandise featuring his signature catchphrase. However, he has not received compensation or heard back from Doja Cat's team since their private conversation on Twitter.
Rolling Ray tweeted:
"Tea gets deeper with @DojaCat! We even talked about me getting $ & Merch but I never even Received that which she said she'll discuss & ship out with her team. I never got a tracking email, notification, dm nor any monetary gains! I moved & even gave her my new address & nothing!"
Updated by Dre Barnes on August 8th, 2023.
---
Doja Cat Trademarks Disabled Reality Star's Term, 'It's Giving' For New Clothing Line; Social Media Reacts
Disabled reality TV star Rolling Ray isn't happy about Doja Cat not asking for permission to trademark his term "It's Giving."
Doja Cat has responded to Rolling Ray's claims on Twitter and told him to check his dm. 
Rolling Ray took to Twitter yesterday to call out the Planet Her artist for trademarking the term "It's Giving."
The "Tia Tamera" rapper used the phrase "It's Giving" for her latest clothing line. 
However, Rolling Ray is the originator behind the term, "It's Giving." 
He was first recognized for using the term while doing a reaction video for the new Popeyes chicken sandwich in 2019. 
The "It's Giving" creator was upset that the pop star used the term without his permission. 
The disabled reality tv star stated on Twitter,
"This bitch said let me steal from this handicap black bitch & copy righted my saying uh whole year ago !! Lord I'm tired of fighting" 
The influencer also retweeted what fans had to say about the situation 
One fan on Twitter said:
"Lots of anti blackness and ableism in the quotes. All this over a byerachel?"
Another fan tweeted a thread based on the situation stating:
"Rolling Ray popularized It's Giving and "it's giving/not giving what it was supposed to have gave". We all know this. No one should pretend to be confused – idk why he didn't trademark it, but I do know trademarking isn't cheap."
Meanwhile, it looks like the two have resolved the situation.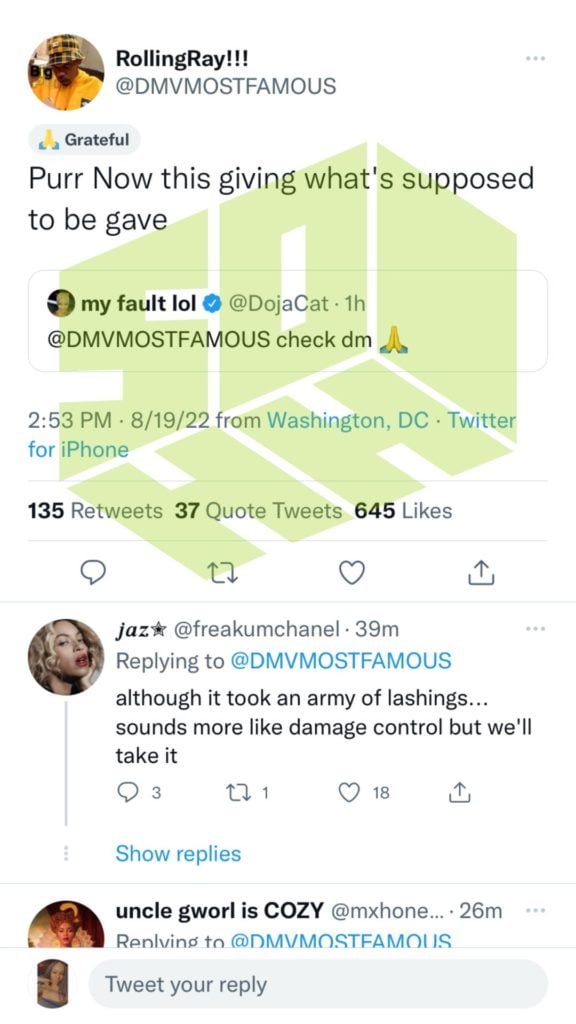 Doja Cat Announces Clothing Line Called  "It's Giving"
Yesterday, Doja Cat announced she would be taking on a new business venture. 
"Its Giving" clothing store is coming soon. 
The pop star dropped the official website where fans can pre-order and sign up for updates when the line officially drops. 
All items will be shipped on September 30.