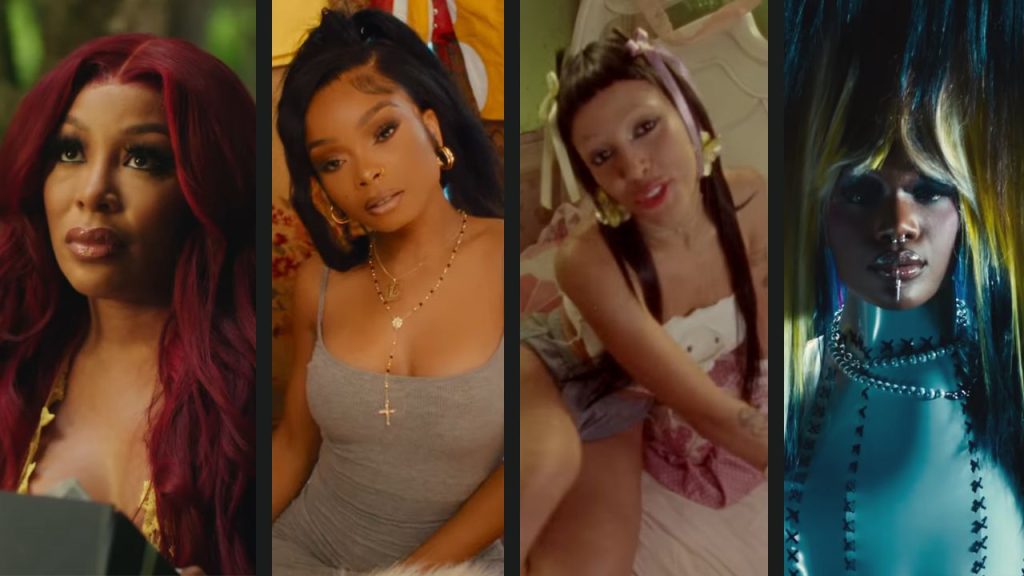 It has been a jam-packed week with the ladies taking over. Doja Cat drops her fourth album, Scarlet, Lola Brooke teams up with Bryson Tiller as she pays homage to Lil Kim, Doechii taps into her rager side, and more!
Doja Cat Plus Two
The "Streets" rapper's highly anticipated fourth studio album, Scarlet, is generating increased excitement among fans as she unveils new surprises. 
The Planet Her artist has recently included two fresh tracks in her eagerly awaited album, set for release on Friday, September 22.
Lola Brooke x Bryson Tiller: 'You'
The "Don't Play Wit It" rapper has released a new single title "You" featuring the "Trap Soul" artist, Bryson Tiller. In the music video, Lola can be seen tapping into her feminine side as she sips on a glass of wine. 
The feel of the music video is similar to Lil Kim and Lil' Cease's "Crush On You," with just enough down beats for her raps but just enough melody for the "Don't" singer's singing vocals and harmonies. 
Doechii Drops 'Pacer'
On September 19, 2023, the "What It Is" artist released her new single titled, "Pacer." Doechii seems to be tapping into her inner "rager." 
Since the release of her new single, the song has garnered over 90,000 views on YouTube. 
Rihanna Shares First Pics Of Riot Rose
Rihanna and A$AP Rocky have recently delighted fans with the first images of their second child, Riot Rose. This heartwarming photoshoot captures the couple, along with their older child, RZA, enjoying beautiful moments as a family of four. 
Rihanna and A$AP's second child, Riot Rose, was born in Los Angeles on August 3, 2023, in Los Angeles. The birth of Riot follows the celebration of RZA's first birthday, which occurred in May 2023. 
Lizzo Receives The Quincy Jones Humanitarian Award 
​​
On September 21, Lizzo received the distinguished Quincy Jones Humanitarian Award from the Black Music Action Coalition (BMAC). This noteworthy recognition comes after serious allegations by her former dancers, casting the artist in a more positive and philanthropic light.
Kamala Harris Celebrates Hip-Hop
VP Kamala Harris recently marked the 50th anniversary of hip-hop with a high-profile celebration. The event, coordinated by the Recording Academy's Black Music Collective and Live Nation Urban, was designed to recognize the genre's profound impact on American culture.
Beyoncé Touches Down In Houston
The City of Houston will be throwing a "Welcome Home" event for Queen Bey, who is scheduled to perform at the NRG Stadium in Houston, Texas, as part of her highly-anticipated Renaissance World Tour on September 23rd and 24th. 
Megan Thee Stallion will reportedly join Queen Bey on stage during the Renaissance Tour in Houston, TX. The collaboration is no surprise, as they both hail from Houston. 
BONGOS To The Top: Possible Stallion & Bardi EP 
After almost two weeks since its release, Megan Thee Stallion and Cardi B's new single "Bongos" has quickly risen to the top of the music charts. ​​On top of their achievements, the Houston Hottie has recently unveiled that the two musicians are collaborating on an EP, adding to the excitement for fans. 
In addition, The "Plan B" rapper also appeared in a new Flamin' Hot Cheeto commercial, which presents a new limited edition packaging for both Flamin' Hot Doritos and Cheetos.
Janet Jackson Celebrates 34th Anniversary Of 'Rhythym Nation 1814'
Janet Jackson recently celebrated the 34th anniversary of her groundbreaking album, Rhythm Nation 1814. Released on September 19, 1989, the album showcased Jackson's artistic growth and tackled severe social issues such as racism, poverty, and substance abuse. 
Missy Elliot Supports Flyana Boss… AGAIN
Missy Elliott recently took to her Twitter account to announce her collaboration with Flyana Boss on their popular hit, "You Wish." This thrilling collaboration follows a moment where the prominent Virginia rapper defended the Los Angeles rap duo amid inquiries about their promotional strategies.
Flyana Boss Scores Brand Deal With Pizza Hut
Flyanna Boss has gained immense popularity on social media for their catchy rap songs and energetic performance, where they are notably seen sprinting and rapping in different locations. 
In the new Pizza Hut ad, the duo promotes the franchise's pizza melts while showcasing their lyrical rap skills in the jingle. The duo recreated their viral video, which garnered millions of views and made them overnight sensations. To add to the excitement, the duo will release a new song on Monday, September 25, titled "B**** Ima Star."
Halle Bailey Nominated For Oscar
Disney has submitted Halle Bailey for an Oscar nomination for her role as "Ariel" in the live-action film The Little Mermaid. This marks her first major nomination, with her last nomination being for a NAACP Image Award for her role in Grown-ish. 
JT x Beats By Dre
City Girls' JT has ventured into new territory by collaborating with Mowalola for the latest Beats By Dre campaign. In a striking avant-garde headshot, she sports vibrant rainbow-inspired hair and dons the headphones over one eye. 
Victoria Monét Graces Galore Magazine's Cover
Victoria Monét's Jaguar II Tour, which made a memorable stop in Charlotte, North Carolina, leaving a lasting impression on countless fans in attendance. The venue was jam-packed with fans, creating an electric atmosphere where personal space became a luxury. 
Additionally, on September 20, the Jaguar II artist announced her accomplishment of being featured on the cover of Galore Magazine, where she sports a Barbiecore fashion statement.
Congratulations, Angela!
Blac Chyna, real name Angela White, recently appeared on the Tamron Hall Show to celebrate her one-year sobriety. In an emotional moment, Angela was joined by her mother, Tokyo Toni, who came out to show her support. 
During the interview, Angela and Tokyo Toni delved into their relationship as mother and daughter, revealing a deeper connection.
Alicia Keys To Be Honored
Alicia Keys among others will be honored by the Black American Music Association at the inaugural ICE Medal of Honor celebration. The event will occur at Morehouse College's Ray Charles Performing Arts Center. 
The "Unthinkable" singer will receive the Ella Fitzgerald Gold Standard Award for her outstanding contributions to music.
Sexyy Red x 'Rap Sh!t'
Sexyy Red's music is making waves as her track "No Panties" is set to feature in the soundtrack of Issa Rae's hit series, Rap Sh!t, in its highly anticipated second season. Her new song is scheduled to be released on September 27 and will make its way to the soundtrack. 
To add to the bag, the "Pound Town" rapper released a new single with Moneybagg Yo and CMG The Label called, "Big Dawg." The video has garnered over 67,000 views within 3 hours of its release. 
SOHH family, check out these ladies' latest projects and congratulate them on their achievements. Have an awesome weekend!