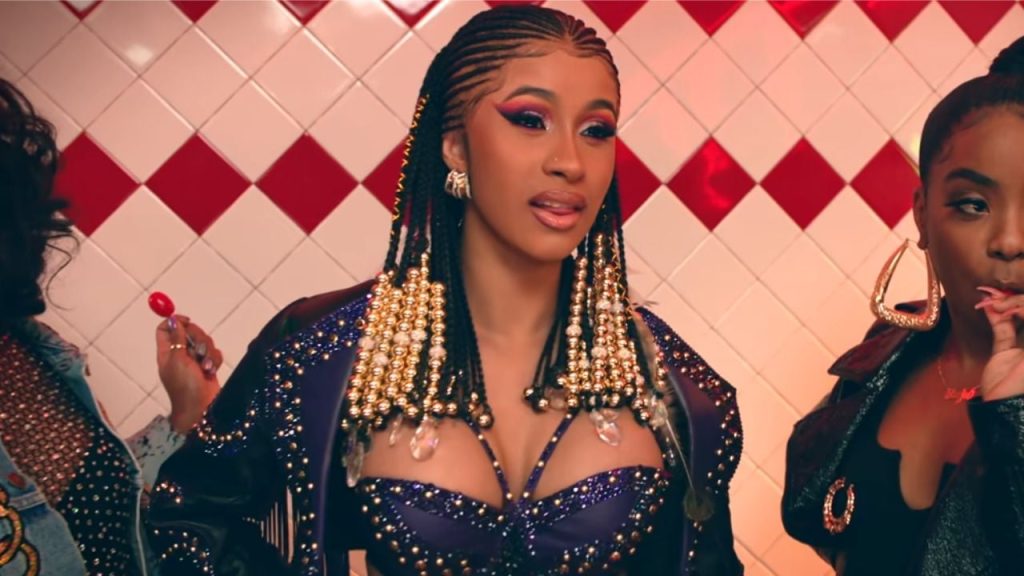 Cardi B has continued to take legal action in federal court against Tasha K, who owes the rapper $4M in damages. Recently, the Bronx rapper filed a suit as part of the gossip blogger's bankruptcy proceedings, urging the judge not to dismiss the debt. This comes after Cardi won a defamation lawsuit against Tasha in January 2021.
Cardi's Collection Efforts Halted
Tasha K's YouTube videos spread harmful lies about Cardi, including allegations of having an STD and working as a prostitute. The Bronx-bred rapper testified in court that these false claims caused emotional distress and strained her marriage. 
Ultimately, the jury awarded Cardi, whose real name is Belcalis Almánzar, $1 million in general damages, $250k in medical expenses, $1.5 million in punitive damages, and an additional $1.3 million for her legal fees.
According to court documents obtained by RadarOnline.com, Tasha's bankruptcy filing has temporarily halted Cardi's collection efforts. In her bankruptcy petition, Tasha listed her assets in the $50k-$100k range, while her liabilities range from $1 million to $10 million. 
Tasha K's Earnings
Her assets include a 2021 Chevrolet Silverado, furniture worth $2750, electronics worth $500, clothing and accessories worth $2,500 (including two Louis Vuitton purses and a Coach bag), and $6k worth of jewelry, including her engagement and wedding rings. The YouTuber's bank account currently holds less than $100. 
Tasha K claims to earn $13k monthly from her content creation, with an additional $17K from her partner, leaving a surplus of $7k after expenses.
Cardi's attorney, James Moon, has requested to be informed of all legal updates concerning the case. The Grammy Award-winning artist has also demanded that Tasha appear for an examination of her financial records. Currently, Tasha has not commented on the lawsuit but recently posted a photo of herself with a smile, hoping to "attract as much money" as possible to pay off her debt.
Updated by Avee Sims on August 10th, 2023.
---
Cardi B Garnishes Tasha K's Bank Account For Over $3M Over False Statements
Cardi B has made moves to collect the $4m in damages the court awarded her in the defamatory suit against popular gossip blogger Tasha K.
In a new update on the tussle between the two, the Invasion of Privacy artist has begun the process of garnishing the celebrity blogger's assets and wages for over $3M.
The "Up" rapper demanded that Chase Bank hold all of the blogger's money and property until the amount owed is paid.
Tasha K has since pleaded with the judge who handled the civil suit, asking for a stay of execution. 
The appeal is still pending, and there has not been a decision on the stay of execution.
Tasha K Says She Won't Pay Cardi B
Meanwhile, in the immediate aftermath of the ruling, Tasha K made it very clear she has no intention of paying the rapper.
Tasha K Mocks Ruling, Plans To Appeal Cardi B's Lawsuit
The "Unwine With Tasha K" YouTube blogger joked during an interview that she does not have any money to pay Cardi B and plans to appeal the court's decision.
In an interview with hosts Kendall Kyndall and Kendra G, Tasha K jokingly said she "aint got it" when asked about paying the $4 million Cardi B was awarded in the libel lawsuit.
Cardi B filed a suit against the Youtuber for spreading malicious lies about her, including claims the rap star had a sexually transmitted disease and was a prostitute.
When asked if her Youtube checks would be enough to settle what she owes to Cardi B, she replied, "It's good, but I got two children."
Cardi B got wind of Tasha K's intention to stiff her on the money and immediately replied on social media with, "BBHMM" (Bitch Better Have My Money).
Cardi B Slanderer Tasha K Responds To Lawsuit Verdict: "No LIES Were Told On Anyone"
Cardi B won her defamation case against the blogger back in January.  She was awarded $1 million in damages including "pain and suffering and/or reputational injury."  She was also awarded attorney fees, amounting to $1.3 million.
Tasha K has been ordered to pay $1 million in punitive damages and Kebe Studios LLC has been ordered to pay $500,000 in punitive damages.  The gossip blogger was found liable for defamation, invasion of privacy, and intentional infliction of emotional distress by a Georgia judge.
However, Tasha K has refused to accept defeat. In an animated rant on social media, she denied and negated it all.