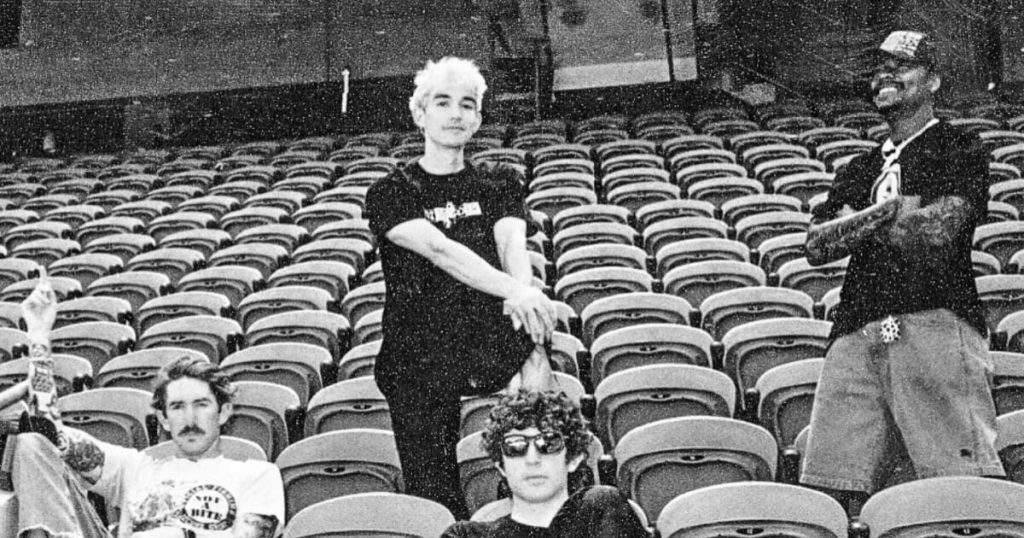 Turnstile and BADBADNOTGOOD Unite on New EP 'New Heart Designs'
Alex H. Krinsky on August 11, 2023
Photo by Alexis Gross
In a fresh fusion of genres, hardcore band Turnstile and the jazzy, psychedelic, hip-hop-adjacent Toronto group BADBADNOTGOOD have joined forces to release a transformative EP titled New Heart Designs. The unexpected collaboration, which was released this morning, comes two years after Turnstile's album Glow On, which catapulted the Baltimore quartet to unprecedented levels of visibility within the hardcore scene.
During the past two years, Turnstile have toured relentlessly, captivating audiences worldwide. However, fans have been eagerly awaiting new music from the band. The wait is over, although the definition of new music takes on an entirely different meaning with the release of the collaborative effort.
The EP features revamped versions of three tracks from Glow On: "Mystery," "Alien Love Call," and "Underwater Boi." The songs have undergone a complete metamorphosis under the influence of BADBADNOTGOOD's unique musical stylings. The result is a departure from Turnstile's traditional hardcore sound, instead delving into the experimental and genre-defying realm that BADBADNOTGOOD is renowned for.
Turnstile's vocalist, Brendan Yates, lends his unmistakable voice to the EP, serving as a familiar anchor amid the sonic exploration. Despite this, the collaboration has produced a sound that is markedly different from Turnstile's signature style.
The release of the EP is accompanied by a visually stunning music video filmed and edited by Alex Henery. The video seamlessly weaves all three tracks, with black-and-white footage of live performances providing a raw journey that complements the auditory exploration of the two group's sound and style.
Watch and listen to New Heart Designs below.