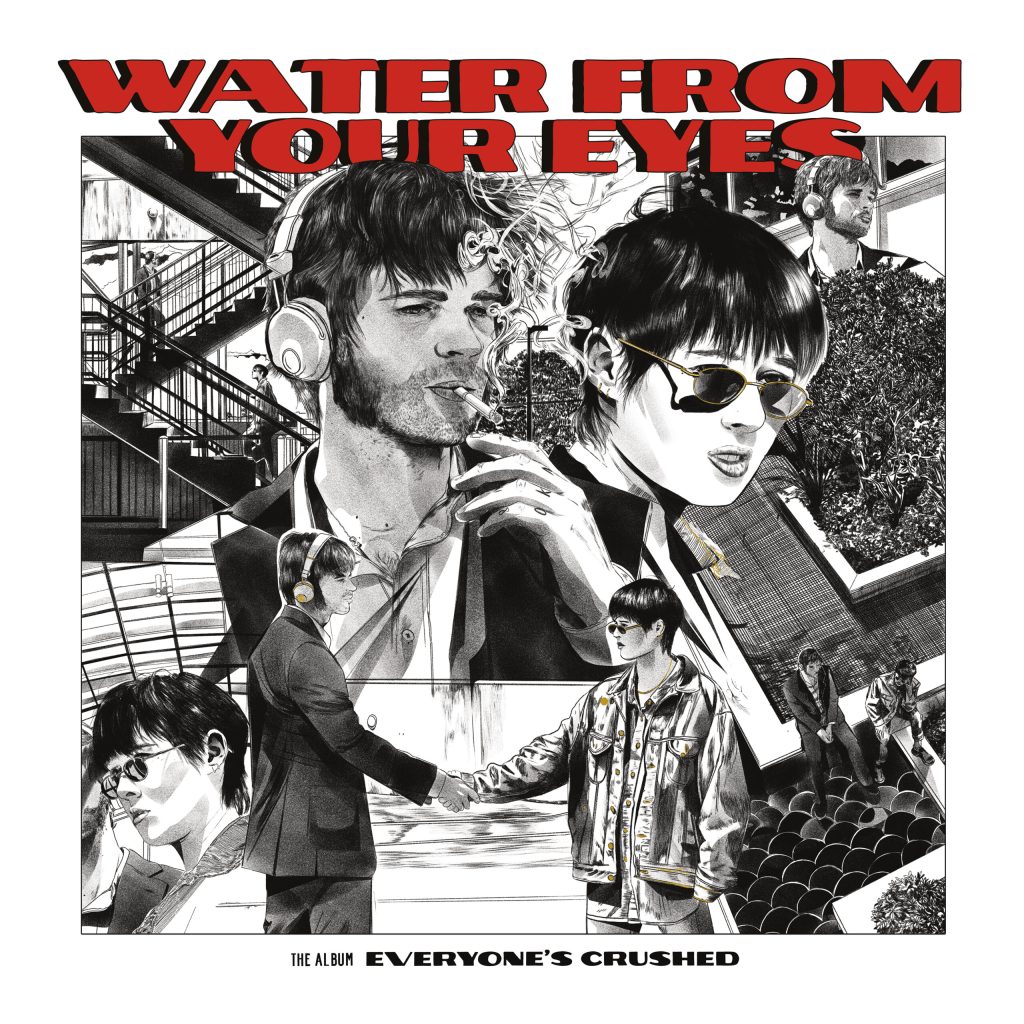 On Everyone's Crushed, Brooklyn duo Water From Your Eyes continues to carve out a distinctive path with a refreshingly original album that feels much more like a storming debut than their sixth full-length.
Nate Amos and Rachel Brown started writing music together in Chicago, 2016, over a conversation about Power, Corruption & Lies. Since then, Water From Your Eyes' evolution has amassed a back catalogue which capably covers a ridiculously broad range of genres, from electronic dance, folk, jazz, beat poetry, indie rock and more. Their breakthrough album, 2021's Structure, hinted at great things to come with a killer combination of silliness and fatalism intertwined with left-field pulsating rhythms and deadpan lyrics. Everyone's Crushed feels much more than the culmination of these past releases though, with confident strides toward a sound that is uniquely their own: an electrifying bricolage of industrial polyrhythms, chunky bass lines, ambient drones, synth strings and neat microtonal mini-riffs, all sliced, diced and repurposed into unconventional song structures. In short, Everyone's Crushed swells and swoons with an experimental sound that is both beautiful and violent, and like nothing else you will hear this year.
Across its nine contrasting tracks, a disorienting journey unfolds as cascading synthetic sounds swirl and collide with Brown's grounded vocal, creating a mesmerising and invigorating splash of artistry. Opening vignette, 'Structure' sets the tone and expectation for the album, with a disjointed, dissonant synth noise circling Brown's words: "praying for rain, wishful thinking for sunny days". Next, the hallucinatory groove of 'Barley' buzzes in, arcing in seemingly random call tones like a failing electrical diode searching for a response. The reply comes in the form of a bluesy country guitar hook which cuts in unexpectedly; a sound that has no place being there, and which worms its way into your ear. 'Out There' starts as a murky post-punk rumba with cheesy dance piano breaks, before shrieking guitars loop in unison around Brown's voice. Then, the steady persistent single kick drum on 'Open' hacks a course through Amos' otherworldly feedback and violent guitar flashes, navigating a bleak inner maze, grasping hopefully towards a friendly flicker of light in the distance.
The title track embodies the rawness and contradictory forces at play on Everyone's Crushed. Like broken clockwork, its constituent parts and instruments jostle out of sync and at odds with each other. Brown ultimately fails to resolve the awkwardness or corral the song into something coherent as their voice disintegrates into cracked facsimiles of itself: "I'm in love with everyone and everything hurts". The song's demonic time signature and structure may be unsettling, but makes sense in the context of an album that is not afraid to expose its listeners to what it feels like to be overwhelmed by life itself. It's a testament to the duo's growth and resilience, having weathered personal storms during its creation. Marking 2021 as one of the most challenging years of their lives, Brown grappled with mental health and a sense of disillusionment as capitalism and establishment politics resurged during the pandemic's waning months, while Amos confronted personal battles with substance abuse, supported by Brown's unwavering presence. The ache of these healing wounds leaks into the songwriting, adding sincerity and perspective to the senselessness, with palpable moments of tension and sadness followed by unexpected levity. Alternating layers of acceptance and frustration are hammered into the album's fabric, reflecting back as a kind of stoic humour with which we can all associate.
'True Life' is a lesson in working with whatever life throws at you. The original chorus paraphrased Neil Young's 'Cinnamon Girl' but after a legal challenge, Water From Your Eyes' post-modern sensibilities were triggered and it became a song about writing a song called 'True Life'. As a lazy bass chugs along, serial killer guitars stab in rhythmic lunges as Brown sings, tongue-in-cheek, "Neil let me sing your song…" Amos also takes over the pen on 'Remember Not My Name' and '14', two songs that he associates with particularly tough periods, but also times where the support of friends and the love you feel for yourself and others you're close to are a lifeline. The beautiful horror of '14' , in contrast to the rest of the album, is a heady, almost baroque cinematic experience, which is sensitively interpreted by Brown's direction in the accompanying video. Their artistic vision, inspired by Meshes of the Afternoon, Last Year in Marienbad and Spirited Away as well as the painting "The Triumph of Bacchus" by Diego Velázquez beautifully captures the act of letting go, a visual representation of the conflicts we carry within ourselves.
Despite the urgency of its fun freaky bass line, there's a superficial buoyancy to closing track 'Buy My Product', masking a numbness to the commercial realities of life in the music industry. Brown bowls it straight down the line: There are no happy endings, only things that happen. Buy My Product". In a last ironic gesture, the song dutifully delivers some of the albums most delicious guitar hooks and beats, a transaction between artist and audience: "I'm spending! I'm spending!"
Six albums in, the real potential of Water From Your Eyes is only just starting to crystallise. Everyone's Crushed is their best collection of ideas to date, blending disparate elements into a harmonious cacophony you can lose yourself to. The exciting thing is that we doubt they've even reached the peak of their inspiring, oddball sounds.
'Everyone's Crushed' is out 26th May, on Matador.
Water From Your Eyes – Everyone's Crushed (Matador)