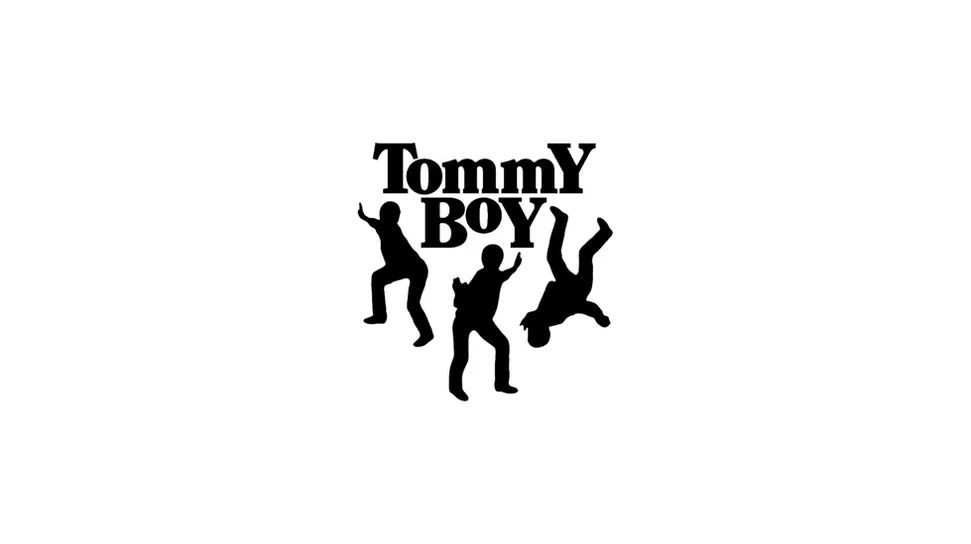 New York, 1981 and dance music magazine publisher Tom Silverman founded the label Tommy Boy Records. Tom created the label from his New York City Apartment, his intent on bringing funk into the electronic age and is credited with helping bring many artists to the fore. This set of tunes celebrates the genre, 50 years after the sound was first credited as having started.
Like life itself, music is an evolution that touches one another. Be you a rock fan, I cite Run DMC's work with Aerosmith, enjoyed the classical touch of Vanessa-Mae who crossed classical compositions and pop music, or entertained by the Latin palette of Andrea Bocelli, the classical tenor, who has found success in not only the classical charts but also the pop and Latin. And this just touches on what has been created in the name of music.
Here you will find a six LP box set, which honours hip-hop's 50th anniversary and features some of the greatest tunes from independent label Tommy Boy. Over these six LPs, you will find 50 tracks, providing nearly four hours of music from some of the genre's greatest luminaries. From Afrika Bambaataa & Soulsonic Force, Queen Latifah, De La Soul, to Naughty By Nature and many more besides. To use the analogy, this is a melting pot, would be fitting. Here the ingenious meet the more traditional, in tunes that reward the creator, as well as those who created what might have been sampled and rewarding all those for their contribution.
Starting with The Kryptic Krew's 'Manhattan Version' of 'Jazzy Sensation'. This possesses nearly six minutes of squelchy '80s synths, which having been released in 1981, appear to have musical shades of late '70s production techniques. This might be considered an awkward doorway into this collection, especially when what follows is a timeless classic. Afrika Bambaataa & Soulsonic Force's 'Planet Rock' and as a lanky white kid, I remember myself and my mate taking over my parent's lounge, in a vain attempt to echo the moves we had seen on Top of the Pops. I say vain, but perhaps that should be 'pain', considering the carpet burns suffered as a result. The '80s were far more than Covent Garden's Blitz Club, although, in our early teens, we were never going to persuade door staff of any club we were anything but. So we stayed at home, practising our cumbersome break moves, until baggy arrived.
Planet Patrol follows, with 'Play at Your Own Risk' released in 1982, they were an American electro-soul band, originating out of Massachusetts, but were a lesser-known sound on this side of the Atlantic. They were to receive minor chart success with their single 'Cheap Thrills' the following year. To my ear, I can hear elements that might have been picked up by British soul and funk band Imagination, but these sounds were if nothing else, refreshing. The air is thick with electronic tones, which at this point echo those heard in TV and film comedies, although here the performance is 100% genuine. Jonzun Crew's 'Pack Jam' is features next, formed in Florida by brothers Michael, Soni, and Larry Johnson, they were little known here in the UK, although in the US R&B charts, had achieved better fortune, until they spit in 1991. This, their first release is filled with electronic menace and beats that spoke of the 1980s. It's nice to see that much of the content compiled, has been provided in full 12" form and allows the listener to immerse themselves in this passage of musical history. Through another slice of Afrika Bambaataa, with early scratching and rap vocals aplenty, this is a lesson in the evolution of Hip-hop from one of the best labels around.
Though Pressure Drop's 'Rock the House', not to be confused with the UK act, provides what I hear to be a Caribbean accent to the vocal, to G.L.O.B.E. & Whiz Kid's 'Play That Beat Mr. D.J.', streetwise musical form, with thick bass and beats, which are another demonstration of music from the early '80s.
As the set proceeds to another year, 1985 gives us G.L.O.B.E. & Whiz Kid again, this time with 'The Beat is from the Bronx'. By this point the art is cleaning up its presentation, with a slick contribution of beats and M.C. vocals, this screams New York's streets and free-styling. As the tune continues, the line "To the beat, you don't stop," is where the collection gained its title. Rock Squad follows with 'Facts of Life' and is somewhat different to the previous number, in that with the bass reduced and the collective vocal raised, this bears shades of The Kids From Fame, a fictional performing arts school, based in New York shown on TV. This time with vocals that echoed social problems of the time, as I hear, "The papers say the people are dying and news about the bomb keeps the young one's crying/Men are equal so they say/But in the end it's nothing but a game we play." So be it drugs, homelessness, unemployment, or war, whether it's Rock Squad's social commentary, or Billy Bragg in the UK, the story is very much the same. They were one heck of an outfit, why they didn't break the UK is anyone's guess.
Moving on, Sweet Trio's 'Non-Stop' is a boon for female rappers. Apart from a contribution on the opening number by Kryptic Krew, the artists had been predominantly male-led, but these were something quite different. Three female MCs, who were quite open about their ability and like Salt and Peppa a few years later, were aiming for the top. Sadly they were another act lost to the annals of time, until now that is. The Fat Boys make an appearance along with Force M.D.s in which the trio reference The Hues Corporation 'Rock the Boat', in an eloquent example of how the 2 arts intertwine, becoming one. Stetsasonic makes the first of three appearances on this set, playing to a beat familiar to the Force M.D.s, rapping "If you can't say it all just say Stet." This appears to be an example of how different compositions borrow from another, creating on the face of it, a new arrangement.
Stetsasonic make two further appearances on the 1986-1989 disc, with the most recognised number being 'Talkin' All That Jazz' a track which like many across the media of music, became recognised through time, climbing to number 1 in the UK dance chart, when it was remixed by Dimitri From Paris 10 years later. Queen Latifah made her debut on Tommy Boy, with the 'Ladies First' single, a number sung alongside fellow female rapper Monie Love. Like 'All That Jazz' is another number noted as being one of the artist's signature songs and who could argue with that? Next is a set of tunes that span the period 1989-1992, starting with De La Soul's debut for the label, 'Me Myself and I'. This is a number which ripped up the conventions of music, with its use of eclectic sampling receiving a Grammy for Best Performance of the single in 1990. At this stage, it is clear that the label was flying high with not just hits released on the label, but tunes that would stencil a mark on popular culture. Following further hits by Queen Latifah, Digital Underground (note the similarity to 'Me Myself And I') and Prince Rakeem's 'Ooh I Love You Rakeem', a number which emphasises the artist's quirks, comes with Naughty By Nature's 'O.P.P.', a tune which without excusing itself samples Jackson Five's 'ABC' on the background canvas, even Michael Jackson's vocal can be heard, if only briefly. This is a wonderful meeting of the two numbers, that just signifies just how influential the label had become. Until now I had no idea that House of Pain's 'Jump Around' was on the Tommy Boy Label, or just hadn't taken notice, as the tune became bigger than the label itself. This tune was nearly 10 years on, from when I had first discovered the genre and although breakdancing in my parent's lounge had long passed its appeal, this time student discos were the place to practice our moves and this was a tune which didn't take too much choreography.
By the time Apache's 'Gangsta Bitch' was released, Hip-hop was becoming more aggressive than the fun of yesterday and was more direct from the outset. I can't disagree with what has been written, as this is how popular culture was going. The music played to a backing of Santa Clause sleigh bells, with a heavy dose of bass and saxophone stabs, this was an ingenious composition. Naughty By Nature appears with another all-time classic, in the form of 'Hip Hop Hooray', which has a sample from Peter Gabriel's 'Sledgehammer' front and foremost in the tune before steady beats start up and drive the number. Another classic tune, that sounds as fresh today as when it was released in 1993. The final two discs span 1993-1996 and 1997-2001 and start with K7's 'Come Baby Come', the artist's debut single found its way to number 3 in the UK charts, higher than it reached elsewhere in the World. A lively tune, which brings the fun back to hip-hop with gleeful abandon. 'Wild Thang' is offered by LeShaun, a slight use of The Troggs 1965 single, then House of Pain's tongue-in-cheek gambit 'Back from the Dead', a far more aggressive number than their debut, but in this case echos the horror genre, well they are back from the dead. Interestingly Coolio's 'Fantastic Voyage' returns to the funk genre, here echoing the sounds of Snoop Dogg, but it's his 'Gangsta's Paradise', sitting at track 41, which as a piece of art will be remembered. A track which features a clever remake of Stevie Wonder's 'Pastime Paradise' is fitting of the world into which the song was born. Here using samples, but going one further and rewriting the original. 'Superthug' by artist Noreaga sampled Blondie's Heart Of Glass', but was sampled itself by Rico Nasty, Janet Jackson and Curren$y featuring Trademark Sky Driver. The remix will have you laughing your togs off, seems a fitting place to leave this lesson in one of music's still-rising genres. You might be surprised to learn that Tommy Boy features a vast catalogue of artists, among those whom we haven't heard from on this set, 808 State and Ru Paul, as well as many more. If you're interested investigation of their website is well worth a visit, this collection however is one hell of a lesson and journey into sound. 
[embedded content]