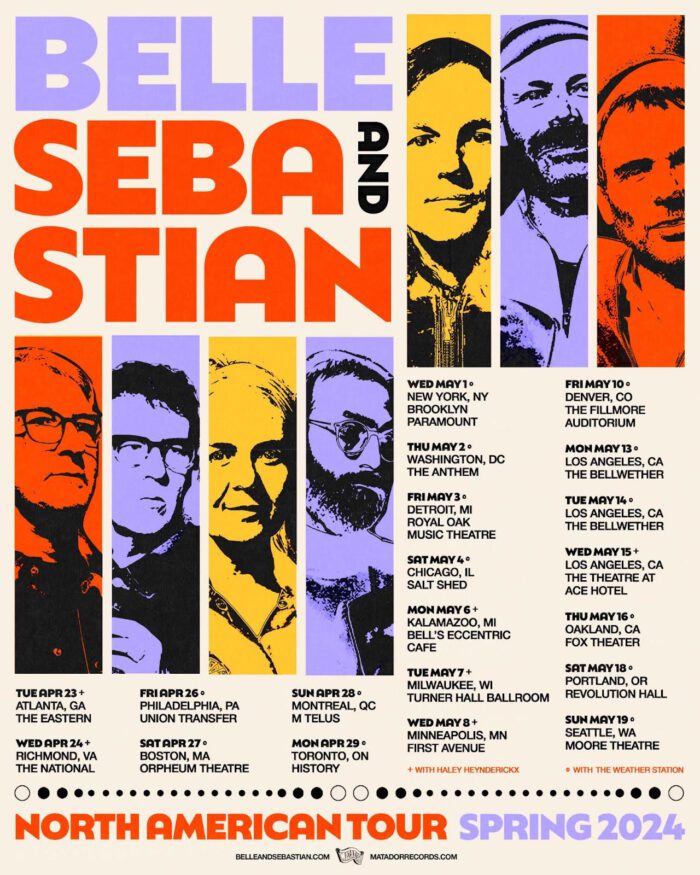 Credit: Anna Isola Crolla
Belle and Sebastian have announced a string of North American tour dates slated for spring 2024. The ensemble, which hails from Glasglow, will set out on the impending run beginning on April 23, 2024, at The Eastern in Atlanta, traveling from coast to coast and concluding the run with a mid-May show in the Pacific Northwest. 
Following the first night on stage, Belle and Sebastian will continue their jaunt with a follow-up on April 24 at The National in Richmond, Va. From there, the band will travel to Boston ahead of ensuing gigs in Montreal and Toronto. After time in Canada, they'll return to the States, performing at the Brooklyn Paramount Theatre in New York, prior to dropping down to Washington D.C.
After spending time in the nation's capital, the group will traverse the Midwest, stopping in Detroit and Chicago before evenings in Kalamazoo, Mich., Milwaukee, Wis., and Minneapolis. May 10 will see the group appear at The Fillmore Auditorium in Denver before three nights at The Bellwether in Los Angeles. 
Moving up the West Coast, Belle and Sebastian will perform at the stunning Fox Theater in Oakland, Calif., on May 16, followed by an evening at Revolution Hall in Portland, Ore., and the final stop of the tour, scheduled for May 19 at the Moore Theater in Seattle. On the road, the band will welcome support from Haley Heynderickx and The Weather Station at select stops. 
Belle and Sebastian's 2024 North American tour dates arrive after the release of their latest album, Late Developers, which dropped in January 2023. Listen here.
For more information and tickets, visit www.belleandsebastian.com.
Belle and Sebastian 2024 Tour Dates:  
Apr 23 – Atlanta @ The Eastern #
Apr 24 – Richmond, Va. @ The National #
Apr 26 – Philadelphia @ Union Transfer %
Apr 27 – Boston @ Orpheum Theatre %
Apr 28 – Montreal @ M Telus %
Apr 29 – Toronto, ON @ History %
May 1 – Brooklyn, N.Y. @ Brooklyn Paramount %
May 2 – Washington, D.C. @ The Anthem %
May 3 – Detroit, Mich. @ Royal Oak Music Theatre %
May 4 – Chicago, Ill. @ Salt Shed %
May 6 – Kalamazoo, Mich. @ Bell's Eccentric Cafe #
May 7 – Milwaukee, Wis. @ Turner Hall Ballroom #
May 8 – Minneapolis, Minn. @ First Avenue #
May 10 – Denver @ The Fillmore Auditorium %
May 13 – Los Angeles @ The Bellwether %
May 14 – Los Angeles @ The Bellwether %
May 15 – Los Angeles @ The Theatre at Ace Hotel #
May 16 – Oakland, Calif. @ Fox Theater %
May 18 – Portland, Ore. @ Revolution Hall %
May 19 – Seattle @ Moore Theatre %
# w/ Haley Heynderickx
% The Weather Station