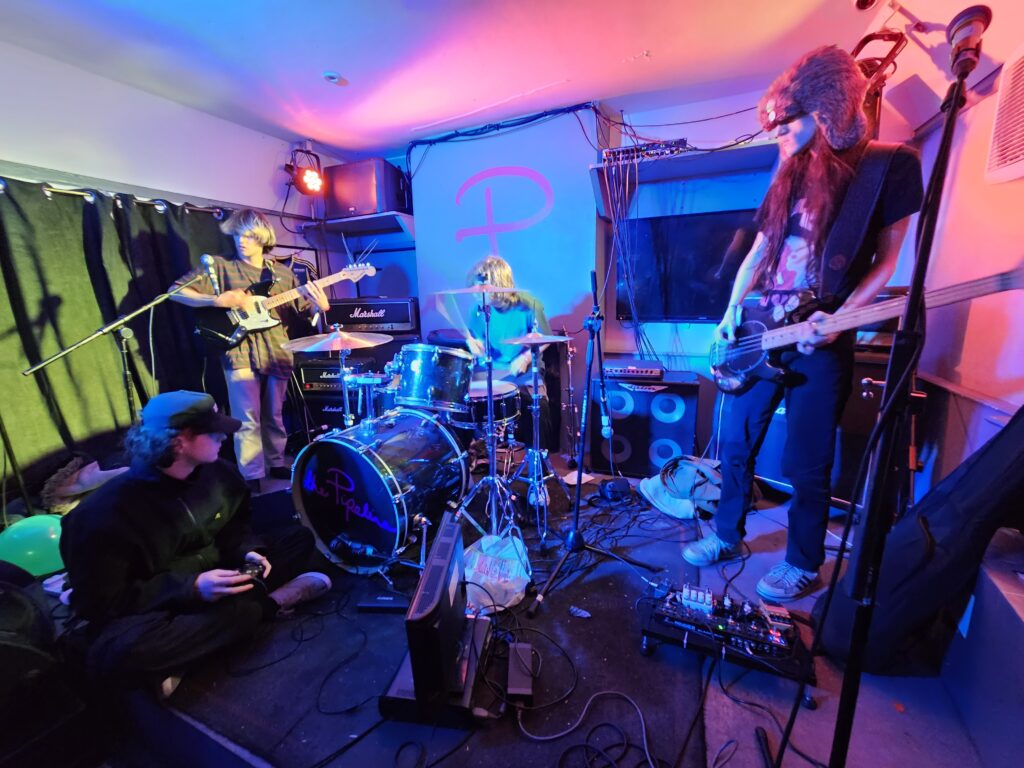 Having already seen University a couple of times live, had a brief chat with the band members and taken a look at their socials, it does feel slightly disingenuous to be writing a review of their debut EP TITLE TRACK after all this 3-piece (or is it 4-piece? more on that later) just do their thing, their way. There is little chat on stage, there is just the music, and what music it is.
Opener 'EDY' is a 90 second blast of intent. Not the most comfortable introduction to a band perhaps but then University have no rules or desire to conform. And with this opening track that is made abundantly clear. The fuzzy electrified white noise gives way to a pained distorted vocal. The soundscape continues with its exaggerated screeching and scrapping, like an old industrial lift, chaotic and jarring.
This is followed by 'Egypt Tune' . Of the track the band say:
"The year is 3099 bce, while searching for "the answer", University stumbled across something that closely resembled it. This song is not it."
The guitar riff does have a mystic vibe about it, and those thrashing thumping drums. Again the vocal is full of emotion and passion. The clicking of the percussion gives a tiny breathing space within the mayhem. Furious and ferocious, the electricity is never too far away and the rhythm is infectious. 'King Size Slim' is a slightly gentler version of university, emphasis on the slightly. The guitar riff is infectious and the drumming is just an utter joy. Its the music that takes centre stage here, although the outburst of the vocal seems completely fitting for the track. This is one that will go on repeat.
Single 'Notre Dame Made out of Flesh' has a rush of energy from the very start.  It takes off at speed and never stops. Rough and raw it's a total buzz, all  thrashing drums and scuzzy reverb fuelled guitars.  The opening lyrics says so much about University: "I don't want to be my Dad".  It's the instrumentation that takes centre stage here.  There are minimal lyrics, just a ferocious soundscape to completely lose yourself in.  And listen right to the end.  Speaking about the single, the band said, "Originally written on a casio keyboard while backpacking North sentinel Island, this rendition is a shameful recreation of a once prestigious and grand concerto."
Final track 'History of Iron Maiden pt.2' begins with pulsating beats and then heads straight into guitars and drums which are wild. However there is a surprising pause for thought and again that clicking percussion. There are limited vocals on this track but again the delivery is from the depths of the soul. The music then seems to fall apart, it sounds like it may just deteriorate completely but then it all suddenly pulls together again. At almost six and a half minutes this final track is University in microcosm, ending back where they started.
University are from Crewe where the band admits there is no music scene. So Ewan (bass / synths), Zak (guitar/vocals), Joel (drums) and Eddie (Xbox 360) play to have fun together, hence including having Eddie gaming onstage. This is not your 3min blast of punk songs – this is something else entirely which doesn't have a name, which is totally fine. University play by their own rules, and seem to be having a complete blast. Their exuberance and energy is infectious and on listening to TITLE TRACK they may just become one of your new favourite bands.
Fore more information on university please check out their facebook and instagram.