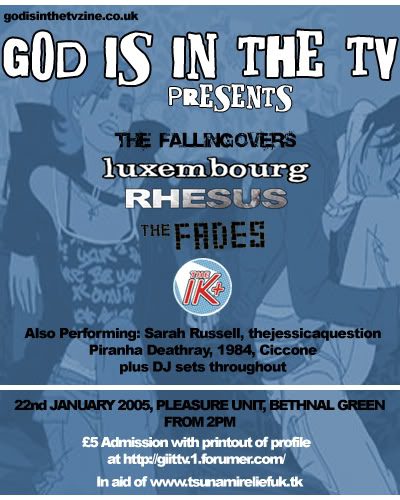 As well as producing twenty years of music writing, we have also been involved in promoting events and worked with other promoters on a range of shows in Cardiff, Newport, and London going back to 2005. In the build-up to our 20th-anniversary event at the Gate in Cardiff on Saturday, we will provide a snapshot of these shows, and some details and memories of these events. I have always believed that GIITTV could be more than a publication it could also be a promotional arm and a label, any way to give a platform to the acts we loved regardless of genre.
As well as general music discussion on our popular forum at the time, we also housed individual band forums for Rhesus, The Fades, Luxembourg, The Sailplanes and the International Karate Plus. At the time we were very involved in the New Cross scene that was exciting us, a real do-it-yourself scene of different bands with individual voices.
Our first event G Spot was inspired and promoted by Jim Rhesus in aid of the Tsunami fund, with a big turnout (picture below) and brilliant acts, this all dayer was our first and perhaps most memorable event featuring all of the acts above as well as headliners The Fallingovers featuring members of Art Brut, plus sets from Ciccone, and 1984 whose lead singer would go on to form Reverend and the Makers. The poster and early GIITTV logo was created by Andy Hunt.
The Fallingovers, Luxembourg, Rhesus, Ciccone, The International Karate Plus, 1984, Gspot – images by Paul Joyzine
Inspired by this success I decided to stage two Cardiff shows at the Toucan club in Cardiff, featuring local acts The Hot Puppies, Strawberry Blondes and Corporation Blend from London. The posters created by Matt Acerman who also helped me promote the evenings.
The second evening featured International Karate Plus and The Vanities from Cardiff and two of our favourite London bands of the time Luxembourg and Nebraska.
Gspot was followed up in 2006 with an event featuring the likes of Video Club, Bridge Gang, The Fades and Dexy and more, as well as returning artists from the first year. This time in aid of Care International.
Pictures Video Club, The Sailplanes, Nakaru, Dexy pictures by Paul Joyzine
In 2006 we released a compilation CD featuring the likes of International Karate Plus, Rhesus, Nakaru, Villette, The Sailplanes, The Gemma Ray Ritual, Rose Kemp, The Swear and more. To celebrate this we ran a series of launch parties featuring acts on the CD and acts we also liked, that weren't. We worked with Peppermint Patti, who were brilliant promoters at Chapter in Cardiff, to put on The Swear and Gemma Ray Ritual who were on the compilation alongside The Victorian English Gentlemen's Club.
In 2008 we ran three events at the newly opened Ten Feet Tall in Cardiff, the first was a memorable sold out night with Edinburgh band Frightened Rabbit. A sold out evening, with a rollicking set I will never forget the band consisting of four fellas staying in my mums front room. Given the sad passing of singer Scott Hutchinson a few years ago this show has taken on sad and mythical connotations in the intervening years. We followed up with events headed by Vessels and Glissando. My vision for shows in Cardiff moving forward was a headliner who wouldn't necessarily get the chance to play here backed by local support acts.
After this I also promoted three shows at the legendary Clwb Ifor Bach, with magic eye posters. I slated an excellent bill and great turn out featuring local noise punks Gindrinker, and Welsh songwriter Alex Dingley alongside Paul Hawkins and Thee Awkward Silences from London and anti folk hero Superman Revenge Squad. I also promoted Orphans and Vandals who were a blog buzz band at the time, backed by Frederick Stanley Star who were a Islet offshoot band. My memory was it was a really good turnout too.
I also promoted three shows at Cardiff's Buffalo Bar including Canadian songwriter Eric Chenaux, My Sad Captains and Popular Workshop.
Swigen was an awesome all dayer we got involved with in Cardiff in aid of Shelter and Oxjam, taking place at the amazing Ebeneezer Chapel venue. It featured the likes of Derrero, Meilir, Golden Fable and Nia Wyn (pictured), amongst many others.
In 2012, I staged a show upstairs at the Moon club in the heart of the music scene on Womanby street. The line up was headed by Canadian band Slow Down Molasses and backed by the much missed Little Arrow.
Mind Fest was an excellent multi venue and multi promoter event we were involved with in 2013, working together with Rock Pie, Making Minds, and Red medicine promotions. It featured with an excellent bill including Gwenno, R. Seiliog, Patrick Duff, Patrick Jones and many more, it was a great if exhausting weekend. Plus, if memory serves we raised over £1000 for Mind
Mind Fest pictures by Ben Gallivan, Heck, The Lash, Francesca Word Salad
In 2013 I put on Scottish band Three Blind Wolves alongside three strong Welsh acts Shy and the Fight, Adelines, and Brothers. It was a brilliant show, although one lesson learnt always give a band a budget for a curry otherwise a five piece will eat all the profits from a show! (laugh)
Love Inks were a buzz band from Texas who crafted very minimal art pop, so when the chance to bring them to Cardiff arose I jumped at the chance. Although the turnout was sparse to be frank, their set was brilliant and I will never forget the entire band staying at my flat and being so grateful for the work I had put into the show, despite the fact they had lost money touring the UK.
Promoting is hard work, it can very rewarding but vey stressful, it's also increasingly hard to make it work financially especially if you are booking out of town bands. So I decided to take a break from solo promoting after that, since then we have worked with Making Minds on a literature and music open mic every month at Gwdi Hw for a few years. We have also picked out showcase artists to perform for our friends at Focus Wales for the last five or six years including Adwaith, Ailsa Tully, Clwb Fuzz, Lydia Maddix, Mary Miller and more.
Which brings us to our 20th anniversary show at the Gate in Cardiff this Saturday. See you there?