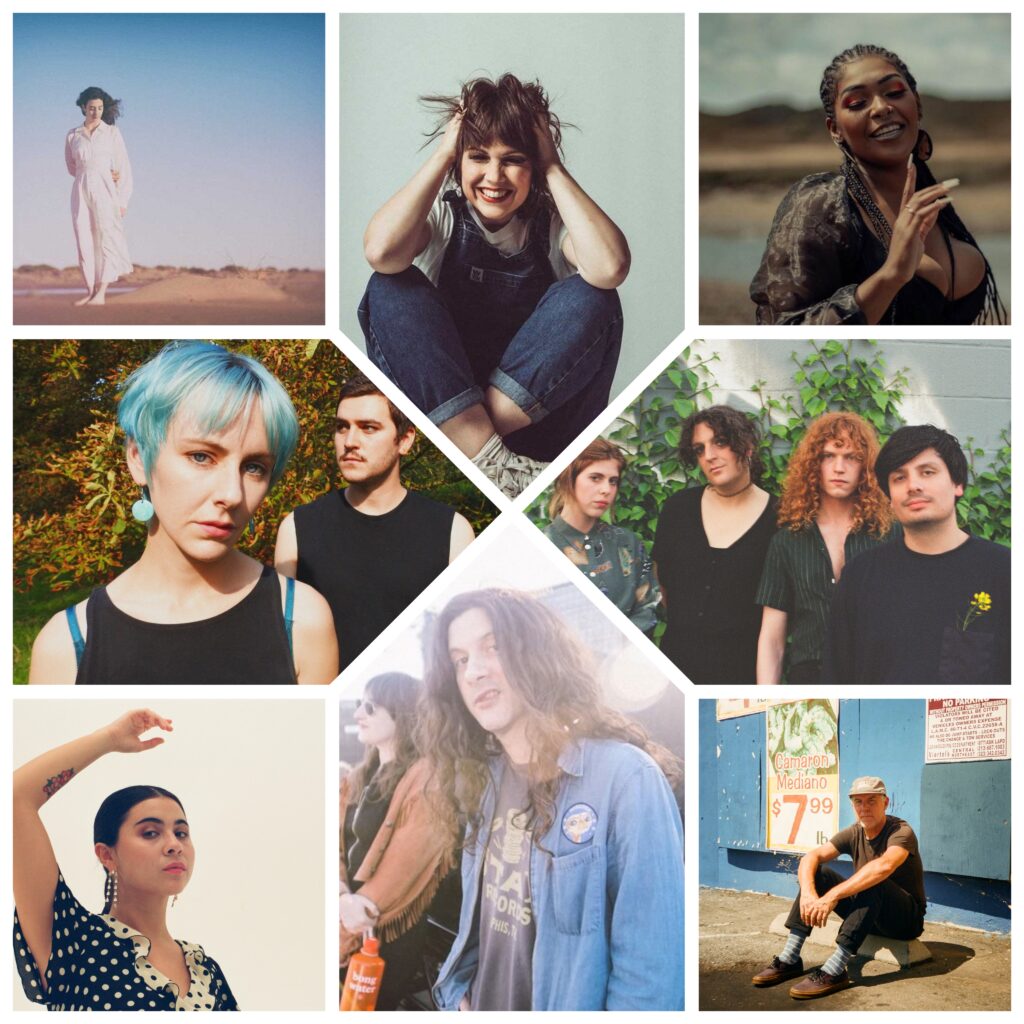 I'm relieved to tell you there is nothing spooky about this weeks Tracks of the Week. Maybe it should be as we're chin deep into spooky season (audible eye roll). Well tough. If you want spooky, go to Asda, buy a plastic lantern and plastic cape and face paint that gives you a rash and wander round your neighbourhood tomorrow evening. Listening to The Monster Mash. These are banging anyway. 
Silvana Estrada – Qué Problema
Why we love it: Because unlike the meaning of its title, listening to 'Qué Problema' is most certainly not difficult. Described by Silvana Estrada as "a letter to unrequited love", the new single from the rising Mexican singer and songwriter just washes over you, a joyful and cathartic sound emphasised by the delicate nuances of her voice.
'Qué Problema' follows Silvana Estrada's previous single from this year 'Milagro y Desastre' and her sold out show at London's EartH and arrives ahead of the Latin GRAMMYs for which her hugely popular (2.4 million views) track 'Si Me Matan' has been nominated in the 'Best Singer-Songwriter Song' category. This week Estrada also performs at the Rolling Stone En Español Awards Show where she's nominated for 'Album of the Year', amongst others. (Simon Godley)
[embedded content]
Library Card – Cognitive Dissonance 
Why we love it:  The 4-piece Library Card have released their third single 'Cognitive Dissonance'. Led by Lot van Teylingen, Library Card create space for each band member to showcase themselves equally, from Emre Karayalçin's unorthodox eye-catching rhythms to Kat Kalkman's driving bass lines and Mitchell Quitz's seemingly shape-shifting guitar performances.  'Cognitive Dissonance' is immediately gripping.  The guitars and drums are in perfect sync as they rattle along with the rhythm reminiscent of trains on a track.  At times edgy, at times angular and tight yet it seems to finish all too soon.  It's one of those tracks that as soon as it finished, I just had to play on again. 
Speaking on the new single, the band share:
"Existence itself is erratic and inconsistent, life cannot be lived in a flawless manner. We can try as hard as we want to be compassionate, empathetic  and accepting of the things we fear but there will always be a part of us flirting with being selfish, jealous or vengeful. To accept this duality is to accept our own humanity."

Library Card formed in the summer of 2021, and intriguingly draw inspiration from Detroit post-punks Protomartyr, cult Glaswegian art-rockers Life Without Buildings and the poetry of Anne Clark, to name just three of their eclectic influences.  With the promise of more new music in 2024 I for one will be making sure I listen out for more from this Rotterdam band. (Julia Mason)
[embedded content]
Kurt Vile – This Time of Night
Why we love it: Because when Kurt Vile sings Chastity Belt good things are bound to happen. And here the Philadelphian legend takes the Seattle DIY stalwarts' 'This Time of Night', retains all of the song's essential cool whilst placing his own inimitable slacker stamp upon it.
This cover forms one half of a Suicide Squeeze 7″ single which was released last Friday on vinyl and digital platforms, with a one-time vinyl pressing limited to 1500 (250 pink, 250 black, 1000 blue) copies. The record also features Courtney Barnett's interpretation of another Chastity Belt song, 'Different Now' which originally appeared alongside 'This Time of Night' on their 2017 album I Used to Spend So Much Time Alone.
On the cover, Kurt Vile says, "When I first met Chastity Belt it was Halloween 2015 in Amsterdam and they were all wearing pointy elf ears. I joke with them that ever since I saw them with those pointy ears I knew… but what? Maybe that we were soul mates! I missed their set that night but we had alotta fun anyways… A couple yrs later I heard a joint interview / podcast with Julia (of Chazzy) and Courtney (Barnett!) and then I immediately played Chazzy's latest album: I Used To Spend So Much Time Alone. It hit me hard right away… So catchy but with lyrics both hilarious while true to life… sad and beautiful all at once… nostalgic hooks, great songs."
Happy 10th anniversary to the Chazzies, indeed. (Simon Godley)
[embedded content]
Mumble Tide – The Start Over
Why we love it: because after the subtle loveliness of 'Kindest' Mumble Tides  new single is quite unexpected. 
It begins faster but with gentle arpeggio clean guitar but then tumbles into a breakneck decent down a hill, frenetic  power chords, strained vocals and punk drums. It's certainly a bit of departure but one that feels natural. There is a sense of desperation to it, like chasing their way out of something, distilled in three minutes of pop. 
"The Start Over is about self-doubt, and feeling stuck and bad and misunderstood and ugly and boring. When we were working with Ellie (Mason, producer) on it, she described it as feeling like Gina is trying to scramble to the top of all the noise, but keeps getting knocked back. I think I was pretty fed up with myself around that time and wanted to let it all out, in the hope that I could start over. It's probably the angriest vocal I've delivered so far." (Jim Auton)
[embedded content]
Grandaddy – Watercooler
Why we love it: Because any week that includes some new music from Grandaddy is a good week. Yes, it is true. Modesto's finest are back with news of a brand new album, their first since Last Place in 2017. Blu Wav is its name and it is set for release on 16thFebruary next year via Dangerbird Records. And in anticipation of that great news, we get a foretaste of what's to come courtesy of the band's new single 'Watercooler'.
Speaking about 'Watercooler', Grandaddy's de facto leader Jason Lytle says, "Most of my relationships have involved girls who worked in office settings. This song is about the end of one, or perhaps a few, of those relationships. Listeners will also notice the pedal steel on this track and eventually on many others from the forthcoming new album. It's a first for Grandaddy, and I couldn't be more thrilled about this fact."
And absence has clearly not diminished Lytle's ability to produce a top tune, swollen as 'Watercooler' is with his customary longing, regret, and an overwhelming surge of emotion. It is so good to have them back. (Simon Godley)
[embedded content]
MissFaithee – Your Name
Why we love it: MissFaithee is a multitalented talented soulful singer/songwriter originally from Walthamstow, East London now residing in Cardiff. She released her new EP " this week and 'Your Name' is a powerful lead track. With soulful r&b mingling with pianos, clipped beats giving a platform for MissFaithee's strident vocal sway, ripe with self empowerment, and vocal character. She's been treated badly yet she emotes beautifully about how she is leaving behind the heartbreak and taking control.  Her most sumptuous and realised moment yet, MissFaithee is a coming force in Welsh soul and pop. 
In 2016 she took part in the TV series The Voice UK as part of Paloma Faith's team. Since then, Faith has released several EPs and singles. (Bill Cummings)
[embedded content]
Lilac Haze – My Dreamworld
Why we love it: Lilac Haze is the project name for songwriter Katrina Swift. Greatly influenced by bands of the '80s/'90s. 'My Dreamworld' the title track from her EP is a co-write and collaboration with All About Eve's Julianne Regan. 'My Dreamworld' reflects subconscious feelings and emotions that come alive in dreams.  Evocative and diving deep into a dream world Swift's ethereal vocals and the enveloping sepia stained production of cycling trippy beats and delicate streams of dreamy reverb coated guitars. Crafting a hypnotic state paddling somewhere between the more downtempo moments of Portishead or the delicate nocturnal states of Cocteau Twins. The lyrical poeticism offers a depth that Swift brings to life. It's a magical song and a tatalising glimpse of her new EP.
Swift explains: "Even though we worked remotely, there was always close communication and so it was still a really warm way to work. Julianne created and recorded much of the instrumentation, and once I had my final vocals done, I sent them to her and she worked her magic with the mixing. I know we both feel it was a joy to collaborate with one another, and we're excited that we're continuing to create music together. This is a song that reflects a myriad of subconscious feelings and emotions that come alive in dreams, creating their own reality."
Lilac Haze's debut EP My Dreamworld was co-produced with Calum Wotherspoon (Nightswimming) at Joe's Garage in Bristol and mastered by Adam Ayan (Paul McCartney, Lana Del Ray, Carrie Underwood), with guitarist Dylan Osafo and drummer Callum Maloney collaborating throughout. The EP explores change, new beginnings, letting go of fear and living in the here and now. (Bill Cummings)
[embedded content]
Angharad – I Don't Know How
Why We Love it: Plaintive and heartfelt, Angharad vividly traces the lines of ageing and experience with sighing vocals draped over forgiving pianos and strings. Peering into the mirror and realising that ageing is a sign of experience, a testament to existence, something to be treasured rather than fought against and judged. A song of acceptance and being happy in your own skin. It's a touching statement from a emerging songwriter with songs full of heart and substance. 
She talked to Wales Arts Review about the song: "Secretly, over the past two years I've been writing songs about the joys and horrors of motherhood, in a genre that is so new to me as a musician. Previously I played almost exclusively instrumental music on my violin, but since having children I've found a voice. Literally a singing voice, but also words, and messages and stories that need to be told." This is my acceptance song."
Explains Angharad. "Accepting aging and time's effects on the body. It's about being happy in your own skin, and where you are on life's trajectory. It's about resisting society's obsession with looking youthful." "I don't want to surrender to society's expectations to remain looking youthful as long as possible. I believe there is real beauty in aging… Beauty lies within the eye of the beholder. Beauty isn't superficial, it's more than a picture."
Swansea songwriter and musician Angharad released her brilliant last single 'Postpartum'  earlier this year. Both are lifted from her forthcoming debut album Motherland via Libertino Records.(Bill Cummings).