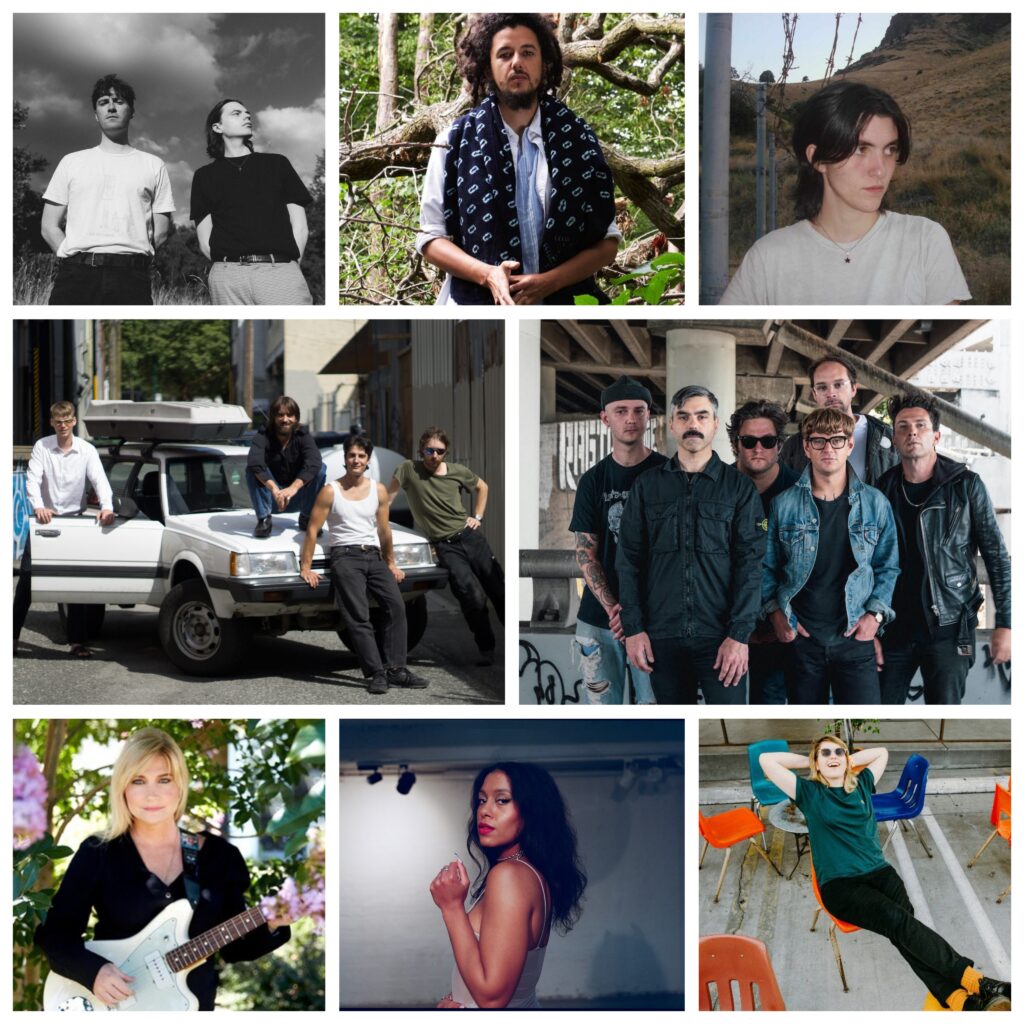 The hangovers have subsided, the ears have stopped ringing, we've all made it home after a banging night on Saturday for the GIITTV 20th Birthday party. But new music doesn't sleep so back to the grindstone it is. More belters for this weeks TOTW. Have some of these yummy morsels. Hit it!!
Alex Lahey – Newsreader
Why we love it: Because Alex Lahey is back on tour across the UK next month for her first full-band shows in support of her latest album, The Answer Is Always Yes, which landed earlier this year via Liberation and will see an expanded edition out on October 6th. And to celebrate all of this great news, the Australian singer-songwriter and multi-instrumentalist has just released a new single, 'Newsreader', a bonus track taken from the new album and with a lyric video directed by Matthew Wood.
Speaking about the new single, Alex Lahey says, "I remember having the news on at home one night and watching the newsreader broadcast one awful story after another and it got me thinking about the emotional toll it must take on someone to literally be the bearer of bad news to an entire population night after night, day after day. The newsreader that inspired this song, Tamara Oudyn of the ABC 7pm News Report, was the seemingly omnipresent newsreader in my household at the time this song was written. It turned out that there were only a degree or two of separation between Tam and I – next thing you know, Tam popped into the studio and laid down some BVs on this track." 
'Newsreader' is a delightful walk down memory lane for Alex Lahey, dripping with nostalgia as her reminiscences glide over a gentle wave of celestial sound. (Simon Godley)
[embedded content]
Mock Media – Madness 
We we love it: Mock Media is the Canadian band comprised of Garnet Aronyk (of Crack Cloud), Bennett Smith (of N0V3L), Austin Boylan (of Pottery) and Evan Aesen (of Painted Fruits).  They have released their second single 'Madness' taken from their forthcoming debut album, Mock Media II, set for release on 17 November via Meat Machine. 'Madness' flies around here and there.  Beginning as a tight but jangly punk inspired galloping track it soon changes tack completely slowing down its pace into a twangy country canter.
Of the track, Evan Aesen says:
"It's just looking at human history, because it's been so terrible in a lot of ways.  How civilized we normally are, it just takes the drop of a coin and it can turn into something real bad. And we're always kind of teetering on the edge of that.  People in their own lives too: you can hit rock bottom pretty quickly, but you can also persevere."

'Madness' follows debut single 'Modern Visions' and on the evidence of just these two tracks the four childhood friends are setting out their stall as absolutely Ones To Watch.  Bring on the album Mock Media II.  We are promised "songs that explore the darkest corners of humanity, yet come out at the other end with the unwavering joy that marked their genesis." (Julia Mason)
[embedded content]

Marnie Stern – Believing is Seeing
Why we love it: Because Marnie Stern is back where she belongs, making music under her own name and strictly on her own terms. The American musician, singer-songwriter, and guitarist will release her first album in a decade in November. The Comeback Kid lands on the 3rd of that month courtesy of Joyful Noise Recordings. And following hot on the heels of 'Plain Speak' comes another brilliant single to be taken from that forthcoming record. 'Believing Is Seeing' is fast, furious and really quite fabulous, with Stern's fingers flying across her guitar's fretboard at a million miles an hour and her voice filling the air with undiluted joy.
Marnie Stern says, "'Believing Is Seeing' is about trying to build a world of music through different sounds, and how you can create your own cohesive universe through these sounds" and hearing is certainly believing because with this latest single she takes us up a level and onto a higher musical plane. (Simon Godley)
[embedded content]
Spiritual Cramp – Herberts on Holiday
Why we love it: San Francisco punks Spiritual Cramp release their self-titled debut LP on 3 November via Black Grape Music.  Ahead of the album release they share new single 'Herberts On Holiday' – an emotional composition influenced by the vocalist Michael Bingham's wife, who saved him from following a different path.  He shares the following on the track: "​​I don't really like the idea of trying to sell the fact that I had a rough experience growing up to a musical audience for credibility but this song is probably the closest I'll ever get to talking about what life was like. It wasn't good.
I feel really lucky to have met Barb. It's hard to quickly summarize in a clip the impact she has had on my life but I can say with all honesty everything I have in my life today is because of her. To this day I am constantly making mistakes and oftentimes not living up to my fullest potential. But through the 18 years of knowing her, she's never rubbed my face in it. All she's ever done is cheer me on – even if I don't feel like I deserve it. 
She always told me she wanted me to write her a song. I always tried but it always came out as some sarcastic thing because I have a hard time being open. I use humor to mask the way that I really feel. When I wrote this song I was on a plane home from our tour with V**gra Boys – I was crying uncontrollably and I knew while I was writing it that it wasn't guarded.  Hope you enjoy."
The back story to a track has never been more relevant than here.  It's a gentler version of Spiritual Cramp than perhaps is their norm, but that's no bad thing.  Versatility in music is a gift.  And the honesty in the lyrics is just breathtaking.  The guitar riff at the end adds to the emotion.  Those lucky enough to be seeing Militarie Gun this December on tour will have the opportunity to see Spiritual Cramp live as they will be their support.  See you down the front. (Julia Mason)
[embedded content]
Mo Kolours – Rockets to Mars
Mo Kolours is the singular musical spirit Joseph Deenmamode aka Mo Kolours presents a new body of work. Entitled 'Original Flow', the eight track Chapter One is set for release on 17th November 2023. Deenamode says "I'm proud of this album's creative process. Coming from a tradition of scouring through hours of records, I wanted to create my own samples, to find that perfect loop that no other producer could put their hands on. I decided to invite a group of friends and acquaintances, who also happen to be incredible musicians, to a studio in Crystal Palace to improvise based on some loose ideas I had. We spent all day, and recorded everything".
 'Rockets to Mars' is a socially conscious track that bounces through elements of soul, afrobeat and reggae influenced pop that's inventive use of harmonies and melodic hooks, questions the lack of care for the billions of people with nothing, while governments plan to explore space. "This sparked a comparison in my mind to a Sonny Okuson song that I would reference when performing. Okuson's song talked of the lack of resources in many communities in the world, while governments go to the moon". (Bill Cummings)
[embedded content]
Hayku Kyah – Swan Drive
Why we love it: Hayku Kyah has released new single 'Swan Dive'.  It's part of her moon-phase release series and is the follow up to 'Earth Angel'.   The series aims to share new music with her audience alongside the new moon cycle.  This track is a soulful exponent of Hayku Kyah with its gorgeous flow and accompanying guitar with provides a riff which repeats throughout and is soon embedded in the brain.  Lyrically the track explores self-discovery, identity, and vulnerability.  Hayku Kyah lays it all out, not afraid to be both honest and vulnerable.  Addressing the challenges she faces in following her chosen path, she takes the listener along with her.  This is all blended within a soulful version of hip-hop, gentler on the ear perhaps but no less attention grabbing.
The upcoming EP is entitled I Thought You Should Hear It From Me, and promises to be an intriguing mix of genres combining to provide a platform for Hayku Kyah's glorious flow, thoughtful lyrics, and rich beats. The EP draws inspiration from a diverse range of artists, from SAULT to Little Simz, however it will be a unique body of work showcasing the talent of Hayku Kyah. (Julia Mason)
Searows – I have more than enough
Searows the moniker of Kentucky-born, Oregon-raised musician Alec Duckart releases their End Of The World EP on the 10th November on Last Recordings On Earth, a new label launched by Matt Maltese in association with Communion Records. The latest single from the EP, 'I have more than enough', is a hushed meditative track that's subtle instrumentation and intricate sighing wistful melodies wrap themselves around you, while contemplative arrangements envelop, it's the sound of taking time out when you are overloaded.
Searows says: "I wrote and recorded most of this song in one day after walking around outside for the first time in weeks. I had spent so many days in a row alone in my room working on songs I felt increasingly uninspired by. I was walking laps around my house, feeling very weird and then I remembered I could be doing the same thing outside so I took a walk around my neighborhood. I sat with some cats and watched a crow for a while. I ended up stopping every few steps on my way home to write random thoughts down in my notes app and when I got back I wrote this song and then recorded it. It was one of the fastest songs I've written and still felt good about. Shockingly enough, going outside makes you feel less like you are going crazy."
Duckart's intimate, hushed and compelling debut album, Guard Dog, was released independently, soon finding an audience that were already sharing snippets of his music via communities on TikTok. With no real anticipation or expectation for where he wanted the music to land, the record was greeted fondly, and received extensive co-signs from the likes of Ethel Cain (who invited Searows on tour earlier this year), and Gracie Abrams (who he will support on stages across the UK/Europe this September-October). (Bill Cummings)
[embedded content]
TV People – Feel
Why we love it: Dublin's TV People release their new single 'Feel'.  It's a heart wrenching track, full of brooding atmosphere.  Slow and purposeful the expression is one of vulnerability, pain and denial.  'Feel' was written during a period of intense period of personal crisis as a way to make sense of, and process overwhelming emotion.  Lyrically it is as raw and open as it is possible to be:
"Everything is fine,
I'm in control of my life.
Crying on the floor on a Sunday night.
Please don't let me go.
I need to feel alive."
The band share that 'Feel':
"highlights the perspective of a person who is embarking on a journey to achieve personal growth and inner peace by embracing emotional honesty, vulnerability and self-acceptance."
This is delivered within a soundscape rich in emotional power.  That soundscape ebbs and flows, from calm and quiet to epic and soaring, perhaps reflecting the feelings so deeply experienced in the journey of life.  To be able to create songs that generate such emotion in the listener is a skill in itself and the Dublin duo of TV People have achieved this on 'Feel'. (Julia Mason)
[embedded content]