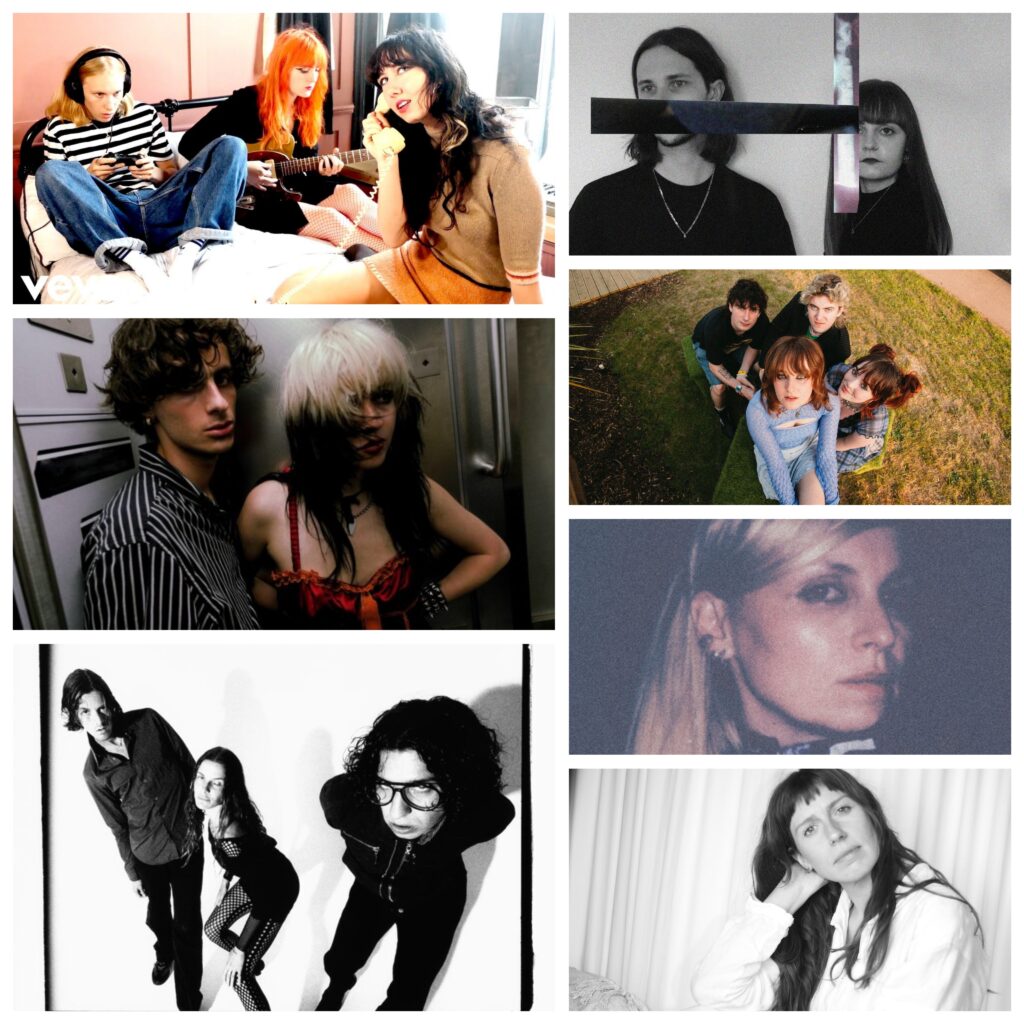 Good golly Miss Molly, it's a new week. Hurrah!! Isn't it exciting?!?! No? Ok. Well to make it all better, here are some humdingers, some knee tremblers, some big bouncing beauties in Tracks of the Week. And it's nearly Christmas. Boomages.
Lowertown – Bline
Why we love it: because Lowertown are back about a year after their debut long player came out. They make the best wonky alt-rock pop grungey music coming from the East Coast of the U. S of A. 'Bline' rejects the conventional structure of a song. Spoken word samples guide us in and the low-key, noir, jaggedy, spikey, lo-fi goodness weaves. Olivia's laconic vocals feel like they're lost in the mix of the verse's disparate rhythms and bursts of random keys and droning brass but in an intriguing way.
This is the first single to come from their new EP out next month, which will be self released after leaving Dirty Hit. Olivia says the song is "…. about insecurity, rejection, and old baggage inspired by my experiences of first moving to New York and London when I was 18-20 years old." (Jim Auton)
[embedded content]
Bar Italia – my little tony
Why we love it: because bar italia are already back when they never went away. They're giving King Gizzard and the Lizard Wizard a run for their money with their second LP in the space of six months. 'my little tony' is the first single and indeed first song on The Twits  which is due on 3rd November. It launches straight into a brilliant guitar chord that sounds augmented in some way but probably isn't but is like moody rock'n'roll distilled. Its a quicker tempo than most bar italia songs from Tracey Denim and surely rattles along, but it carries on from that LP's essential pop hooks and dark aesthetic.
As per, bar italia offer up very little by way of press or social media about the song or album release besides it being recorded early this year in Mallorca. It sounds like it was made in rainy London in February. But maybe that's just because of the video. Its all about the mystique. Beautiful. (Jim Auton)
[embedded content]
Hot Wax – Phone Machine
Why we love it: because Hot Wax are fucking relentless, and relentlessly brilliant. They only dropped 'Drop' five minutes ago but here they are announcing new EP (second this year, there's something in the water) 'Invite Me, Kindly' out on 18th October (very soon). This goes back to the more melodic and alt-rock tracks on EP A Thousand Times, with danceable riffs and drums then explosions of distortion drenched guitar and thunder like bass. Badass and brilliant.
Tallulah says "I felt I had lots of phrases saved up in my head that I couldn't wait to put into my lyrics. The EP looks at themes of acceptance to people who have hurt you before, letting your doubts leave you and feeling free. Playing these songs live this summer has been so refreshing" (Jim Auton)
[embedded content]
New Dad – Angel
Why we love it: because New Dad are back (everyone is back) with a belting new single which ramps up the My Bloody Valentine volume. And well they might, both hailing from the Emerald Isle and exponents of the Shoegaze genre.
This is possibly the best thing they've done so far, the ethereal vocals and intense cyclical bass hook becomes hypnotic and dualling guitars fight until it falls off a cliff into booming power chords tumbling away. 
'Angel'  will appear on their debut LP, Madra, coming out on Atlantic Records no less, in early 2024. The song is apparently influenced by the TV show Euphoria and the main protagonists destructive tendencies echoed in vocalist and lyricist Julia Dawson's own behaviours. (Jim Auton)
[embedded content]
Hilary Woods – Where The Bough Has Broken
Why we love it: Because here the combination of sound and vision is a winning formula. Speaking about her new single 'Where The Bough Has Broken' and its accompanying video – sourced from her home country's public service broadcaster, Raidió Teilifís Éireann (RTE) – Irish artist Hilary Woods says: "Made from old newsreels of archive footage on film, this video muses on the beauty of community and resilience, made to a piece of music that celebrates connection and the specificity and transience of time, space, and human expression. This music video is a visual love letter to the Dublin City I grew up in, to the spirit of familial roots and the extraordinary moments in ordinary life that leave their lasting impression."
The music – the first single to be taken from Hilary Woods' forthcoming and self-produced new album Acts of Light, which is due out on 3rd November via Sacred Bones – is a dramatic dispatch posted from the memories of Hilary Woods' youth. A doleful dirge featuring drone, viola, experimental electronics, and wordless sacred vocals it is as expressive as it is moving. Her upcoming shows are not to be missed. (Simon Godley)
[embedded content]
Amethysts – Bloodline 
Why we love it: Amethysts recently released their new single, 'Bloodline', Tabby Tracks Records/ Conch Town Records. It's the first track to be taken from the duo's upcoming EP New Moon. The Alex Gordon (The Cure, Bat For Lashes) produced and Tom Stanford mastered new single, Bloodline documents experience and growth as this enveloping track beguils and delights with a tapestry of electro and dream pop. Clairce's haunting vocals melodies that gradually coat the crunchy beat, illuminating synth lines and crystalline guitars. Redolent of the more subtle moments of Chvrches or The School of Seven Bells. It's a tantalising offering from this emerging duo.
When talking about the new single Clairce comments: "Living in the transition from who you used to be, to who you are now after a significant life change. Bloodline is about the journey where you slowly start to find yourself again and realise the old you is now an enhanced and strengthened version of the person you used to be. And despite the challenges and conflicts with yourself along the way, you'd happily do it all again" (Bill Cummings)
[embedded content]
Emma Gatrill – Seed (feat. Rozi Plain and Kate Stables of This Is The Kit, Rachael Dadd & more)
Why we love it:
"Out of the dark into the light…into the light of the morning."
And it is with this message of hope and self-determination that Emma Gatrill brings 'Seed' to such an optimistic close. Taken from her upcoming new album, Come Swim  – which arrives on the 24th of November 2023 via Willkommen Records – her new single is a most welcome breath of fresh air in what are often otherwise bleak and miserable times.
Ably assisted here by Kate Stables and Rozi Plain from This Is The Kit and fellow English folk musician Rachel Dadd – all of whom bring delightful backing vocals to the table plus, in Stables' case, some wild recorder and ocarina –'Seed' is a lesson in survival, a blueprint for harmonic melody and uplifting joy. Let us rejoice. (Simon Godley)
[embedded content]