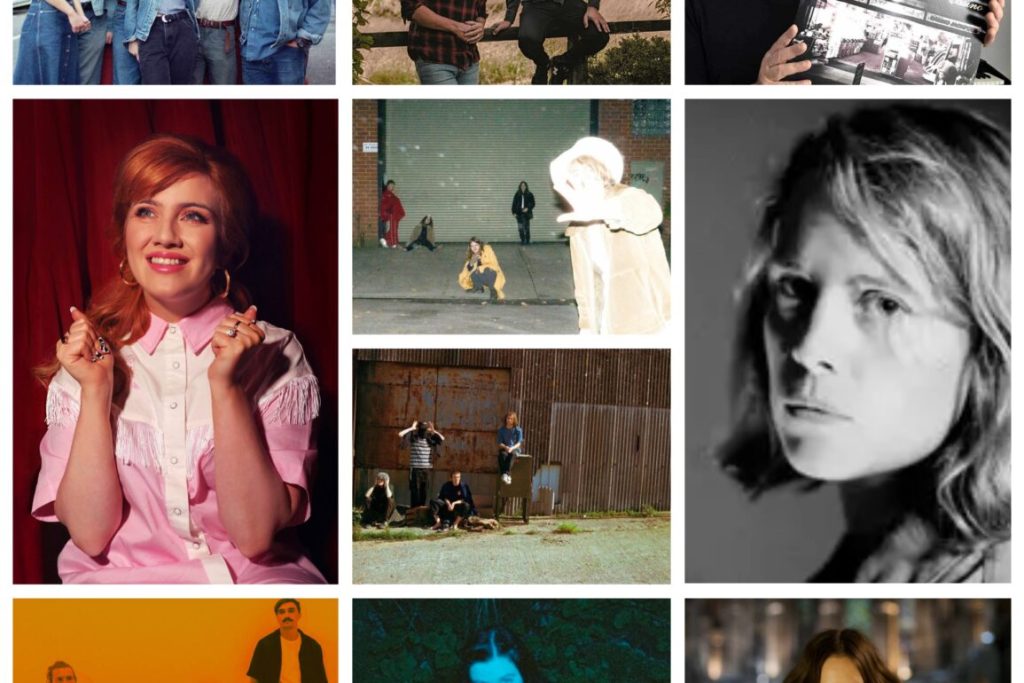 As we all slowly recover from dehydration, pruney fingers and nappy rash from sitting in sweat soaked pants all weekend, temperatures will drop and we'll get the jumpers and big coats back out of the loft that we'd only just put up there last week after getting them back down in early August. Tracks of the Week is bobbing along on the wave of perspiration in GIITTV Towers. Some reet good ones this week. Check it!!
Cash & Carter – Americana (Letting Her Go)
Why we love it: Because to take the name Cash & Carter for your musical project requires a lot of chutzpah on your part. But that is exactly what Birmingham artist Shaun Smith (aka Stealth) and successful London singer, writer and producer Ross O'Reilly, who together possess an impressive collective stream count of over 100 million, have done and on the evidence of their new single, 'Americana (Letting Her Go)' their self-belief is most certainly warranted. 
Taken from their debut EP which will see the light of day early next year, 'Americana (Letting Her Go)' deals lyrically with the complex feelings generated by the death of a close friend to suicide. As Shaun Smith explains, "This song encapsulates the range of emotions I experienced when faced with the aftermath of such a profound tragedy. It serves as a reminder that even in the darkest of moments, whilst the person is no longer with you their memory lives forever which gives you some hope that you can find solace and carry on."  
These words and sentiments could understandably present as being mournful and bleak, but set as they are against a gentle, yearning and beautiful melody they do reveal the love that lies at the song's heart and serve as a fitting testament to a lost friend. (Simon Godley)
Geese – Jesse
Why we love it: Brooklyn based Geese's second album 3D Country is one of my albums of the year so far.  They have now announced 4D Country, a companion EP which will feature three additional new songs as well as an expanded version of 3D Country's title track, and will be released on October 13 also on Partisan/Play It Again Sam. 
The first taster is new single 'Jesse', which sees a smoother Geese than perhaps we are used to.  However it's an outstanding vehicle for the range and quality of lead singer Cameron Winter's vocals.  This is a band who sonically seem to be mature beyond their years, if such a thing is possible.  They possess a depth and intensity, music with a swagger and confidence, captivating as it is thrilling.
Frontman Cameron Winter shares the following about the new track:
"'Jesse' started as a really fast song, then morphed into a slower, psych-ier, more soulful track.  It got left off of the album because we didn't feel like there was a good place for it, but we've always really enjoyed playing it live." Geese are currently touring the UK as part of their first-ever global tour. (Julia Mason)
Marika Hackman – No Caffeine
Why we love it: because Marika Hackman is back with possibly her best song to date. A song about anxiety and panic attacks, Marika reads out her coping mechanism for avoiding or getting over an attack. Lyrics like "Occupy your mind/ Don't stay home/ Talk to all your friends/ But don't look at your phone/ Scream into a bag/ Try to turn your brain off".
The drums are spiky and tinny to raise the tension, bursts of synth and dampened guitar makes for a mix of intensity and an attempt at a calming environment as strings swoop in, creating atmosphere of mixed emotions as if fighting the panic.
This feels like the first single to come from a new LP but no news so far about the follow up to Any Human Friend from 2019.(Jim Auton)
Brown Horse – Sunfisher
Why we love it: Because not only did Brown Horse open this year's Moseley Folk Festival they ended up winning the event's prestigious Janice Long Bursary Award. And just one listen to 'Sunfisher' will tell you exactly why. The first single to be taken from the Reservoir, the debut album from the Norwich-based sextet and recent recruits to Loose Records, is just champion.
Exploring themes of memory, loss, and grief, 'Sunfisher' melodically harks back to the nascent days of country rock of the late 60s/ early 70s, a period populated by The Byrds, Gene Clark, The Flying Burrito Brothers, and The Eagles. The song's contemporary bucolic charm, though, relocates the sound effortlessly to the present day. (Simon Godley)
CMAT – Stay For Something
Why we love it: CMAT has released new single 'Stay For Something' taken from her second album Crazymad For Me which will be out via AWAL Recordings on October 13.  CMAT shares that her second album is:  "an abstract break-up album – about what happens when you are still angry about something that happened 10 years ago".

The new track 'Stay For Something' is anthemic and soaring.  Reflective and powerful the emotion is evident.  CMAT wears her heart on her sleeve and that honesty and vulnerability is matched by a voice which is instantly recognisable. 

CMAT shares the following on 'Stay For Something':
"It's basically just about questioning why I stayed / suffered in a bad relationship for as long as I did.  Trying to desperately find some kind of meaning in the mess and then being embarrassed when I remember the good parts.  It's not very lyrical or poetic, it's just a lot of emotion and energy – this song, to me, sounds like going for a run at 1am with your headphones on full blast, screaming through the streets in order to get away from your problems.  I hope that at least one person does that when they hear it." CMAT has announced further live dates, including a three-date solo run across North America, an extensive UK instore tour and a third date at The Olympia in Dublin.   I suspect demand for tickets will be high, but with the instores what an opportunity to hear CMAT in a more intimate setting. (Julia Mason)
Sprints – Up And Comer
Why we love it: because it's a frenetic, visceral slab of Rock'n'Roll. Sprints have an incredible energy that simmers for the verses and then explodes on the elongated chorus. It's an infectious hit of adrenaline that careens along with humongous guitars and thunderous rhythm section.
They say "Up & Comer is a pretty dry take on a fear and self consciousness that has been ruminating in me since I picked up an instrument. This innate fear that maybe I would always be 'good for a girl', but would I ever actually be great? It's an invisible narrative that has been constructed by the doubts and negativity I've been fed by others, as well my own imposter syndrome".
This and previous single "Adore, Adore, Adore" will appear on their debut LP, Letter To Self on 5th January. (Jim Auton)
Wreckless Eric – Southern Rock
Why we love it: Because there is still so much more to Wreckless Eric than his most famous song, the 1977 hit 'Whole Wide World.'Even if any such proof were still needed, 'Southern Rock' certainly tells us as much. Taken from his new album Leisureland, his latest single sees the punk legend returning to his more ramshackle way of recording with suitably dilapidated but altogether delightful results. 
In a similarly unconventional way, the man born Eric Goulden more than 69 years ago says by way explanation, 'It never occurred to me to look at a map, or seek out a forward-facing independent book shop. I was dumb. I was also stoned, detached, confused, and waging a battle with the ancient neolithic settlement that lived under our house and threatened to climb on top of me most nights and crush the life out of me. I was a weird kid. We slept with our heads facing north."
Dripping with yearning nostalgia before fully bursting into life with a resounding chorus, 'Southern Rock' affirms Wreckless Eric's unerring ability to still write a charming pop song.  (Simon Godley)
University – Notre Dame Made Out Of Flesh
Why we love it: University are a three piece who I first saw live at The Great Escape in Brighton above a pub, and was literally thinking "Who is this?"  They released their debut single 'Can't Breath' in 2022 and now follow up with 'Notre Dame Made of Flesh'.  This is a rush of energy from the very start.  It takes off at speed and never stops, much like their live performances.  Rough and raw it's a total buzz, all  thrashing drums and scuzzy reverb fuelled guitars. 
The opening lyrics says so much about University:"I don't want to be my Dad".  However it's the instrumentation that takes centre stage here.  There are minimal lyrics, just a ferocious soundscape to completely lose yourself in.  And listen right to the end.  University play by their own rules, and seem to be having a complete blast. If you are going to Left of the Dial in Rotterdam go see University.  Their exuberance and energy is infectious and they may just become one of your new favourite bands. (Julia Mason)
Theo Bleak – Its Not Doing Me Any Good
Why we love it: Dundee singer/songwriter Theo Bleak (aka Katie Lynch) has shared her new single lifted from her new EP, Pain, due out October 31st.
Lynch's tender vocals drape over chugging riffs that swell from gazey to grungey and back again, singing with brutally honest and emotive lyrics, it skids into an addictive chorus of howling introspection and chunky riffing, there are shades of Soccer Mommy here. It's a intriguing track that packs an emotional gut punch. Of the new track she says "I wrote this about my old band's manager cos I hope he goes to hell."
"The EP is inspired by Katie's vivid depression, Jane Austen, Cocteau Twins, The Sundays, Nu Metal and BritPop. The EP's themes touch on her "deep well of sadness", romantic relationships and being afraid of men. (Bill Cummings)
CLAIRE M SINGER – Cairn Toul
Why we love it: CLAIRE M SINGER recently announced details of the first release in a triptych of albums, inspired by escapes to the peaks of her homeland of Scotland. The first of these releases, Saor [pronounced Sood: meaning "free" in Scottish Gaelic] is out on the 3rd of November. 'Cairn Toul' is really special piece swelling with the vastness and foreboding of the Scottish landscapes that she's inspired by and the slate grey darkness of the clouds above head. Singer's use of the pipe organ, explores rich harmonic textures and crafts a cinematic atmosphere that's both enveloping and awe inspiring.
"Saor follows two narratives: my trekking across the Cairngorm mountains in Aberdeenshire through the granite plateaux, corries, glens and straths, and my exploration of the 1872 organ built by Peter Conacher & Coy, Huddersfield in Forgue Kirk Aberdeenshire where many of my ancestors lie." (Bill Cummings)