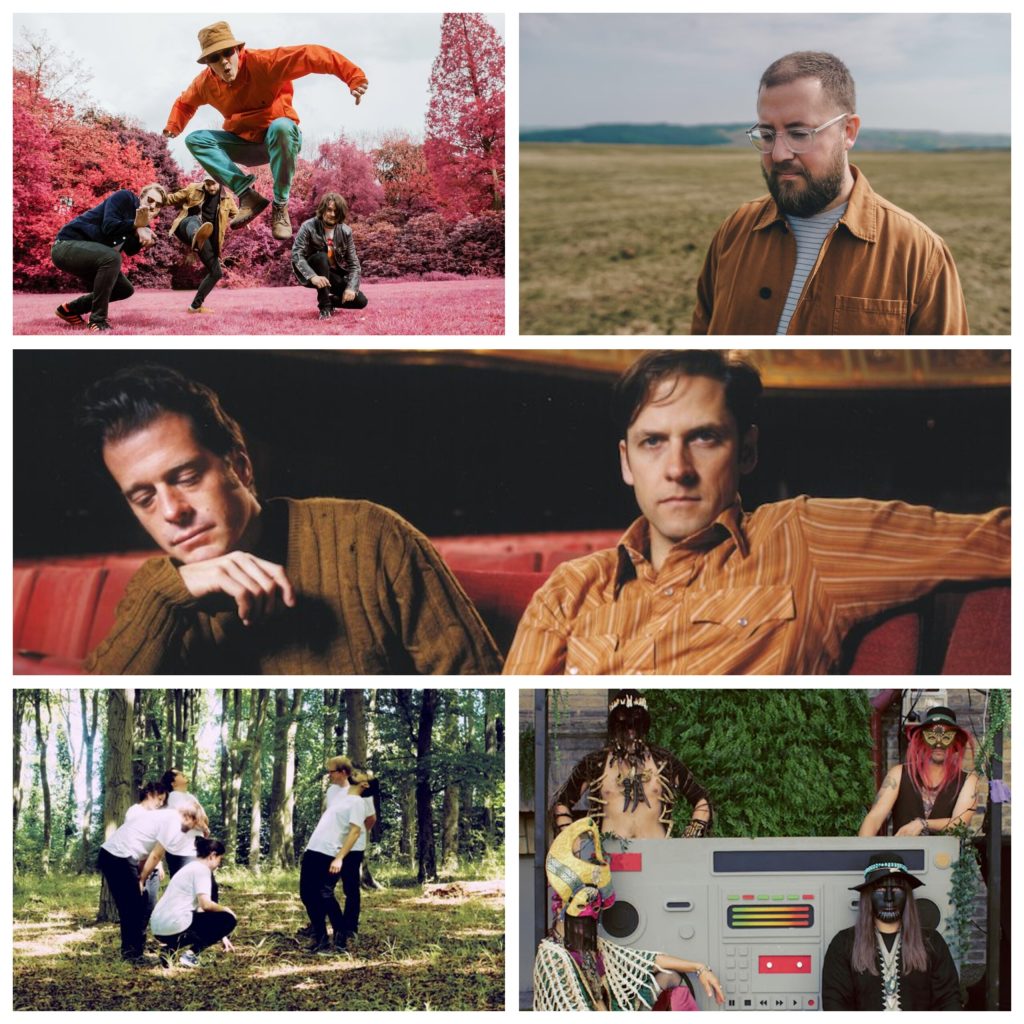 When is spring going to start? Feels like we've got the 40 says and nights of rain before Easter. Illness, technical issues and busy schedules mean a short Tracks of the Week this time around. It'll be back to normal next week. They are belters mind. Have a gander.
Goat – Do The Dance (Shit and Shine Remix)
Why we love it: Last October the enigmatic psychedelic warriors Goat released an unexpected new album, Oh Death. Such was the success of that record and to coincide with their upcoming UK tour the Swedish collective are releasing a five track EP through Rocket Recordings entitled, Seu Sangue on 14th April (cassette and DL) which features four exclusive remixes of tracks from Oh Death and a brand new, unreleased Goat track.
'Do The Dance' was the second single to be taken from Oh Death and here it is given the full Shit and Shine remix treatment. And it is something a bit special. (Simon Godley)
Tape Runs Out – 90C
Why We Love It: because it's Tape Runs Out and they can do no wrong on this debut LP, Floodhead, out next Friday on 31st March. It is also another brilliant song, of course, with a video that is equally brilliant in it's simplicity, using food colouring in milk, which marries perfectly with the song.
This track has an OK Computer feel, but the dulcimer adds such an effective, looping sound, creating an amazing drone with the violin, guitars, bass and keys, that it becomes something completely different.
This will be the last single before the album comes out. They play a launch party on Thursday 30th March at Portland Arms, Cambridge. (Jim Auton)
Calexico – Black Heart (Live)
Why we love it: Hard as this is to believe, but Calexico's classic album Feast of Wire is now 20 years old and to celebrate the occasion the cherished alt-rock band from Tucson, Arizona will be releasing a special deluxe reissue of the record on May 26th via City Slang. 
Reflecting back on the making of Feast of Wire, Calexico founding member Joey Burns (along with John Convertino) says, "I'm reminded of how much time and space we had in the studio to try out all sorts of ideas. Most of the recordings started like they often do with John on drums and myself on guitar. And as we brought in the other band members it was like a river was flooding through our subconsciousness and we couldn't get the ideas to analog tape fast enough."
This expanded edition of Feast of Wire will, for the very first time, include the studio recording of Calexico's iconic version of Love's 'Alone Again Or',  which was released during the initial campaign for the album but never on vinyl. The deluxe reissue will also include a bonus live album, More Cowboys in Sweden featuring ten songs from Feast of Wire recorded live at China Theatre in Stockholm in 2003. And Calexico have just shared the live version of 'Black Heart', a timely reminder of just how brilliant this album still remains today. (Simon Godley)
Simeon Walker – Paean
Why we love it: The innovative Leeds-based pianist and composer Simeon Walker has just announced news of the Imprints 2 project, a new four-track EP that follows in the footsteps of its illustrious predecessor, the Imprints 1 EP and Walker's ongoing collection of piano miniatures.
Imprints 2 will stand alone as a digital release while a concurrent special vinyl edition will combine Imprints 1 & 2 for the first time. The vinyl will be available to pre-order soon.
Simeon Walker says: "The pieces on Imprints 2 afforded me the opportunity for gentle experimentation with time signature changes, exploring the full register of the instrument, and continuing my commitment to only play what feels necessary to convey the meaning and nature of the music. I'm pleased both the first and second volumes of Imprints will now be available to the many people who have requested a physical copy, and want to say thank you to those people for their patience!"
Furthermore, Simeon Walker will be touring his Imprints' series extensively throughout 2023, exploring the evolution of his pieces in a wide variety of venues and spaces throughout the UK and Europe. Walker is keen for his work to evolve in response to his changing surroundings and many of his performances will take place in rarely utilised spaces, venues, and locations making each performance a unique, collaborative live experience.
Tour dates and tickets are available HERE
To whet our considerable appetite for the new EP and upcoming shows, Simeon Walker has shared, 'Paean', the first single from Imprints 2, along with its accompanying video. 'Paean' is as atmospheric as the dramatic landscape on Saddleworth Moor in the Peak District of England where the video was filmed. It is a deeply expressive piece, in praise of time and place, nature and freedom. (Simon Godley)
Afflecks Palace – Ghost On The Underground
Why We Love It: because it's a wonderfully, dreamy pop song, with a brilliant rousing chorus, and excellent backing vocals. Named after the legendary Manchester flea market/shopping emporium building, Afflecks Palace certainly wear their influences on their collective sleeves but do so with less knee taking or naval gazing than others.
This wah-wah enhanced, baggy skirting groove does make you think of a cross between The Stone Roses and early REM, the backing vocals on the chorus are especially like Mike Mills.
Quite often with all the best songs they end too soon, but then you can just start it again, and if you're streaming this, it's money in their pockets.
This is the latest single to come from their second LP The Only Light In This Tunnel Is The Oncoming Train out on the 7th April. (Jim Auton)