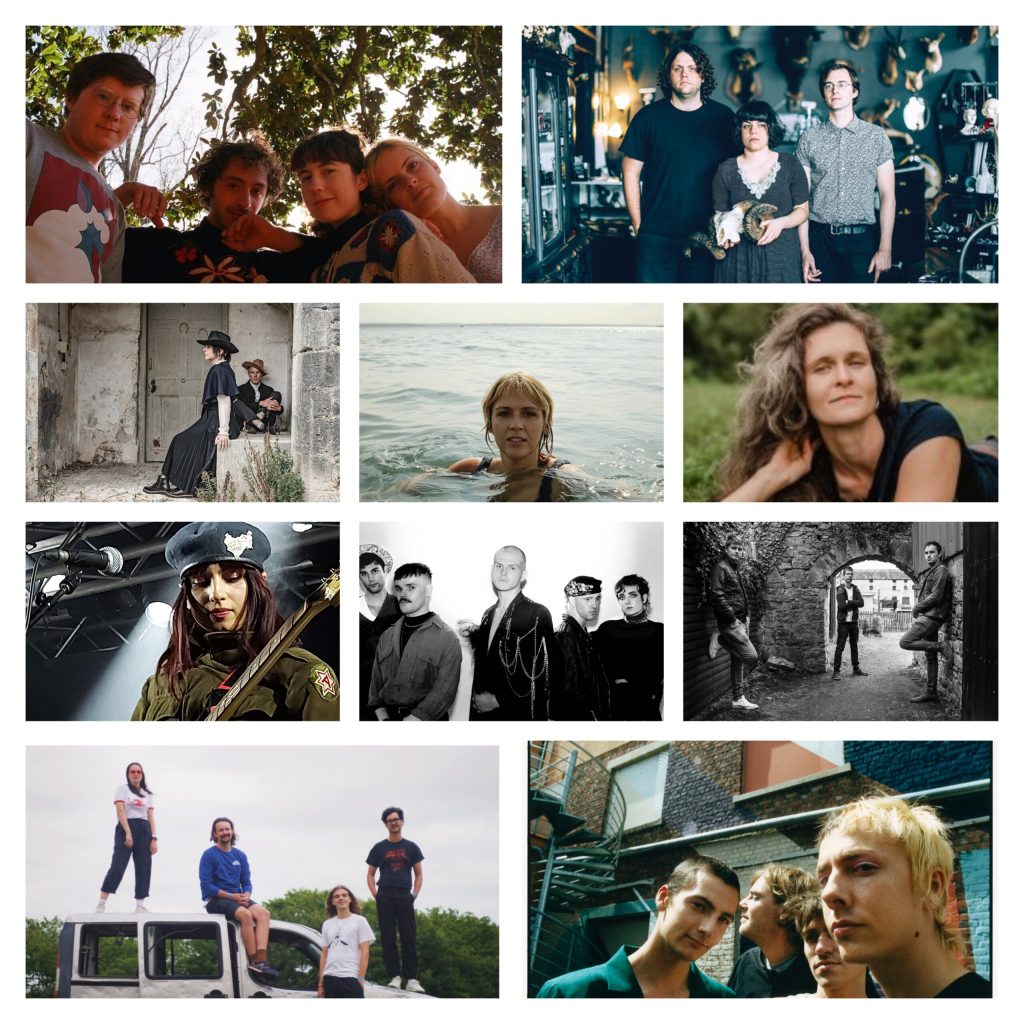 Baby, its cold outside. Stay indoors, in your cold home, in seven layers, under a blanket. Boil the kettle and make two cups of tea at a time and hold them in shivering hands whilst listening to the these choice choons which will warm the cockles of your innards. It's a bumper edition!!
Wednesday – Chosen to Deserve
Why We Love It: because it is nothing like their previous single 'Bull Believer ' but is a country rock homage to Drive by Truckers that Karly Hartzman decided to embark on.
"Chosen to Deserve is a writing exercise I gave myself to try to recreate the iconic song by Drive-By Truckers "Let There Be Rock" but with my own experiences from growing up and fucking around and getting into stupid shit," Hartzman explains. "The video directed by Spencer Kelly shows the setting of my upbringing and antics: my parents' neighborhood in Greensboro, NC and Lake Myers RV Resort."
The verses are slide guitar soaked and as atypical country as you can get, the chorus is a blast of American FM Radio Rock with Karly's laconic vocals evoking Avril Lavigne and Sheryl Crow. On its own it might sound like a bog standard U.S rock record but taken in context with their previous offerings that have made in on to new LP Rat Saw God it suggests it will be an eclectic rollercoaster that will keep us all guessing like an episode of Silent Witness. (Jim Auton)
Heartworms – Retribution of an Awful Life
Why We Love It: Heartworms have released their second single 'Retributions Of An Awful Life' on Speedy Wunderground and after the positive reception to the debut 'Consistent Dedication' there's a great deal of interest to see if they could deliver on single number two. At the centre of Heartworms is singer-songwriter Jojo Orme. The industrial electronic opening of the track edges the listener in one direction before the introduction of the guitar and vocals unexpectedly softens things slightly. The dance beat remains but the vocal is spoken initially. The pace however takes a surprising turn with a flash of static reverb and 'Retributions Of An Awful Life' takes on a gothic-like demeanour. At five and a half minutes the song continues to pick up pace again to the end and closes out with a flash of electricity.
I can guarantee that the first thing you will want to do next is play it again. There is so much to explore in this track. Its difficult to pigeon-hole and that's a complement. Techno with flashes of synths, scratchy indie guitars, industrial clanking, dance drumbeats, electric guitars and sections where the vocal is sung and spoken. So what is it? Who cares, it's fabulous. (Julia Mason)
Tugboat Captain – Flash of Light
Why We Love It: because it is as quick as a fart in a crowded room but with as much impact. Just scrapping past two minutes it seems to pack in enough for five minutes. Beginning with one note piano and slowly creeping up drums and synth effects, with a constant high pitched guitar riff, it drops out into a baroque Divine Comedy about the moment of walking up and wishing you hadn't. It deviates back into the Dante nightmare squawling riffage and piano and back into the calm. It's a moment of existential dread in beautiful musical form.
If you are unfamiliar with Tugboat Captain's previous work, go and listen for crying out loud. The brainchild of Alexander Sokolow, he maned the one man dingy alone for a while but it has grown into something akin to a fishing boat. He was also the guitarist for Enjoyable Listens live band last year. (Jim Auton)
Vlure – Cut It
Why We Love It: Glasgow's Vlure are one of the bands tipped to do well in 2023. They have charged out of the blocks with various gigs and festival appearances already under their belt. Live they bring the club to the gig, whatever the time of day. Their debut EP Euphoria was released early in 2022 and now they have shared new track 'Cut It'. Self-recorded and self-produced it's a thrilling addition to their arsenal. Charismatic lead singer Hamish Hutcheson sings:
"Do you feel alive when you're following me?
Start to thrive when you're following me?"
This is music to lose yourself in, and absolutely we feel alive when we hear this techno banger which is overflowing with electronica as well as thumping drums and guitars which are let loose. The rave is back with Vlure and boy does it feel good. See them live if you get the chance, and dance like no-one's watching. (Julia Mason)
Mary Elizabeth Remington – Dresser Hill
Why we love it: Not only did Mary Elizabeth Remington record her debut album in a small house in Embudo, New Mexico, but this location also lends itself to the record's title. In Embudo – recorded with her friends Adrianne Lenker and James Krivchenia from Big Thief and Mat Davidson of the band, Twain – will be released on the 10th of February via Loose Records.
Speaking about the recording of the new album, the American folk singer-songwriter says:"The dry desert air and vast clay coloured landscape brought inspiration and calmness to the process of creating music together. Each day I would start to sing, the three of them would begin jamming and after a little while James would hit record. We were recording fresh moments, not overworked or overthought.  There were plans to do some overlays, but when we listened to the takes, we all thought, that's it; leave it just as it is."
And 'Dresser Hill', the second single to be shared from In Embudo, reflects all of that spontaneity and organic warmth. Remington and Lenker's voice complement each other perfectly as they dovetail over a barely discernible guitar accompaniment. It is a thing of quiet, natural beauty. (Simon Godley)
Powder House – My Corner
Why We Love It: Ireland's Powder House have released their latest single 'My Corner'. The trio are following up last year's singles 'Years' and 'There You Go'. What immediately strikes you with 'My Corner' is the quality of the vocal. The track is inspired by bereavement and loss but it does not wallow in melancholy. The accompanying guitar and drums add to the expansive scope of the track. It's powerful and emotional, befitting the subject matter.
Powder House comprise musicians who have a wealth of experience in the music industry having worked in the studio or on stage with the likes of Nick Cave, INXS, Cat Power, Billy Bragg, and John Cooper Clark. This experience is evident on 'My Corner' with the assured production and soaring soundscape. The mid-song section which announces a shift in its power and allows the instrumentation to take over is just glorious. (Julia Mason)
Screaming Females – Brass Bell
Why we love it: Almost 18 years into their creative lifetime and Screaming Females are still going strong. Their latest single 'Brass Bell' – the first offering from their new album Desire Pathway, which is out 17th February on Don Giovanni Records – tells us as much.
"'Brass Bell' is a song about surrendering your autonomy to something so overwhelmingly powerful you willingly relinquish your ambitions and self-worth", explains Marissa Paternoster, the band's guitarist and vocalist. "My intention was to draw an interesting dichotomy between the muscular nature of the song and the rather bleak, worried lyrics." 
Still comprising their original line-up of Paternoster, drummer Jarrett Dougherty, and Mike "King Mike" Abbate on bass, the trio from New Brunswick, New Jersey in the United States really rock out on 'Brass Bell.' It rings out loud and clear and continues to resonate long after Marissa Paternoster's last refrain of "it's so loud" finally fades away. (Simon Godley)
The Psychotic Monks – Crash
Why We Love It: One of the joys of doing reviews is discovering new bands that I've not heard before. Ahead of the release of their new album Pink Colour Surgery on 3 February via Fatcat Records / Vicious Circle France's The Psychotic Monks share new single 'Crash' with a video directed by Bart Price (Black Country, New Road). After listening to 'Crash' to then discover it was produced by Gilla Band's Daniel Fox seems to make total sense.
It opens with a single techno beat, then a quiet clanging that continues throughout, and an increasingly emotional vocal. It develops into a static fuelled wild ride. The techno rhythm dominates and the clanging guitar accompanies it. The vocals are not the clearest to hear but the soundscape expresses the frustations with the repetition of "Look out" providing a warning. That industrial heavy reverb towards the end is reminiscent of a lift heading down to its destination, and is that water dripping at the end? Intriguing indeed. Speaking on the new track,
Paul Dussaux says: "'Crash' was made out of jam sessions, as we were trying to get out of our comfort-zone and explore more electronic rhythms and sounds. The lyrics are about people on tour, feeling exhausted about live, festivals, and about the mental health within the music industry. We got a lot of testimonies plus our personal experience that motivates us to try to talk about it. Not without some heavy emotions, this track means to create a safe moment of dance for all. During the mixing process, Daniel (Fox) put the different elements of the song in places we had never though of, which made us rediscover the song as a more techno-like track that we really enjoyed, not without a doubt because it was really far from everything we had ever done." (Julia Mason)
BRRDS – Under the Orange Light
Why we love it: BRRDS's 'Under the Orange Lights', is a utter delight, burnished with an illuminating carousel of synths and clicking beats house a joyous melody that captures the thrill of a night escaping to the bright lights of the city and the beats of the dancefloor they say it's a tribute to "trams and tribulations…a love letter to Manchester." It oscillates between bright pop melodies and analogue synths of Human League the elegance of early Saint Etienne.
BRRDS are a husband-wife duo from rural South Wales , UK. Their name comes from an 80's computer programme designed to simulate and predict birds' flocking behaviour.
Home music-making has always been their passion. They record in their mountain-side studio, Shaker Heights, a barn full of wheezing synths, creaking computers, and masking-taped
drum machines. (Bill Cummings)
H. L Grail – OTD
Why we love it: H.L Grail is Goat Girl band member and songwriter, multi-instrumentalist and aspiring producer Holly Mullineaux, and she has announced her debut EP Island with its transportive second single 'OTD'.
 'OTD' spindles upon a cyclical loop of guitars and a spluttering beat, Mullineaux's meditate and wistful vocals opening up an escape hatch from a negative situation to somewhere more whimsical and carefree. 'OTD' arrives accompanied by a surreal, washed-out video directed, shot and edited by close friend Mike Hinchcliffe (aka Boil King), who nailed the aesthetic after a short conversation about the track's palpable desire for escapism.
"'OTD' is a shortening of the phrase "on the double", meaning as fast  as physically possible. It's about trying to fix a deeply broken relationship and wanting things to change quickly and dramatically. It came from letting my mind wander to somewhere warm and far away, falsely  believing that a change of scenery was the answer to our problems." 
Co-produced by Mullineaux and Euan Hinshelwood (Cate Le Bon, Younghusband) at Vacant TV studios in Greenwich, Island features contributions from bandmates Lottie Pendlebury, Reuben Kyriakides,  Ellie Rose-Davies and Rosy Jones on violin, cello, backing vocals and additional percussion as well as sax by Hinshelwood and additional backing vocals by Daisy Goodwin (Token Girl DJs). Given a warm analogue glow by Syd Kemp (Peluché, Naima Bock, Caroline) on the mastering, Island celebrates organic and experimental sounds in equal measure, practising earnestness and creative collaboration as a form of healing. (Bill Cummings)