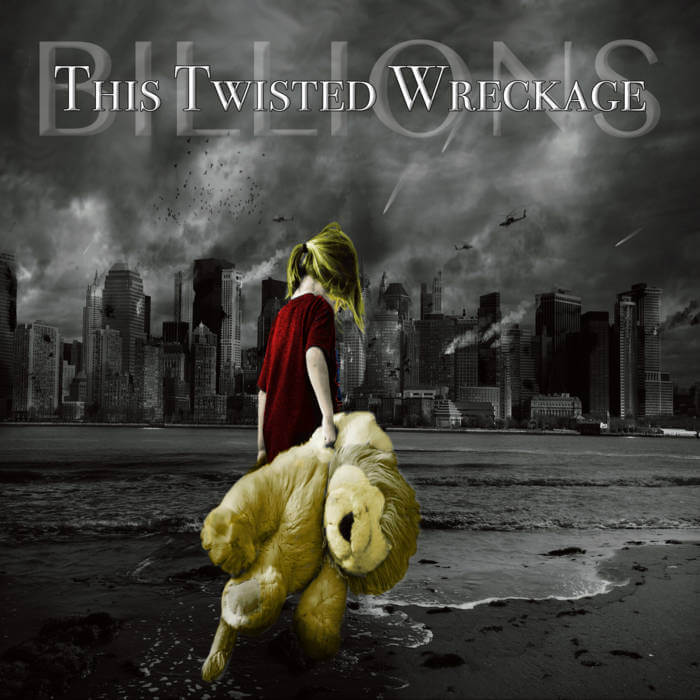 This Twisted Wreckage consists of Luke 'Skyscraper' James and Ricky Humphrey. Luke was the original lead singer and guitarist for the Birmingham band, Fashion, in this writer's opinion, the more exciting and vital version of the band. 'Skyscraper' was a nickname bestowed upon James due to his noticeable height. Portsmouth-based, Ricky is a multi-instrumentalist with a hefty background in playing, writing and producing. It would say 'Seasoned, Quality Craftsmen' in fact, on the side of the van.
On this self-financed, self-produced, latest offering, there's a 'We've ruined this planet' theme going on, which kickstarts immediately in the opening track 'Welcome' .." We've worn out our welcome.' A pinch of Numan or Killing Joke? Perhaps, a little in its feel, it stomps in like a Stegosaurus at a birthday party and then continues wreaking havoc in the turbo-charged 'Nothing is Nowhere', while 'IWishIKnew' is a "Where have you been all my life?" stomper.
'Technosavage' is a song with a driving force, reminiscent of a runaway truck in the middle lane. America's gun laws and its misfit abusers (often the computer geek, basement kids) are a not too thinly disguised subject matter. A ten minute extended version is bolted on as an extra, along with an elongated 'IWishIKnew'
'Upgrade Me' speaks for itself in the title. I feel many of us would echo that demand on this 'rocker' given the opportunity. 'Why Celebrity' asks questions which I'm sure many of us would love the answers to. 'Our Children' makes a statement along the lines of "let them be who they are." Sometimes little 'Rihanna or Justin' may not be inclined to take over the family bakery.
'Trailer Park' is a cry for help. "Deliver me from the Trailer Park and the satellite dish" – It's the edge of the desert. There's a morning mist. There's despair amongst the tumbleweed on the album's finest song. The title track 'Billions' ends the album with a cheetah-paced reminder of our infallibility and mortality, before slowing to a more reflective pace.
This Twisted Wreckage are not yet known to Billions, and have yet to be in the same room together (a sign of modern times), so you may not be catching them at your local hall, gymkhana or bar mitzvah any time soon. Every purchase of this album could change that though. There are a dozen good reasons to do just that. A fine effort.