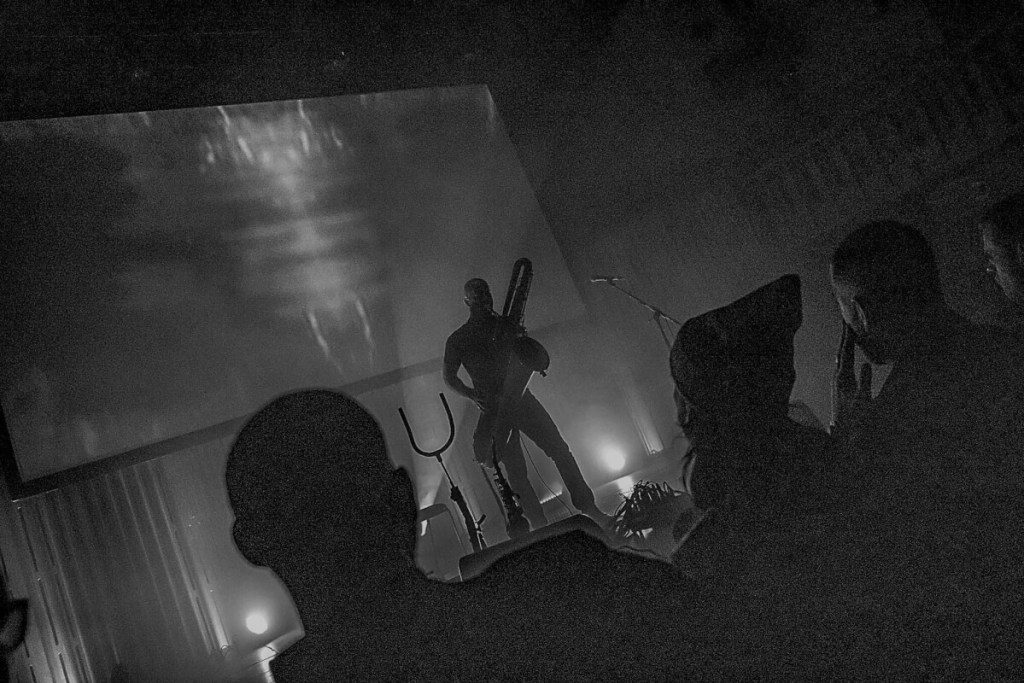 It is exactly one year and one day since Colin Stetson last played in Leeds. Whether this scheduling has occurred by accident or design, you suspect that the American saxophonist, multi-reedist, and composer would enjoy the perfect symmetry of that timeline, such is the precision of the man and his music. Be it his daily routines – from breathing rituals to his regularly listening to the same type of music at pre-determined times or on particular days of the week – or the manner in which he approaches his live performances, there is an inherent measure of meticulousness and control over what he does.
For this European tour – tonight is the last of six dates in the United Kingdom before he heads over to Denmark for a couple of shows – Colin Stetson has devised a live visual effects system on which he has been working for a number of years. This tour marks its first iteration, one whereby all of the lights and film that Stetson uses on stage are activated by his music via a series of microphones that are strategically placed over his instruments and body and within the auditorium itself. In a recent interview with The Quietus, Stetson said: "The technology is now so good we can translate a lot of information from analogue audio into digital control."
Yet for all of that exactitude, the music that Colin Stetson creates defies simple categorisation and, as this concert will easily attest, he plays with innovation and freedom firmly at odds with many of his more singular characteristics. 
In its most simplified form, tonight's performance bears witness to Colin Stetson playing two saxophones. One is large, the other is small. The reality, though, is palpably different. With each instrument in turn, Stetson metamorphoses into a veritable one-man band. He creates one huge, complex individual sound, assuming the roles of a driving rhythm section and vocalisation alongside that of a saxophonist as he does so. It is thrilling, visceral, and, quite frankly, terrifying in equal measure.
Colin Stetson's next album When We Were That What Wept For The Sea will be released on the 12th of May and a number of songs from that record provides much of this evening's set. Inspired by the recent passing of his father, the songs he plays from the album – including its imperious title track and 'Behind The Sky' – do breathe the air of melancholia and possess in them a sense of foreboding. Yet for all of their understandable sadness, strong feelings of elation do manage to find their way into the songs. And these occasional shafts of light are captured in Stetson's physical representation on stage. Backlit and cast in deep shadow for the most part of his hour-long performance, such fleeting moments of bright illumination do provide the comfort of hope and beauty.
Colin Stetson concludes this extraordinary concert with two huge, dense compositions that veer into the previously uncharted waters of drone-metal for saxophones. During the penultimate piece as Stetson is momentarily bathed in a rich ochre light and the sustained rumble of his bass saxophone intensifies, you begin to understand more fully what Aldous Huxley meant when he spoke about The Doors of Perception: And Heaven and Hell. 
Three hundred and sixty-six days ago Colin Stetson had appeared on stage just along the road from here in the Belgrave Music Hall and Canteen. Tonight he produces another intense, compelling performance in the more refined surroundings of the Howard Assembly Room confirming with us that this genre-defying music that he continues to create at such remarkable will, transcends both time and place. 
Photos: Simon Godley