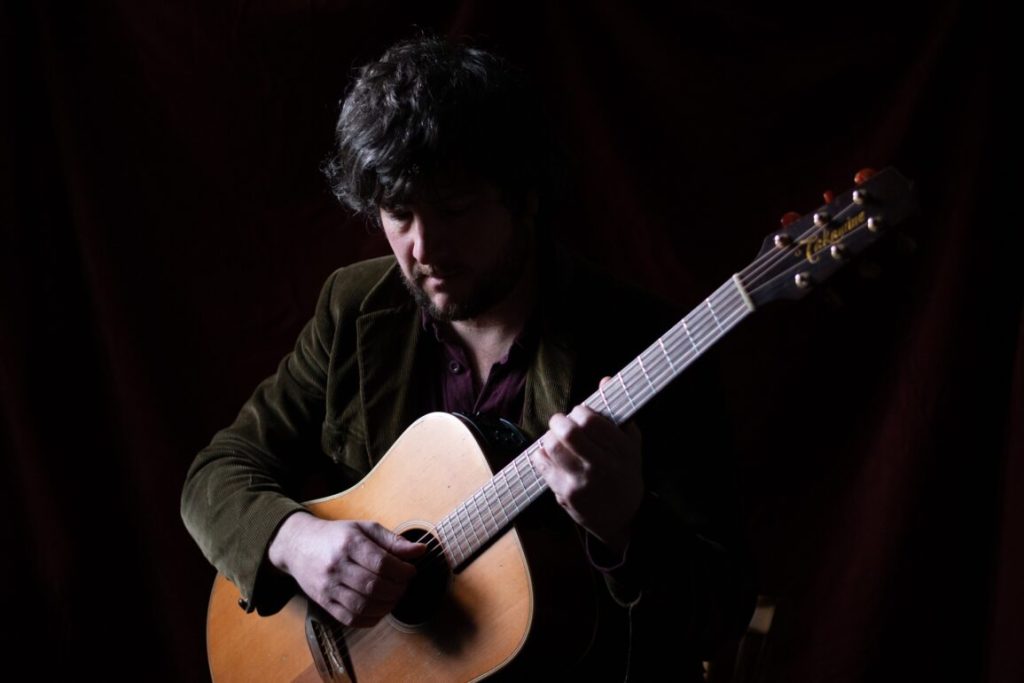 For context, the first this writer knew of The Gentle Good was his beautiful yet determined 'Bound for Lampedusa', from Welsh Music Prize 2017-winning album Adfeilion/Ruins. A sensitive moving concern for refugees fleeing Libya in – and lord, we hate to use Conservative Party rhetoric – 'small boats', the song feels even more poignant now some seven years on, given the obsession with housing desperate souls in rusty tin barges. Gareth Bonello excels in reflecting the human condition, and new album Galgaran (Grief song) continues that tradition. Tradition is the apt word here; on this release he reinterprets old songs forgotten or mislaid, under loved possibly, and reinterprets each. He recorded them during the pandemic when we all perhaps knew  loss, sorrow and loneliness a bit more than during the natural movements in regular life. Or maybe we just had more time to think about this stuff.
Although on opener 'Pan own i ar foreddydd" (As I Was One Morning) we find Gareth and guitar alone, it is hopeful. The image of a blackbird 'tuning on the branch' is melancholic, but a reminder of nature – and our – continuation, no matter what. The mournful sobering cello on 'Nid wyf yn llon' (I Am Not Happy) reassures, a healthy acknowledgement of sadness. The  song offers an alternative title for the whole record, says Bonello, and fair play – it says it as it is.
'Mae'r Ddaear yn glasu' (May, or Summer Carol) really is very lovely, the cello and guitar in a mournful dance; 'Pan own y gwanwyn' romantic and heartening; ballad 'Y Bachgen Main' (The Slender Lad) a tale of true and tragic love. It feels timely the record comes out mid-out of season heatwave, and includes the more familiar 'Beth yw'r haf i mi?' (What Is Summer to Me?) as rising temperatures slow us down, and force us to contemplate a little as the summer stretches past its conventional sell by date.  Mid 18th Century folklore somewhat creatively claims David Owen composed album closer 'Dafydd y Garreg Wen' (David of the White Rock) on his deathbed; instead of the original harp Bonello makes the lament his own with guitar and cello, the latter breaking the heart a little.
Many of the songs on Galargan come from the collections and writings of Meredydd Evans and Phyllis Kinney in the National Library of Wales, and solitude is reflected in these simple heartfelt reworkings. Bonello accompanying himself on guitar, piano, cello pushes the point home. There is a healing to be gained in quiet and space, away from distractions and fuss. This record may not perhaps have been welcome earlier on our collective journey from the pandemic but in the here and now, it is pretty much perfect. Here we are reflecting, gently.
Galargan is out on Bubblewrap Records now.