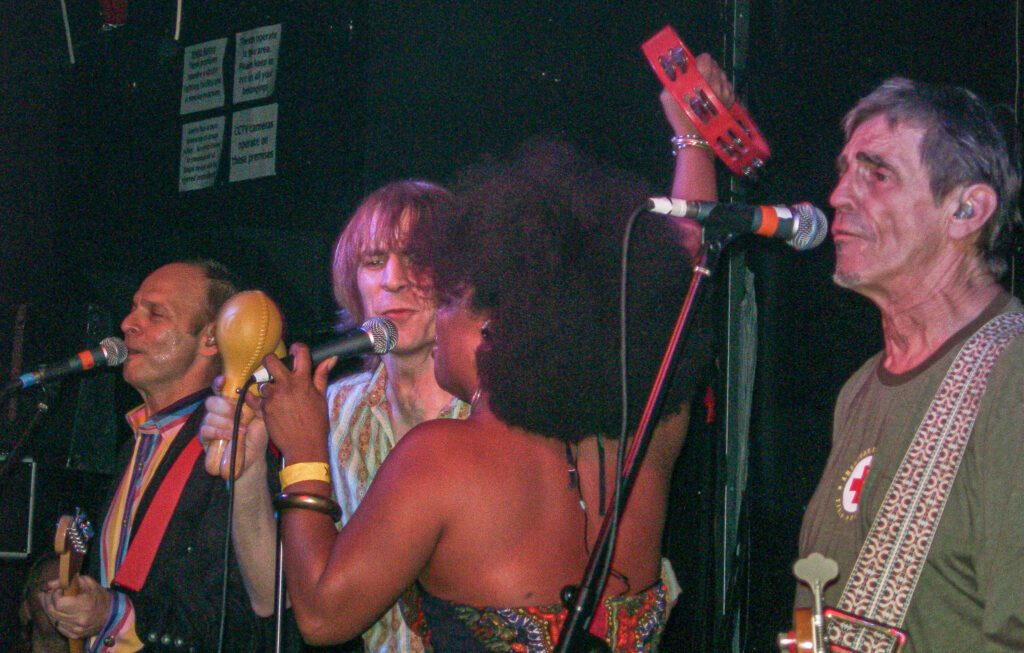 To celebrate the wonderful occasion of God Is In The TV's 20th birthday, I thought I would look back on the past couple of decades and pick 20 of some of my most memorable live music experiences from during that period. I have selected one from each of these years, from 2004 to 2023, respectively. These gigs and festival shows are not necessarily the best I have ever seen, but certainly ones that stick out in my memory.
This feature will come in two parts, the first of which covers the years from 2004-13 inclusive
2004: Nick Cave & the Bad Seeds – Manchester Apollo, 8th November
Many other concerts could have been included here – from the first and probably best time that I saw Kraftwerk at this self-same venue and Spiritualized playing two radically different sets on the one night at Fibbers in York as part of the Passport: Back To The Bars charity week in support of War Child, to seeing a pre-breakthrough Amy Winehouse at The Cockpit in Leeds – but the nod ultimately goes to Nick Cave & the Bad Seeds.
In some shameless name-dropping we had a pre-gig Chinese meal with then Bad Seeds' guitarist Mick Harvey – my good friend Chris has known him since the days of The Birthday Party – and afterwards we drove from the restaurant to the Apollo in Chris's Ford Focus, pulling up outside the stage door to let Mick get into the building. Next thing we know is an incessant blast of a horn from the car behind, clearly believing that we were in its way. Out of a gleaming white Mercedes stepped Mr Cave himself and less than 10 minutes later him and the Bad Seeds, complete with three backing singers, were on that Apollo stage belting out an incredible 'Abattoir Blues.'
2005: Vic Chesnutt – The Castle, Oldham, 20th May
This one was surreal in the extreme. The cult singer-songwriter from Athens, Georgia, championed by many notable artists, including Michael Stipe, played to a handful of people in a dilapidated boozer in the old Northern industrial town of Oldham. All was going pretty well until the ever-increasing racket coming from a pool table in an adjoining room got too much for Vic Chestnutt. "It's time to get the fuck out of Dodge", he muttered, before swiftly departing the building to make way for the pub's regular Friday night disco.
2006: MC5 – The Barfly, Liverpool, 8th December
I cannot begin to tell you what a thrill it was to see those Detroit revolutionaries the MC5 in concert, even if by that time only three of the original members were still with us. Guitarist Wayne Kramer and Michael Davis and Dennis Thompson on their respective bass and drums were joined on stage at various points by guest vocalists including Mark Arm from Mudhoney and The Bellray's lead singer, Lisa Kekaula. They opened with an incendiary cover of Jerry Lee Lewis's 'Rambling Rose' and ended about 15 songs later with an equally blistering 'The American Ruse.' "Kick out the jams, motherfuckers!"
2007: Mary Margaret O'Hara – ATP Festival, Butlin's, Minehead, 29th April
This was my first ever All Tomorrow's Parties festival. It was curated by the Dirty Three and included the inaugural live appearances (they played twice over the weekend) by Grinderman, joined as they were by "the former Jesus and Mary Chain drummer, Bobby Gillespie." As memorable as that was, the most jaw-dropping experience of the entire weekend was catching the elusive Canadian genius singer-songwriter, Mary Margaret O'Hara. She opened with a cover of 'Yellow Roses' and so sublime was her interpretation of this Hank Snow classic I thought, "crikey, this is going to be the best concert I have ever been to." It was absolutely spellbinding.
But sadly things started to unravel shortly thereafter. The voices inside Mary Margaret O'Hara's head started to induce uncertainty and her performance was impacted accordingly. She seemed to become consumed by the fact that her bassist hadn't made the show and it was touch and go if she would actually make it to the end of her set. But make it she did, before signing off with a most improbable and rather surreal 'Somewhere Over The Rainbow', which is presumably where she then headed never to be seen again.
2008: Tom Waits – Le Grand Rex, Paris, 25th July
Is there anything more thrilling with live music than to experience it when on foreign soil?  This year's choice was a very close run thing between Tom Waits in Paris and Annie Ross at the Metropolitan Room in New York the previous month. But Tom Waits just wins out in the end.
This was the fourth time I had seen Tom Waits. All three previous shows were at the Edinburgh Playhouse in '81, '85, and '87 respectively. All were brilliant, but this one moved into another dimension due, in part, to it taking place in the largest cinema in Europe, a beautiful Art Deco building which dates from 1932 and boasts exquisite balconies, loges, red velvet seats, and a midnight blue vaulted ceiling with twinkling stars, all of which transport you to a different time and place. But it was so special mainly because of Tom Waits himself and his sheer magnetism as a performer and wholly unique qualities and idiosyncratic talent as an artist.
Standing on a vast circular dais shaped like the top of a wooden barrel, kicking up clouds of dust as he stomped away in time to his songs, and surrounded by an array of battered instruments and megaphones, Tom Waits was part carny hawker, part vaudevillian performer. His music comes from another world, one that is populated by a cast of strange characters and rotates on an axis of intense, surreal adventure. To be part of that world, even if it was only for a couple of hours, felt like a great honour and privilege.
2009: Magnolia Electric Co. – Brudenell Social Club, Leeds, 4th September
This was to be the last time I would see Magnolia Electric Co. The dates on this tour of UK and Europe were to be the final public appearances by the original band. Their de facto leader Jason Molina would be dead some 42 months later, years of chronic alcohol abuse having finally taken their toll. He hadn't even reached the age of 40. As such, this concert lives in my memory as a very sad requiem to this incredibly talented, but clearly troubled musician. In truth, he didn't look in great shape that night and Magnolia Electric Co. were far from their best, but they still managed to pull an incredibly moving 'Shenandoah' (from their final studio album, Josephine) from somewhere out of the ether.
2010: Iggy & the Stooges – ATP festival, Butlin's, Minehead, 7th May
On reflection, 2010 wasn't a vintage year for me in terms of live music. But there were some highlights, probably no more so than Iggy & the Stooges headlining the All Tomorrow's Parties festival in Minehead. Earlier in the day and apparently in keeping with standard practice, Iggy hadn't even bothered coming from his hotel room in neighbouring Taunton for the band's sound check. I guess he's been through these songs often enough in the past. The absence of a dry run clearly had no detrimental impact upon the evening's show. Nor did the loss of the band's original guitarist Ron Asheton who had passed away the previous year. He had been replaced by James Williamson, another Stooges' veteran having first played on 1970's Raw Power. They played 'em all that night from 'Gimme Danger' to 'Kill City'. It was loud as hell, mad, bad, and highly dangerous.
2011: Amadeus & Mariam – New Century Hall, Manchester, 14th July
Amadou and Mariam are a husband-and-wife duo from Mali whose music combines their West African influences with rhythm and blues. Both had lost their sight as children This concert, which was part of that year's Manchester International Festival, was promoted as a "sensory experiment." It was conducted in total darkness with the sounds and smells of their home country piped through the venue's speakers and grills and was geared towards providing the audience with an opportunity to experience the event from the same perspective as its creators.
Whilst occasionally unsettling and most certainly inhibiting – the audience were seated and therefore unable to express themselves as they might otherwise do at a more conventional Amadou and Mariam show – the experiment did ultimately work in terms of intensifying the individual sensory experience as well as further developing your disability awareness.
2012: Dan Stuart – Brudenell Social Club, Leeds, 6th September
This was certainly a good year for me personally for live music. I could have chosen any number of gigs, including Shelby Lynne at Middlesbrough Town Hall, Dexys at Whitley Bay Playhouse, which to this day remains one of my top ten gigs of all time, and Scritti Politti who defied all my expectations at the Brudenell Social Club in Leeds. And that is before we even mention Johnny Halliday's magnificent show at the Royal Albert Hall.
But my selection has to be the former Green On Red man, Dan Stuart for his astonishing emotional high wire act, performed without the aid of any discernible safety net. Read my review of it below:
2013: Pea Sea – The Basement, York, 20th May
Pea Sea is one of those concerts where you know absolutely nothing about the artist, to the point of never even having heard of them beforehand. A punt was therefore taken purely on the basis that local live music promoter Please Please You very rarely, if ever puts a foot wrong with the gigs he puts on.
Read my review of it here:
All photos: Simon Godley