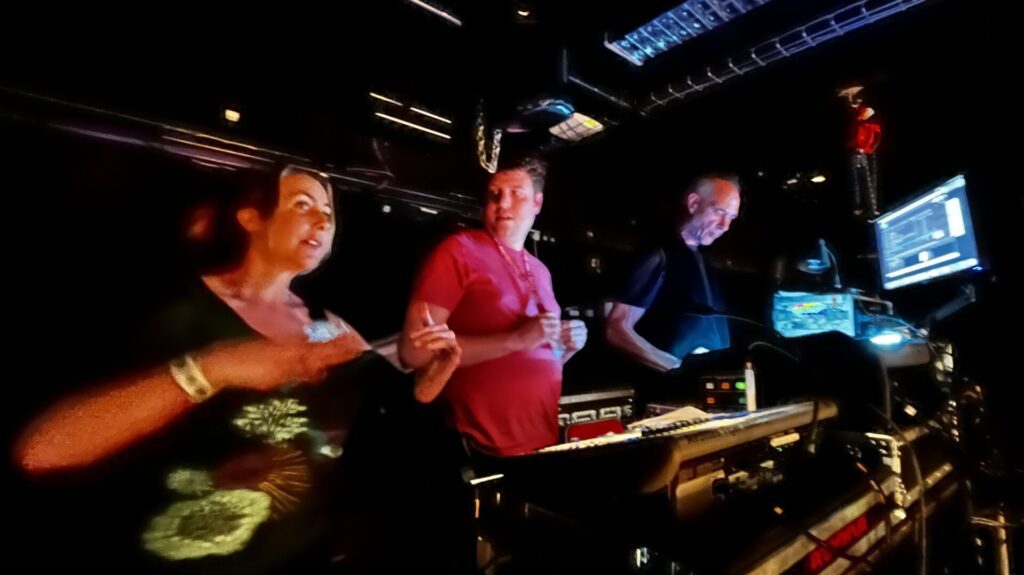 Unveiling Super Connected: A Theatrical Journey from Screen Addiction to Human Connection.
So how did the accompanying theatre show and film for Super Connected come about? How did Kate Alderton develop the show?
 "Well, I made the film straight after I recorded the album, so I'd been waiting to release both for a long time. The message of Super Connected is fairly straight forward in the way it focuses on how much our lives are dominated by tech and screens, but artistically it's a complex beast.  Through Kate Alderton's directorial lens, the two elements (the album and the film) became unified. She found a way to make me, my pianist Sarah Kershaw, the album and the film, all become characters in a piece of theatre.  I would never have dreamt of acting on stage in relationship with the character I play in the film, who is on screen. Kate led workshops with me and unpacked all the possibilities of the project.
The compassion for people suffering from screen addiction that I'd written the songs with, is something I get to perform 'to' those characters while I'm on stage. The audience hear the songs, watch the film and see me in relationship with the story.
I think that's what so brilliant about Kate's theatrical approach.  She's subverted one of the central villains in Super Connected, (i.e. 'Screens') so we can use it in a way that serves a story about spending less time in front of…'Screens'. In the live show of Super Connected, I play many different versions of myself.
I was listening to the title track 'Super Connected' with the brass and the melody and it was reminding me a bit of Aztec Camera's 'Somewhere in My Heart.' What kind of moods were you trying to tap into musically?
"'Somewhere In My Heart' actually came to me quite late, I only started getting into that a few years ago after I'd recorded 'Super Connected', but Roddy Frame was an early influence in terms of song writing.  The moods I was trying to tap into on the title track were probably much more Bowie, and probably one of his lesser appreciated albums 'Never Let me Down'. 'Day In Day Out' was absolutely everywhere when I was growing up in Spain, and I think the angular structure of that song, as well as the use of backing vocals must have gone in deep.
Listening to the song 'Super Connected' now, I can also tell that some of Steely Dan's Reelin' In The Years must have got into my musical DNA.  I listened to that album a lot in the early 90's.
I approach an album quite theatrically by singing from different characters' points of view. So, you know on the Super Connected album, 'The Touch of a Screen' is like a Radiohead 'isolation lullaby'but 'You Like My Pictures' is like a Prince 'funk workout'"
Yes I can hear shades of Thom Yorke in your vocals…
"I was compared to Thom Yorke a lot when I was in my first band Jocasta, and I think someone at Sony suggested spelling my name 'Thim' at one point! (That's major labels for you) A big part of growing up for me was working with their live sound engineer, Jim Warren, who I've collaborated with on all my live shows. Jim's an artist of 'sound'. I've been lucky to have the same special ears at the controls that Thom's had. He's a dear friend and we've been on many sonic adventures together.
Image: 2. Kate Alderton (far left) and Jim Warren (far right), tech rehearsals for Super Connected at Roundhouse, May 2023
The album takes in a lot of shifting musical styles.
"I've written a lot of albums that are each different in style, but Super Connected is multi-genre in itself. Normally people like one-off songs of mine, but with this, it seems everyone likes the multi-genre journey. I'm really pleased and grateful, really. Because I tend to do what I feel like doing regardless of what the current trend is.
I think it evolved like that because the subject matter of the album is something that I wanted to communicate with as many different types of people as possible.
"I thought, to do Super Connected in one style would only really reach one group of people. I didn't want to limit the styles of music. Hopefully, people who like different music can get the same message in different containers with this record."
Yeah, that's a good point as well. What do you think of Royal Blood's recent pronouncement on stage at the Radio One Big weekend, proclaiming: "We're called Royal Blood and this is rock music'" as they flounced off because the audience wasn't as receptive to them. I was thinking, if you're a rock band and you're playing like a more mainstream Festival, a lot of the bands in the 80s and 90s would have seen that as an opportunity to convert new fans. They would have seen that as like a platform rather than a place to complain.
"I respect all hard-working musicians, you know, and I think Royal Blood are a hard-working band. But when it comes down to it, (and it's an old-fashioned saying but, the customer is always right. So, if you're selling or sharing something, then just do it with love and joy, or don't do it. I've been in situations on stage when I thought 'These people aren't really getting it', but I always hear my mother's voice and what she told me when I first started gigging, aged 16. She'd been singing professionally for 4 decades by then, so she knew what she was talking about.  She said: 
"When you think most of the people in the audience might not be paying attention to you and your music, keep your cool, and for god's sake, don't challenge them about it on stage.  It will ruin it for the other people who are behind you, and you might lose them if you take out your frustration on the others. Even if only one person in the audience loves what you do, you've done your job."
Caption: Polly Perkins' album 'The Liberated Woman' 1973. With her son Tim Arnold at The Mean Fiddler, 1993.
Yeah, and when you think about them being in quite a privileged position to be asked to do it, there's a lot of artists who would kill to be on that kind of stage. It seemed a bit like, you know, a little bit entitled.
Kate:"That's the curious thing about the internet and digital communication isn't it? All roads lead to very polarised thinking because everything's so quick and out of context. And that's, you know, the complexity of our humaneness and it's really hard to get that in digital form."
There's a lot of nuance and context that gets lost in it. But they are playing into this cliched idea that rock bands are one thing. I think the best so-called rock bands didn't really have that kind of such a narrow-pigeonholed view of music…
"I think that's what Super Connected is about – how communication happens in a natural way between two people, then a third thing happens between them, something that wasn't expected that arrives in the conversation. You've got your point, I've got my point, but we have a conversation and something else happens between that we can both learn from. It doesn't work like that on the internet or Twitter or any of the social media sites. It mostly drives us into an absolutism.
Falling into Filter Bubbles is the norm in the digital realm. I think we need to nurture the physical realm where healthy challenges can play out, and help us grow"
Image – 'The Filter Bubble' by Tim Arnold, 14th Feb, 2019
I will follow people I disagree with as long as they're not extreme. But if they have a different viewpoint then I like to be able to see different viewpoints as well. Obviously, I follow people I agree with as well. But it's funny, because people will block people based on who they follow. I can't really understand that, just because you follow someone doesn't mean you would agree with everything they say?
"Yes, and you wouldn't say 'Okay, I'm not following you anymore' to people who you have a strong relationship with. Whether it's a friendship or an intimate relationship or a colleague, you wouldn't say that in real life.
I think it's dangerous to have your self-worth measured on shares and likes and stuff and stats. That's another good point about music, a lot of things are judged on stats now, aren't they? But actually, a lot of those stats can be gamed.
Yes, for younger musicians, it must be so hard that everything they do is judged on stats rather than merit. I've listened to companies say they have to measure data before they can give artists a 'green light'. It's consistent in the 3 major areas of the music industry – record labels, publishers and live agents.  I don't have any of those three things, so I don't know what that pressure feels like for a young music creator. But I imagine the impact must be soul destroying and a strain on mental health.
Photo: Tim Arnold, live at The Roundhouse, London, May 2023
I've had a few chats with people the last couple of days, about the connection people used to have towards music and how deep it was, and how much music seems to be in the background rather than the foreground for many people now. It's sort of a devaluation of your role really, if not your work, generally. Yeah, music and art has become disposable on these platforms. There's so much of it, it's devaluing.
"That's why the first single is called 'Start with a Sound'.  It's really about how we start to value sound with as much importance as imagery or vision. We've moved into valuing things by looking, with listening being a practice that appears to be okay if it's interrupted.
Music has become a valuable extraction point for tech companies. It's the way they accrue more data. Data is the new oil, and to turn music into something that's main function is to 'facilitate data colonialism', is the most successful and invisable scam of this century so far. It's true social media and technology are tools. But technology companies would have you believe that it's not 'just' a tool. It's a new space to create. I think that the space to create exists in physical shared spaces with each other. And the tech tools can be useful to expand that. Not replace it."
What do you think of the move to boycott streaming platforms? Would that work or do we need more fundamental change, in fair royalty rates/distribution of music?
I don't think we need to attack music streaming services.  I think we need to reconnect creators and listeners. They have a historical sacred relationship. That's where the power is. Iggy Pop talked about it in his John Peel Lecture. He said "Part of the process when you buy something from an artist. It's a kind of anointing, you are giving people love". That love is still in the hearts of listeners, but it isn't reaching the artist if we have an infinite distribution model. The value of art is rooted in its availability or its scarcity. Infinite distribution has decontextualized the sacred bond between creators of music and fans of music. Until we address that and reignite that bond, the system prevails while new generations are born into a music ecology that can't remember a time when that sacred bond even existed. I don't know the answer, but I believe the future of that bond is already beginning in platforms like Bandcamp and Patreon."
Tim and Iggy Pop working on the music for the movie 'Blood Orange' 2015'
Do you think younger artists find it easier to play the game than challenge, but does this create a self-fulfilling loop of poor pay? Also what do you make of calls to boycott Spotify and AI? 
"I think for digital natives, it's hard to imagine there is another game to play, other than the one that is force fed through our social media feeds: create content, keep up your presence, get on curator playlists, turn your posts into paid ads and keep providing the world with reasons to give you their attention.
I'm fortunate that I began creating on the intersection of the analogue and digital world. But now the values have changed. Commercial success has always been a big incentive, but for many of us, we just want to do what we do and get paid enough to keep doing it. I don't think that's any different for younger artists, but corporate messaging emphasizes attention and data, rather than creative expression.  And that refocuses our artistic eye away from creativity and onto an unachievable infinite cycle of self-promotion. 
Naturally, there's a balance to be had, and I try to explain that whenever I host a mentoring session for music students.
As for the ethics around AI, I'm still learning.  The bottom line with AI and things like Chat GPT for me is, if it gives humans more time to be with each other and our families, then that's a great thing.  But so far it seems everyone from authors to songwriters and artists are spending a lot of time in front of screens playing with it.  The curiosity is healthy, but why there's so much focus on AI writing songs and making art is odd. Incredible technology arrives in our insanely busy world and the first thing people are talking about is…how AI can create music, write books and make art.
I'm a Ken Robinson disciple, and education (which comes from the Latin 'educare') means 'to draw out'. Drawing out each other's innate talents and passions needs more of our attention than AI does.
Let AI take care of the mundane stuff that robs us of precious time we have together and let the art be handled by the human heart. As David Hockney said: "High tech needs low tech – they are permanently joined, although I should point out that the hand, the heart and the eye are far more complex than any computer can ever be"
Tim Arnold's Super Connected is out now: https://bit.ly/SCPAlbum
Read Part One of this interview here
Related