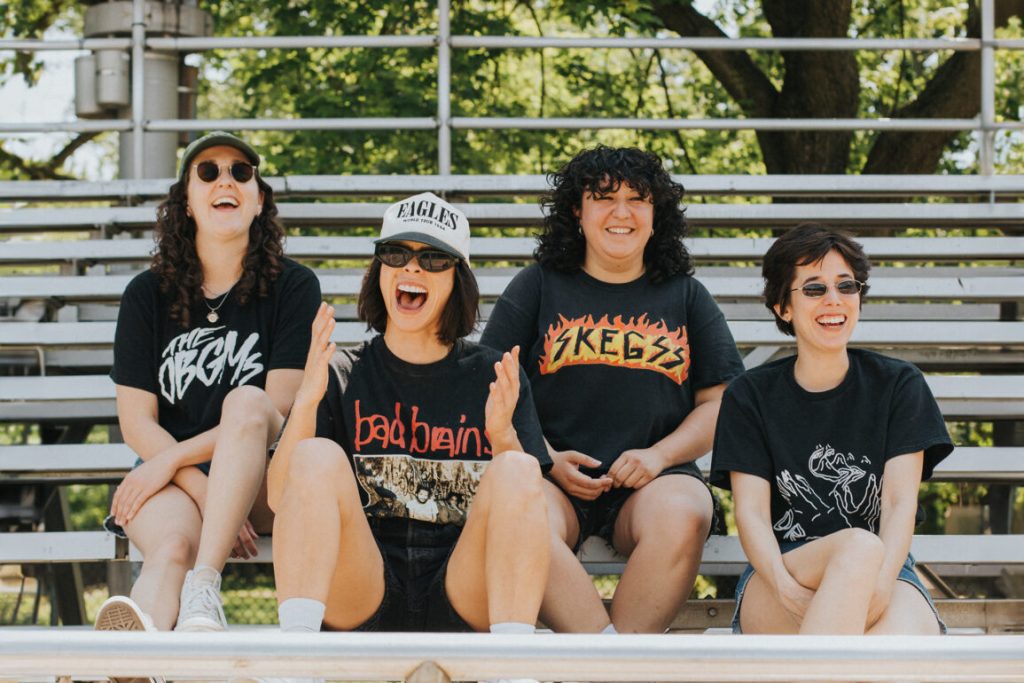 NOBRO were playing a show the day after the United States Supreme Court overturned the right to access an abortion in the country. The four band members, all women, were shaken and furious, but that night vocalist/bassist Kathryn McCaughey led a righteous toast against the decision: "This next song is dedicated to setting our vaginas free!". Even though this was a spur-of-the-moment response to the news, the phrase stuck with McCaughey. And NOBRO now share debut album Set Your Pussy Free via Dine Alone Records.
Album opener had to be 'Set That Pussy Free'. A raucous start, and with its chant of "N O B R O" a call to join in the fun while at the same time make its point, loud and proud. The Rock 'n' Roll vibe is re-blended by NOBRO and boy does it sound good. 'Let's Do Drugs' is a roller-coaster of a tune, thundering along fuelled by electric guitar riffs full of fire. The intention of the track is not as you may initially think.  Listen closer and the nuance is there, as the band further explains:
"'Let's Do Drugs' is a dumb rock song about getting older.  It's about wanting to have one more wild night, while having no business doing so and failing miserably.  Musically it's a middle ground between maybe 'Fight for your right to party' and 'dirty deeds', but only the dumbest bits of those songs, but distilled into something even more ridiculous.  It's like shotgunning a beer then immediately puking on yourself."
Social expression has long been an influence for songs and 'Delete Delete Delete' basically screams to pull free of the addictive habit of scrolling the internet. This is an onslaught against its power and the desire to drag free of it. It seems so obvious when NOBRO point out the absurdity of it all in their lyrics:
"Looking for an answer haven't found one yet.
Why are people dancing on the internet?"
'A.I. Sexbots' reminds us that in these ever challenging times, the happiest state is being yourself. "Can't get a job with my degree, I gotta be me." The chant of "It's gonna be alright" is a positive affirmation, repeated over. This is a glorious reminder to be true to yourself. The rebellion delivered at the end makes it absolutely clear that this is an important message.
This theme is continued on 'I Don't Feel Like It' is a total blast. This track had this reviewer smiling and dancing round the kitchen. The vocals are so clear throughout this album which is important as they matter. On this track McCaughey's using spoken word during the slightly slower verses but the chorus is just life-affirming. Who would not be energised by screaming at the top of their voice "I Don't Fucking Feel Like It."
'Where My Girls At' is another belter, a celebration of friendship, having a dream and making it happen. "Gonna start me a rock n' roll band yeah" yells McCaughey, and thank goodness for us she did. There is a tongue-in-cheek attitude expressed which filters through the whole album.
Formed in 2014 bandmates McCaughey, Karolane Carbonneau (guitars), Lisandre Bourdage (keys/percussion), and Sarah Dion (drums) made it abundantly clear from the start they weren't interested in playing by whatever rules had been set around them. 'Cash In On My Cachet' questions just why they have to behave in a certain way. It is a slightly less raucous track musically but the power is still there in the vocal and the lyrics. "Tell me why I gotta be like this, cos I've been feeling so down lately". Self-care is imperative and is part of the ethos of this band, along with self-expression. Which neatly leads on to 'Nobody Knows'. This is party punk with thrashing drums and tight guitar riffs, and is followed by more of the same on 'Let's Get Outta Here' .
'Who the Hell Am I?' is a vulnerable honest song sharing insecurities and looking for answers. It's an open expression of self delivered with a guitar riff which perfectly encapsulates the frustrations of trying to work out where the way forward is. Album closer 'Gimme More (Party through the Pain)' provides another example of the flow of Set Your Pussy Free. A fitting end with its breathless blast of "Gimme more" over and over, faster and faster. An exuberant upbeat finale which throws all caution to the wind and just demands to party.
McCaughey wrote most of Set Your Pussy Free with Toronto-based producer Thomas D'Arcy and it was recorded with Dave Schiffman (PUP, Rage Against The Machine). To learn this was completed live off the floor, with all four members playing at the same time, mistakes and all should be no surprise. NOBRO have produced an album kicking and screaming against modern life's restrictive pressures. It reminds us to be questioning, to find one's own self, to celebrate friendship and love, to not fall under the power of those who damage us, and arguably most important of all, never forget to find what makes you fulfilled and happy……..and party
For more information on NOBRO please check out their facebook and instagram.