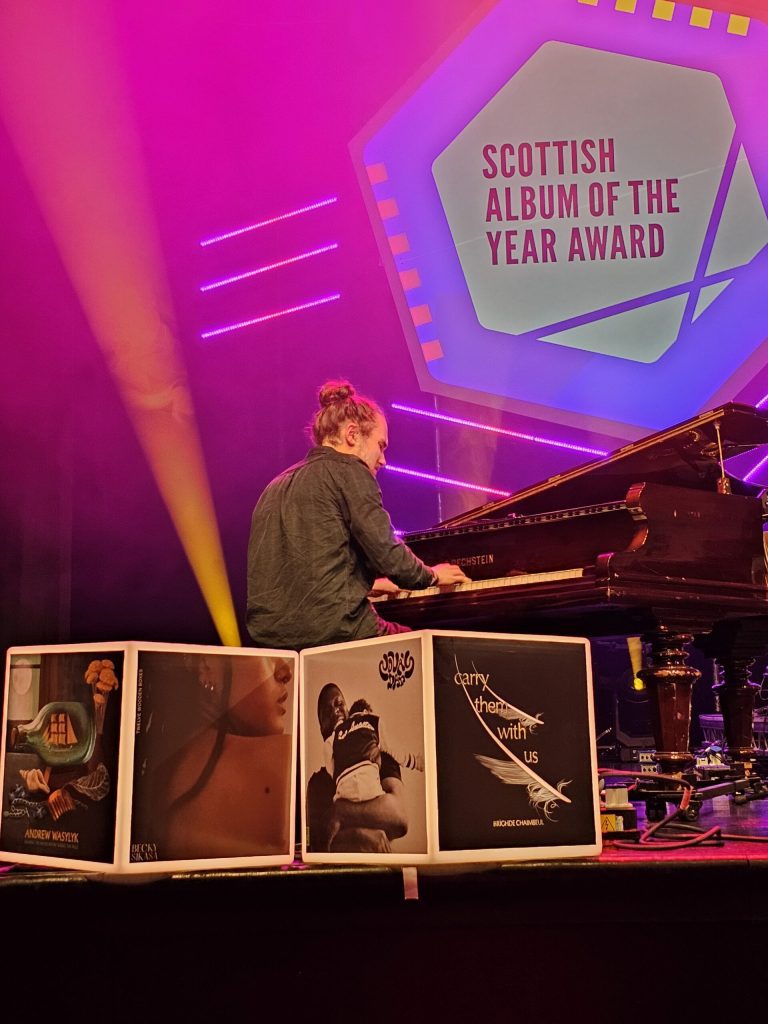 The Scottish Music Industry Association presented the Scottish Album of the Year Award for 2023 at Albert Halls in Stirling on Thursday 26 October. The evening was a celebration of the Scottish music scene and was compered by Broadcaster and Music/Arts Writer Nicola Meighan and Broadcaster, DJ and Author Vic Galloway. The SAY Award charity partner is Tiny Changes, the organisation set up by the family of Scott Hutchison (Frightened Rabbit) with the aim of supporting young people with their mental health. As well as performances by Fergus McCreadie and Dead Pony (celebrating 10 years of PRS Foundation's PPL Momentum Music Fund) there were three awards on the night.
First up was The Modern Scottish Classic Award 2023 which went to Paolo Nutini for his 2006 album These Streets, produced when he was just 19 years old. This was celebrated with performances by Becky Sikasa and Brownbear along with the SAY House band.
Fergus McCreadie

Dead Pony

Brownbear

Becky Sikasa
The second award was for the Sound of Young Scotland Award which went to Edinburgh duo No Windows. This award is sponsored by Seabass Vinyl (Scotlands first vinyl pressing plant) and will see Morgan Morris and Verity Slangen receive 500 vinyls of their album.
And so to the main award of the night. The depth and quality of music in the shortlist is evident but Young Fathers have produced an extraordinary album in Heavy Heavy. Currently on tour and fortunately playing two nights at Glasgow's Barrowlands earlier in the week, it was up to Alloysious Massaquoi from Young Fathers to step up to the podium when the announcement was made. He described winning the accolade as "a bit radge" and said the album depicted the "the trials and tribulations of everybody".
He went on to say: "It's one of those things where we sort of had to start from scratch, it had been four or five years since we put something out since Cocoa Sugar. For us to get back together and get excited again with each other, all the ideas that everybody else brings – it's great and this is topping off a great year. We did two shows at the Barras and I think the Scottish crowd is one of the best – it's always nice to come to these places because it feels very homely. So it's mad, it's topping off a great year for the guys and I."
Massaquoi joked: "One has responsibilities – he's got two bairns so he's not allowed out. I want to take a whole bunch of shots but I'm a lightweight so I just want to watch myself. Watching the young folk coming up there – it's inspiring. I don't think the guys and I will ever lose that – we look at stuff right across the board. There's a lot of room for inspiration here and we gain a lot of inspiration right across the board. Thank you to everybody. Thank you, we love you all and appreciate it."
And one final point to note. The SAY Award Design Commission funds a maker to create bespoke prizes for the winning musicians, celebrating the relationship between art and music. Underpinning the theme of sustainability Brutal Concrete Workshop were appointed as the makers for the 2023 Design Commission. Their use of low-carbon concrete in place of cement, recycled glass local suppliers and sustainable packaging meant that awards were created with a minimal carbon footprint.
SAY Award 2023 Shortlist
Andrew Wasylyk
Hearing the Water Before Seeing the Falls
Becky Sikasa
Twelve Wooden Boxes

Bemz
Nova's Dad
Brìghde Chaimbeul
Carry Them With Us
Brooke Combe
Black is the New Gold
Cloth
Secret Measure
Hamish Hawk
Angel Numbers
Josef
Permanent Damage
Paolo Nutini
Last Night in the Bittersweet
Young Fathers
Heavy Heavy
For more information on the SAY Awards please check their website.