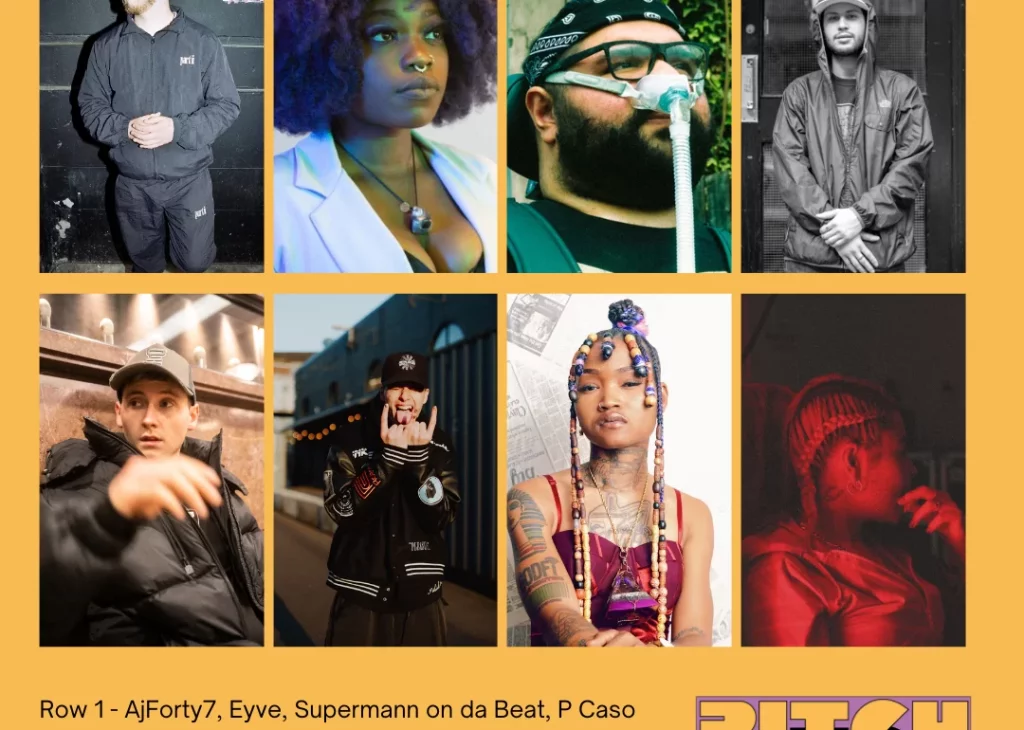 Pitch, Scotland's international convention of hip hop and underground culture, has announced eight artists selected to perform at showcases closing each day of the key event, set for Saturday 19th and Sunday 20th August 2023 at Glasgow venues Saint Luke's, Many Studios and the Drygate Brewery.
AjForty7, Eyve, JusHarry, P Caso, Queen Of Harps and Supermann On Da Beat were selected from over 100 applications from artists based in Scotland and beyond, as were Northern Ireland rapper HYFIN and US artist Nesha Nycee.
On Saturday 19th August at Saint Luke's, AjForty7, Eyve, P Caso, and Supermann On Da Beat will join Nigerian-Scottish artist Lamaya and Glasgow grime MC Oakzy B in performing live as part of the Pitch Scotland x PRS Foundation Showcase.
This year, or the first time Pitch will welcome visitors from the USA, Canada, Sweden and Portugal. Joining previously-announced international artists Kxng Wooz (Canada), Ogun (Wales) and Theolodge (USA) at the Drygate Brewery on Sunday 20th August for the Pitch360 International Showcase will be US artist Nesha Nycee, Northern Ireland's HYFIN, JusHarry and Queen Of Harps.
Speaking about this year's festival, Mobolaji Agoro, Pitch Scotland's Festival Booker explains:
'Pitch Scotland 2023 is our most ambitious year to date. With a focus on not only our sector in Scotland but also the International links we've been nurturing, we have created an engagement platform for artists and professionals. The number and diversity of applications received this year is a testimony to its success. On August 19th & 20th the Hip Hop Sector will come together to celebrate our music culture and our successes, and to face the challenges of growing as a sector. As Hip Hop turns 50, Pitch is looking ahead to ensure artists and professionals from Scotland make a profound impact worldwide in the decades to come.'