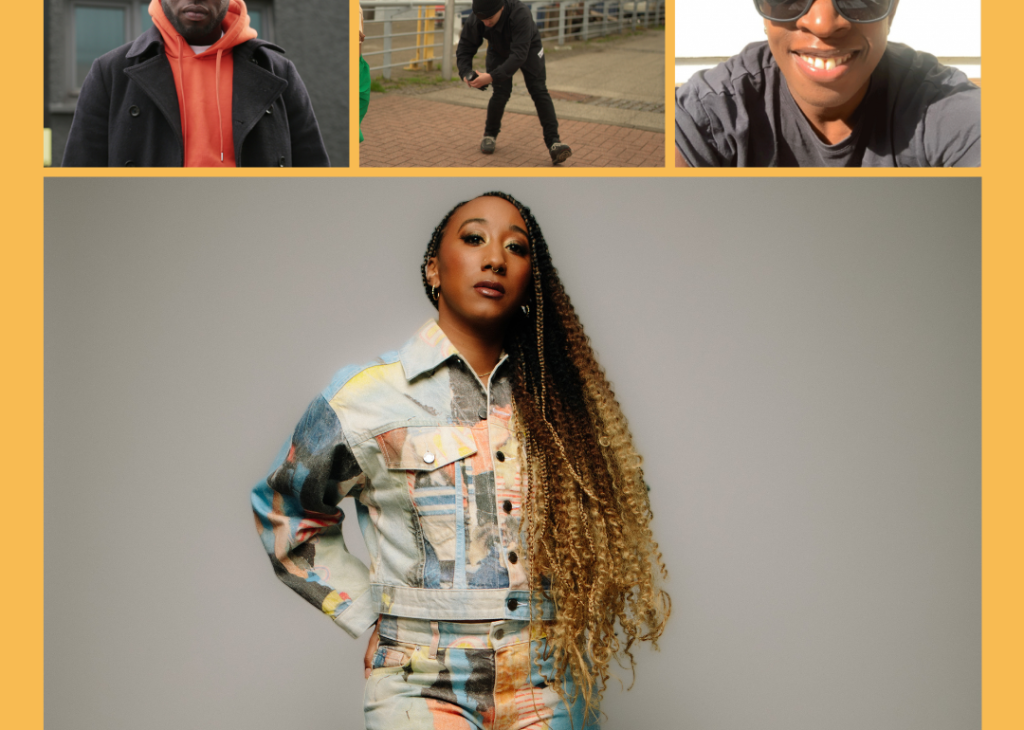 Award-winning broadcaster Jamz Supernova, Northern Ireland hip hop advocate James Ayo and some of Scotland's most exciting young videographers are among the final additions to Pitch, Scotland's international hip hop convention set for Saturday 19th August and Sunday 20th August 2023 in Glasgow.
In the month that Hip-hop marks its 50th year, Pitch will celebrate the genre's successes and further develop its unique platform for supporting artists and industry professionals at all stages of their careers through networking, expert discussion panels, mentoring sessions and inspirational live performances, including two evening music showcases and work from artists from the worlds of spoken word and dance.
wo industry insiders keen to share their knowledge and experience are award-winning broadcaster, globe-trotting DJ and tastemaker Jamz Supernova and best-selling author LaJoyce Brookshire, former publicist to icons such as Aretha Franklin, Whitney Houston and The Notorious B.I.G. In an online discussion, Jamz, founder of prolific record label Future Bounce and the 'DIY Handbook' podcast will talk with Brookshire about the latter's recent book 'Women Behind The Mic: Curators of Pop Culture Volume One' and the wider Women Behind The Mic movement which aims to shine a light on the stories of the women behind the success of some of music's greatest artists.
 
Also newly-announced is James Ayo, founder of HotBox Entertainment, a music studio based in east Belfast and entertainment platform focussing on nurturing and showcasing new hip-hop, drill and r'n'b talent from Northern Ireland and Ireland. Since establishing HotBox in 2018 as a response to the lack of local support for artists from outsideLondon, Ayo has built a team of young music creatives and has supported artists such as HYFIN, the Derry-Londonderry previously announced as performing live as part of the Pitch 360 International showcase on 
Sunday 20th August with Hip Hop Bursary winners JusHarry and Queen Of Harps, US artists Nesha Nycee and Theolodge, Ogun from Wales and Canada's Kxng Wooz.
As well as taking part in music feedback sessions, Ayo will join the expert panel discussion on  
''Developing rap and underground music outside of London' with previously-announced artists Call Me Unique, who runs her own events in Birmingham and Andrew Ogun, a musician and activist from Newport who connects with individuals, groups and communities as an Agent of Change for the Arts Council of Wales. 
 
The discussion will be moderated by Westley Holdsworth, grants and programme manager at the PRS Foundation, co-funders of Pitch with Creative Scotland and providers of £500 development grants to AjForty7, Eyve, P Caso and Supermann On Da Beat, artists selected from over 100 entries to perform as part of the Pitch Scotland x PRS Foundation Showcase on Saturday 19th August at Saint Luke's with Nigerian-Scottish artist Lamaya and Glasgow grime MC Oakzy B.
 
Also confirmed are some of the most exciting videographers, photographers and entrepreneurs from across Scotland for a discussion about the importance of visuals and video moderated by Sunjay Kohli, BMG UK's Senior YouTube account manager. Joining the panel will be RosaiCaptures aka Glasgow-based filmmaker and videographer Joe Rosenthal, who's most recently helped artists such as Grim Sickers, KLEO and Teo Lucadamo realise their visions through video; Beggsy aka self-taught videographer Connor Beggs, creator of promos for the likes of Jaad, Guerra and Conversate; Setor Tordzro, senior producer at Glasgow-based videography company K4U Visuals (Hannymoon, JusHarry, ID) and Edinburgh photographer/videographer Yona Mac who recently celebrated 1 million views for her YonaMacMedia YouTube channel, including videos for Skelly x Wee Dawg and Ledo x Dansoi and long-running emerging artist series The Drop.
Speakers and artists previously confirmed for Pitch 2023 include: AjForty7 (Artist), Denise Allan (677 Media Management), Peter Astedt (Future Echoes, Sweden), Frances McAvoy (388Creates|Artist Manager), Andrew Bamusi aka ACE V!S!ON (Artist | Poet), Bee Asha (Artist | Curator), Dana Beeler (Music Nova Scotia, Canada), Donna Boyd (Scottish Recovery Consortium), LaJoyce Brookshire (Women Behind The Mic | Arista Records), Call Me Unique (Artist | CMU Events), Mae Diansangu (Artist), Eyve (Artist), HYFIN (Artist), Andy Jones (FOCUS Wales), JusHarry (Artist), K4U Visuals, Kxng Wooz (Artist), Sunjay Kohli (BMG UK | AAA Pass), Lamaya (Artist), Sanjeev Mann (Artist | Hip Hop Scotland | Imvaize Music Group), Nesha Nycee (Artist), Andrew Ogun (Artist | Arts Council of Wales), Oakzy B (Artist), P Caso (Artist), Durell Peart (Author | Artist Manager), Queen Of Harps (Artist), Bernardo Queiros (Westway Lab Conference, Portugal), Kezia Racher (Music Minds Matter), Lloyd Ross aka Kryptik (Wordplay Magazine| Artist), Tawona Sitholé (Artist | UNESCO Refugee Integration), Divine Tasinda (Artist), Theolodge (Artist). 
Showcase tickets are priced £10 and free day passes are available via Eventbrite. 
https://www.eventbrite.co.uk/e/pitch-scotland-2023-scotlands-conference-of-hip-hop-tickets-655745661927?aff=oddtdtcreator
Related