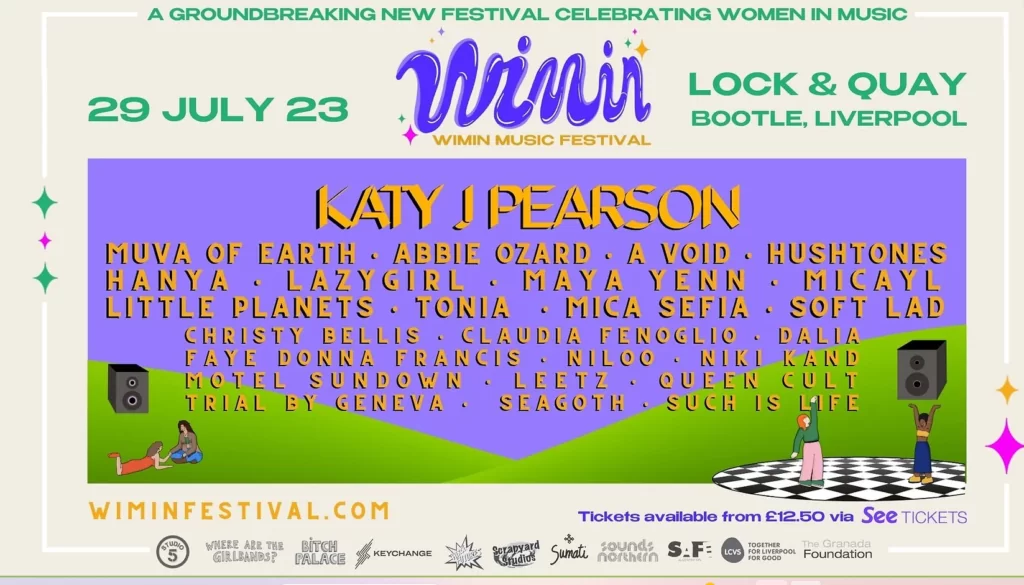 The UK music scene is set to experience a seismic shift this summer as WIMIN Festival unveils the first wave of its pioneering all-female line-up. The festival – described as a movement, with an all-female production crew, is managed by Scrapyard Studios CIC, a Bootle-based non-profit, working with a skilled team of partners across Merseyside and beyond to deliver WIMIN Festival to music lovers of all genders, on Saturday 29th July when the extensive ground of the Lock and Quay, Bootle will be transformed into a three-stage festival site.
Organised entirely by female talent, from management, marketing, production teams, and artists, the festival represents more than a gathering of talent. WIMIN Festival is a statement of intent and action that stands against inequality while nurturing new talent and championing skill and creativity.
Leading the parade of talent from the main stage is Katy J. Pearson – celebrated for her magnetic melodies, lovelorn country, glittering pop, and lo-fi folk. Katy's singles 'Talk Over Town' and Alligator, taken from her album  Sound of the Morning was described as "captivating" by The Guardian and "a sweet elixir" by NME. No stranger to the festival scene, Katy played the main stage at Green Man 2022 as well as appearing at Latitude, Deer Shed and Blue Dot. The star's presence at this grass-roots festival highlights the magnitude of feeling around gender inequality in music.
Adding to the event's potent blend of talent is Manchester's indie-pop prodigy, rising star Abbie Ozard, bringing a uniquely compelling sound to the stage, off the back of her recent UK tour. Having gained recognition through her singles 'Growing Pains', 'Heartbreak Radio' and 'On A Low,' Abbie Ozard is known for her emotional depth and lyrical finesse. Her emotionally-driven tracks have resonated with fans and critics alike, earning her extensive radio play on stations such as BBC 6 Music. Fans will also be treated to a fusion of sonic grunge and DIY punk from London-based band A VOID. Known for their raw energy and boundary breaking live performances, a testament to the band's commitment to challenging the status quo. Embracing non-conformity and progression, this band epitomises the spirit of this maverick music festival and movement.
WIMIN Festival is much more than a celebration of music; it's a determined stride towards an industry that truly values and promotes its female artists such as Brighton's intriguing dream-pop outfit hanya – another stellar addition to the line-up. The art-rock trio will impress revellers with their innovative blend of genres, described as 'all consuming and addictive'.
The festival promises a lot of 'bang for your buck'. Beyond the impressive lineup of musical performances, across three stages, ticket-holders will benefit from industry-expert-led panels, wellbeing and practical workshops, delicious drinks and food and a mini-market to buy from female-founded local businesses in The Garden.
"We have an incredible line-up of trailblazing female artists leading the charge for the first WIMIN Festival – with loads more to come. We are so excited to be working together to forge a more equitable music scene for women," said Holly Tulloch, Director of Scrapyard Studios CIC.
The festival is a direct response to the needs expressed by the women who work and create in the music scene as revealed in the results of Scrapyard Studios 2022 Women in Music survey. Shockingly – or perhaps not so – 64% of women who responded said they feel unsafe in Liverpool's music venues and 88% sought better career opportunities, marking much-needed WIMIN Festival a much needed beacon of progress – as well as an incredible, family-friendly day out this Summer.
With the impressive first-wave also including Hushtones, Liverpool's sparkling indie-pop 5 piece, Mica Sefia who melds neo-soul and rock influences, SOFT LAD, a multi-instrumentalist turned pop songstress, Lazygirl, an emerging pop artist with infectious tunes, Seagoth with their ethereal indie rock soundscapes, Americana/Folk-Rock band Motel Sundown, introspective and melodic performer nil00, dynamic pop artist Micayl, and Liverpool's own dream-pop singer/songwriter, Niki Kand – WIMIN Festivall is set to be the event of the Summer is one not to be missed.
With anticipation building and further artist announcements in the pipeline, the tickets are on sale now, including discounts for teens and bundles. Prices are set to increase soon, so secure your spot now:
WIMIN Festival | Liverpool's New Music Festival | Liverpool, UK