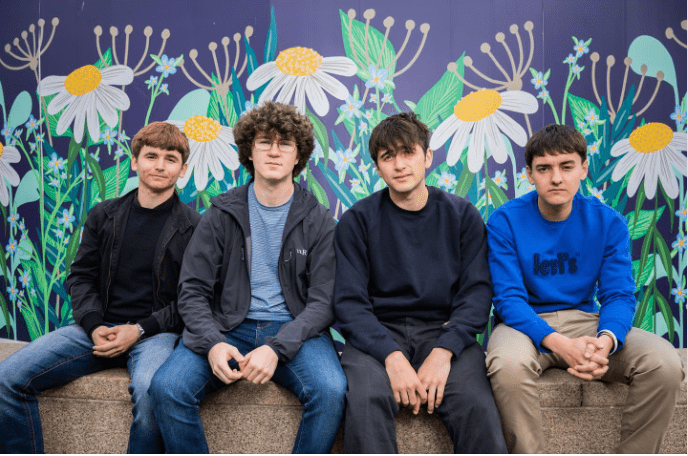 Liverpool four-piece, Keyside, have just unveiled a jangling slice of indie gold. Their latest single 'Angeline' is bursting with mellifluous riffs, melodic bass lines, swinging hooks and a soaring airy chorus that will sweep you off your feet. Liverpool's rich tradition of growing uniquely thrilling new bands paves the way for Keyside's exciting journey ahead, taking all the best elements of the musical past and propelling it firmly into the future.
'Angeline' is their debut single, for Modern Sky and follows the buzzed about 'Lights Out' and 'Paris to Marsaille.' Channelling the complex multi- layered riffs of The Smiths, The Coral and The LAs, the band Juxtapose joyful soaring melodies with darker lyrical themes.
Angeline is a story about a woman who struggles to provide for herself and her family. Dealing with her own bad habits and the pressure of giving support to her family, she struggles to find relief. Which pushes her to the edge of a breakdown.
Keyside have become one of the most buzzed about names on the thriving Liverpool scene, renowned for their unapologetic and confident sound that "is able to take you out of a darkened sweaty basement and into the fresh fields of the festival season" (Liverpool Noise)
Blending twanging hooks, with a killer chorus the melody of 'Angeline' seeps into your consciousness until that dopamine takes over. Their latest track sees Keyside firmly stake their place as the ones to watch:
Listen here:
After selling out their first two hometown headline shows, Keyside have supported some of the most exciting names in the city and gigged in some of Liverpool's top venues including the O2 Academy and The Arts Club. They recently signed to Modern Sky and played at The Isle of Wight, The Eurovision Main Stage and Sound City X Modern Sky Showcase as well as featuring on BBC Introducing, Radio X with John Kennedy BBC Radio London with Gary Crowley and Radio XS Manchester.
Keyside are a breath of fresh air. Their songs are devilishly infectious with more hooks than a cloakroom. Their four musical minds work in complete harmony and we can't wait to see what they do next.
Follow Keyside here:
Keyside | Liverpool | Facebook Keyside (@keysideliverpool) • Instagram photos and videos
Keyside (@keysideliv) / Twitter
Credit: John Johnson Photography