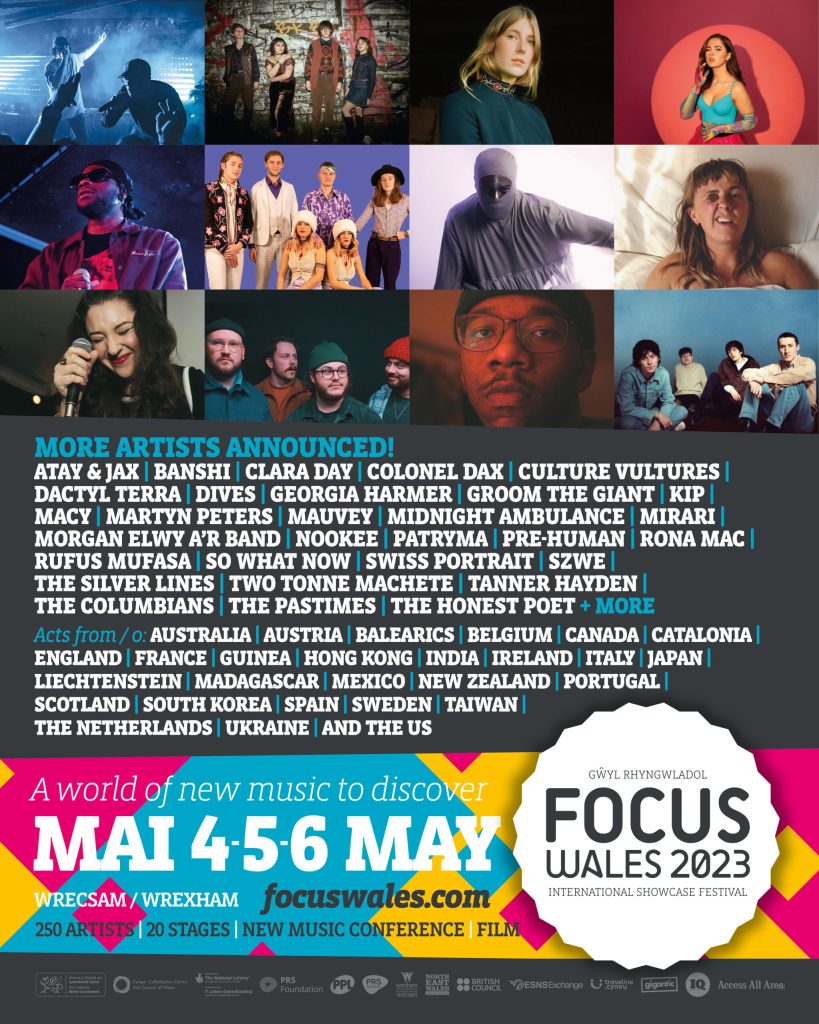 FOCUS Wales festival will welcome 20,000 attendees, and see over 250+ new music acts from Wales and around the world descend upon Wrexham across 4th – 6th May. Today, FOCUS Wales have revealed another 30 new artists for their 2023 edition. 
Among the new acts announced today, are critically acclaimed Canadian singer songwriter Georgia Harmer, hotly tipped lo-fi indie folk artist Rona Mac, a band tearing up the scene in the midlands in The Silver Lines as well as the cinematic pop star from British Columbia, MAUVEY, and the exciting psych-rock group Dactyl Terra who won the Greenman Rising competition in 2022.
The full list of new artists announced today includes: ATAY & JAX | BANSHI | CLARA DAY | COLONEL DAX | CULTURE VULTURES | DACTYL TERRA | DIVES | GEORGIA HARMER | GROOM THE GIANT | KIP | MACY | MARTYN PETERS | MAUVEY | MIDNIGHT AMBULANCE | MIRARI | MORGAN ELWY A'R BAND | NOOKEE | PATRYMA | PRE-HUMAN | RONA MAC | RUFUS MUFASA | SO WHAT NOW | SWISS PORTRAIT | SZWE | TANNER HAYDEN | THE COLUMBIANS | THE HONEST POET | THE SILVER LINES | THE PASTIMES | THE SILVER LINES | TWO TONNE MACHETE
With acts from: Australia | Austria | Balearics | Belgium | Canada | Catalonia | England | France | Guinea | Hong Kong | India | Ireland | Italy | Japan | Liechtenstein | Madagascar | Mexico | New Zealand | Portugal | Scotland | South Korea | Spain | Sweden | Taiwan | The Netherlands | Ukraine | and the USA.
With circa 500 international industry professionals due to attend the 2023 festival, FOCUS Wales has become Wales' biggest music industry event, with three days of panels, keynote talks, and networking. More industry delegates are also announced today, including: Cindy Castillo (Mad Cool Festival, Spain), Jean-Louis Brossard (Trans Musicales, France), Ralf Niemczyk (Rolling Stone, Germany), Andrea Caswell (MMF Canada), Mark Davyd (Music Venue Trust), plus many more.