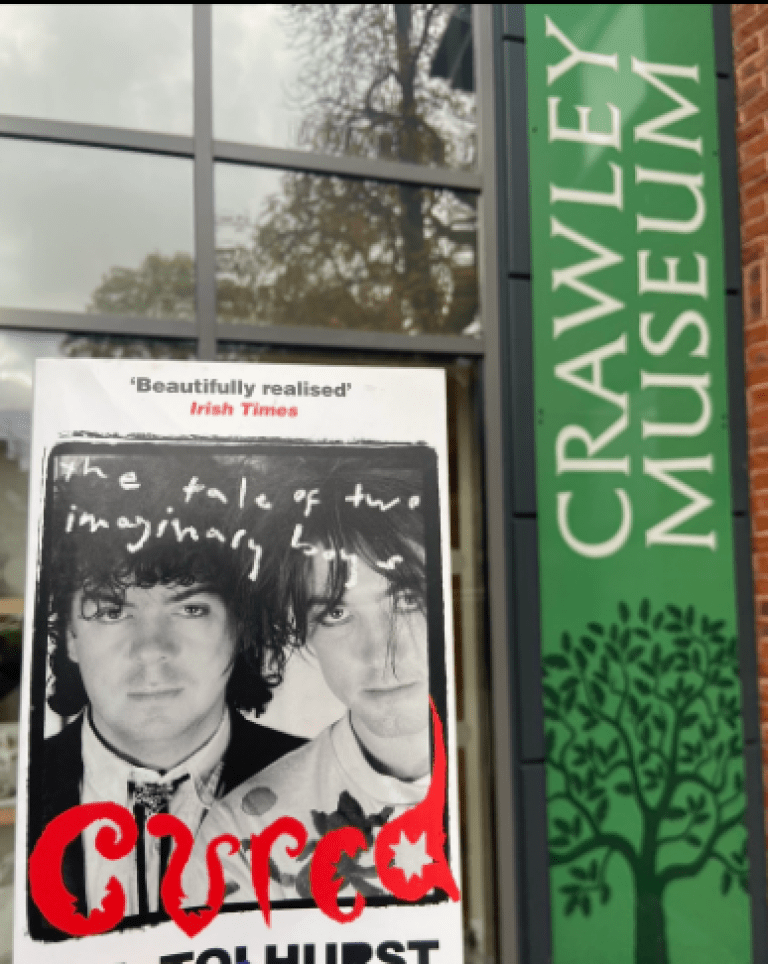 Crawley's most internationally acclaimed sons The Cure celebrated their 40th Anniversary in 2018 with a their 65,000 capacity Hyde Park gig, either side of which, Crawley Museum put on The Cure Exhibition. As the town is so near Gatwick, fans came with suitcases, ready to fly back home from  Crawley to Japan after making their pilgrimage to the Cure's home town. People came from Australia, Poland, Mexico, USA, China, Germany, Spain and all over the globe and some Spanish fans even left their own memorabilia in the town affectionately known as 'Creepy Crawley.' After the success of that temporary exhibition, Crawley Museum are now, in 2023, keen to create a permanent collection. Current Curator Holly Parsons said that GIITV's Ten Days Of The Cure starting today, "is a new opportunity to revive that plea" for Cure memorabilia linked to their time in Crawley.
"We would LOVE to do a permanent Cure display because so many people ask for it .If anyone has anything that they wish to donate relating to The Cure in Crawley we would love to do a display here." She says "We did have a chat with the Cure Fan group  they put the call out  to their but nothing came back so this article is a new opportunity to revive that plea- Yes we will have a permanent collection if we have some objects. We have copies of picture and memories and things that were on loan before but we don't have any permanent physical things ….We know that those things are valuable to people but we would love to have a permanent collection here so please get in touch." Please contact: [email protected]
Founding member of the Cure, Lol Tolhurst, sent a tweet to the museum after 2018 saying ""Congratulations and thank you for your Cure exhibition. I know Cure fans will be happy." The museum proudly sells copies of his book 'Cured The tale of Two imaginary Boys,' in their shop, because of its links to Crawley. The first chapter is even entitled 'The First Punks in Crawley' citing him and Robert Smith as the first punks. Lol often cites their sound as 'Psychedelic Punk.' Prior to the exhibition in 2018, Crawley Museum put out a call to the local community in the Sussex World Saying,
"Can you help Crawley Museum celebrate The Cure? Perhaps you went to St Francis of Assisi  Primary School with Lol and Robert Smith, or Notre Dame(Middle)  School, where they met Michael Dempsey."
"Were you at St Wilfrid's School with them when they performed their first gig in December 1976 under the name Malice? Or were you part of the Wasps (Three Bridges) football team in 1975, for whom Robert Smith was a rather useful winger?"     
Curator at the time Andrea Dumbrell together with the staff of Crawley museum were kind enough to open the archives up to GIITTV in 2022 for us to explore for our Ten Days of the Cure, and there were so many treasures, ticket stubs, posters, articles on loan and memories from people in the area including memories from Robert Smith's next door neighbour, who heard them practicing in the shed, a science technician who found a cast of Robert Smith's teeth in the Science cupboard of St Winfred's school to which Tolhurst tweeted 'I forgot about the teeth' and a Crawley museum volunteer who worked with Smith's father and heard the band playing at his work a Christmas party as well as memories from Martin Creasy who sang with a the band when they were called 'Malice.' He didn't last " said Andrea but he did kindly give us a copy of the  poster of when they played at the local school" (All detailed in an upcoming GIITV The Cure in Crawley article)
Andrea Dumbrell said that the idea for the exhibition originally came from Renny Richardson who was a huge Cure Fan and that a large number of artefacts came from Cure Archivist Darren Guy who had memorabilia, articles posters and ticket stubs from the very beginning of their career from  to the present day.  " Renny wrote the texts- and Various people loaned us various things and we put things out to the local community about memories of The Cure…..  Peter Selby one of our Crawley Museum volunteers worked with Robert Smith's Dad and saw the Cure play at his work Christmas Party  and another volunteer Wendy lived next door to the Smiths and they even had memories from Martin Creasy who played with the band originally when they were called Malice.
Crawley museum were so grateful to archivists like Darren Guy and John Sanders who kindly loaned so much memorabilia from their very first tour with Sioxusie and Banshees to the present day and now they say that they would LOVE to have a permanent Cure collection of memorabilia in the band's hometown, linked to their time in the town itself.