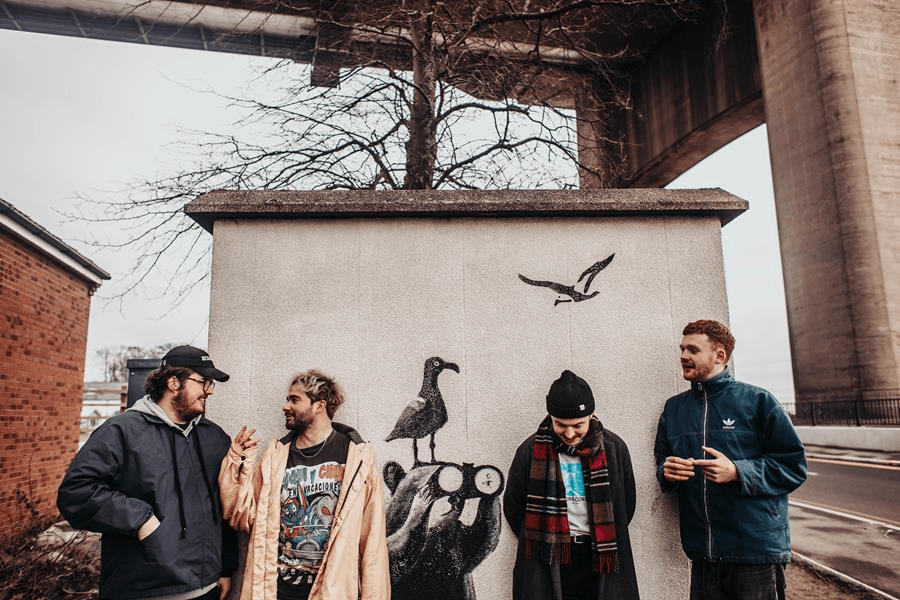 Shoegaze sensations bdrmm will return with their second album I Don't Know on 30th June via Mogwai's own Rock Action label. Today they give us a second glimpse of their LP with the release of their stunning new single 'Be Careful'. The band have been on an upwards international trajectory over the last few years, with their debut album, Bedroom– a genuine example of a pandemic success. Described as "A Modern Shoegaze classic" by NME, the album saw several reprints, entering the Official UK chart three times in a year and ending up in Rough Trade's Top 10 albums of 2020 and turbo-boosted the band's Spotify following, which now reaches just short of 300,000 listeners each month.
The Hull-based quartet played shows with the likes of Slowdive and Mogwai and signed with the latter's revered independent label. Following the release of 2020's widely-acclaimed debut LP and a clutch of hotly-received singles that have landed in the interim, the band shared their first glimpse of the new LP with the release of 'It's Just a Bit of Blood,' which saw significant press support in both the UK and the US and made the playlist at BBC 6 Music only last week.
Today they return with a woozy new single in 'Be Careful' and a lyric video premiered at The FADER, wrapped in reverb and paired to a trip-hop shuffle watch here:
The band's Ryan Smith had the following to say about the themes behind their latest track:
"Be Careful was written during the pandemic (I said I'd never write the P word again, but for honesty's sake). I had set up a little studio in the back of my garden and would often take myself there on evenings with numerous bottles of wine. Inspired by Portishead, and with a bassline that owes itself to Radiohead's 'Nude,' this track came about so naturally. It's about taking care of yourself and realising when you need to change. I've been guilty of indulging too much and I definitely noticed myself becoming somebody I don't like.  When realising that, it felt important. Trying to be a better person is hard when you don't know you're doing something wrong."
The band have announced plans for a string of in-store performances around the album, with tickets available by pre-ordering the album through the individual stores.
They have also announced a new run of European live dates for October, which will come ahead of a series of UK headline dates in November (including their biggest London headliner yet at Scala). Tickets for the European tour go on sale 10am BST on Tuesday 11th April See: bdrmm.co.uk
bdrmm's second album I Don't Know is out June 30th on Rock Action Pre-Order
bdrmm Live Dates:
June
28th – Hull – Adelphi
29th – Hull – Adelphi
30th – Leeds – Jumbo Records
July
1st – London – Rough Trade East
2nd – Brighton – Resident Records
3rd – Bristol – Rough Trade
4th – Nottingham – Rough Trade
5th – Monorail – Glasgow
October
17th – Belgium, Bruges – Cactus Club
19th – Belgium, Antwerp – Trix Bar
20th – Netherlands, Rotterdam – Left of the Dial
21st – Netherlands, Rotterdam – Left of the Dial
23rd – Germany, Hamburg – Molotow
24th – Denmark, Copenhagen – Loppen
25th – Sweden, Stockholm – Hus 7
26th – Sweden, Malmo – Plan B
28th – Germany, Dresden – Kleinvieh Klub
30th – Germany, Berlin – Privatclub
31st – Germany, Cologne – Helios37
November
3rd – France, Paris – Point Ephemere
4th – Netherlands, Amsterdam – Paradiso
5th – Netherlands, Nijmegen – Merleyn
12th – Glasgow – Stereo
13th – Birmingham – The Hare and Hounds
14th – Salford – The White Hotel
15th – Nottingham – Bodega
16th – Leeds – Stylus
18th – Cardiff – Clwb Ifor Bach
19th – Bristol – Thekla
20th – London – Scala
22nd – Cambridge – Mash
23rd – Bedford – Esquires
24th – Brighton – Patterns
26th – Dublin – The Button Factory
Follow bdrmm:
bdrmm | Twitter, Instagram, Facebook | Linktree