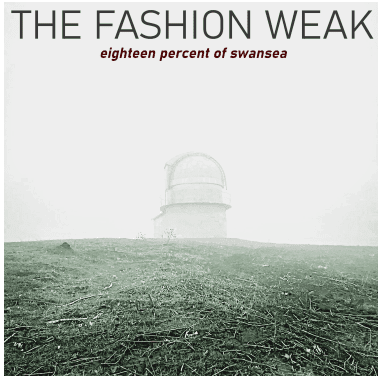 The Fashion Weak are a Retro Synth wave trio featuring John MOuse on vocals, delivering a mix of vignettes of unwanted pigeons, Anne Summers Parties and visions of Joan Didion. Their first two singles were championed by BBC 6 Music and featured guests Gruff Rhys (Super Furry Animals) and Miki Beryenyi (Lush).
Last year saw them make their live debut on the Green Man Festival Main stage and this tour coincides with the release of new material. Fashion Weak (& John MOuse) have just signed to – Totally Snick Records Records, run by indie pop trio PEANESS who previously released their debut album World Full of Worry on the label.
On 6th April The Fashion Weak (& John MOuse) will release their third single and first on their new label, Eighteen Percent of Swansea, another Retro Synth Disco song twisted by John MOuse singing about the vital statistics of Swansea's work-based economy and the problems facing the main employer in the City. The Juxtaposition of a musical backdrop reminiscent of Duran Duran with the lyrical content of David Foster Wallace is in harmony with the previous The Fashion Weak singles which featured Gruff Rhys and Miki Beryenyi. Listen to their latest track here:
Ahead of the release, The Fashion Weak & John MOuse kindly answered some questions for GIITTV.
What comes first; the lyrics or the melody?
The Fashion Weak is a song writing team of Phil Pearce and myself. We have worked together for around 20 years starting off as a very collaborative process, sharing the music arrangements and lyric responsibilities. The Fashion Weak though is a move away from that and replicates the last John Mouse album The Goat, where Phil works alone with the music and I add the lyrics and top line.
What was the inspiration for your latest 'Eighteen Percent of Swansea' track?
I used to work in the DVLA, for exactly one year, it was my first full time office job. The DVLA was this domineering building on the top of a housing estate on the outskirts of Swansea and one of the main employers of the city. It was like this horrible prison. I remember the lady who sat opposite me was coming to the end of her tenure there after 27 years and she couldn't wait to retire. My view out of the window of the Vote Management Unit portacabin (not the main oppressive block) was of Morriston Cemetery, which reinforced the place as the Graveyard of Ambition. I left the job to pursue my career in Music, so it was kind of time to revisit the DVLA.
Is there a Eurythmics or Duran Duran influence or any other influences in your latest track?
Phil – For this song, it was early Spandau and Duran Duran, when they were raw and sweaty and a bit rough. I can understand the Eurythmics reference because of the synth intro riff, but its more of a Hadley vibe than Lennox. One could argue its teetering on Kajagoogoo but I'm not sure enough time has passed for  it to have become acceptable.
What was it like working with Gruff Rhys and Miki Berenyi?
It's a privilege that they wanted to work with us. I have admired and looked up to everything Gruff has done in his career so for him to work with me on Welsh Words was not only exciting but it also provided me with affirmation of what we were doing, as I am sure he wouldn't have done something with us if he didn't like it. Most of the correspondence was done via email, we chatted about the song, the lyrics and he loved the idea of appearing as an apparition in the form of Joan Didion. It added another layer, playing with the sound of the voice and who was saying what. 
With Miki, I had toured with her most recent band Piroshka and became friends with her and the rest of the band. They had chatted about me doing a song on their new album and so I asked the same question back. Originally the main character from Fly FIshing was a man and so having Miki on board changed the concept of the song. The main character going fly fishing was now a woman and it was her who left her husband because of her love for the pastime, or did her husband leave because she was fishing too much.  I also wanted Miki to do something different to her ethereal singing style from the early Lush albums, so getting Miki to list, monosyllabically UK River Fish seemed like the perfect approach.
What was it like making friends with a pigeon?
Ha, The Pigeon isn't real. It's a symbol of the existential crises the protagonist faces. It is also very closely based on the Novella The Pigeon, by Patrick Suskind. 
Who are  your key influences?
I really love lyricists with a dark wit, Aidan Moffat, Morissey, Jarvis Cocker while Phil is into John Foxx, Daniel Miller, Fad Gadet the pioneers of synth Britannia
Are you looking forward to the tour?  What can we expect from one of your gigs? 
Very much so. We will be going out as a three piece, Phil, myself and Andy Norton (former guitar player in The Crimea). It'll be a full on Retro Synth New wave show and I'll be pulling out the best dad dancing moves these venues will have ever witnessed.
Be sure to turn up to watch John get in his daily step count and witness some of the finest Dad
dancing moves set to the musical backdrop of the likes of OMD and the Human League.
Listen to their latest track here :Eighteen Percent of Swansea | The Fashion weak | John MOuse (bandcamp.com and catch them on tour in April. See below for more details
The Fashion Weak( & John Mouse) Live Dates:
April:
Sat 15th – Newport – Le Pub (pre-Record Store Day event #RSD23)
Sun 16th – Bristol – Outertown Festival
Mon 17th – Bath – Komedia Electric Bar
Tue 18th – Sheffield – Delicious Clam
Thu 20th – Manchester – Low Four Studios
Fri 21st – Atherton – The Snug
Sat 22nd – Aberystwyth – Bank Vault