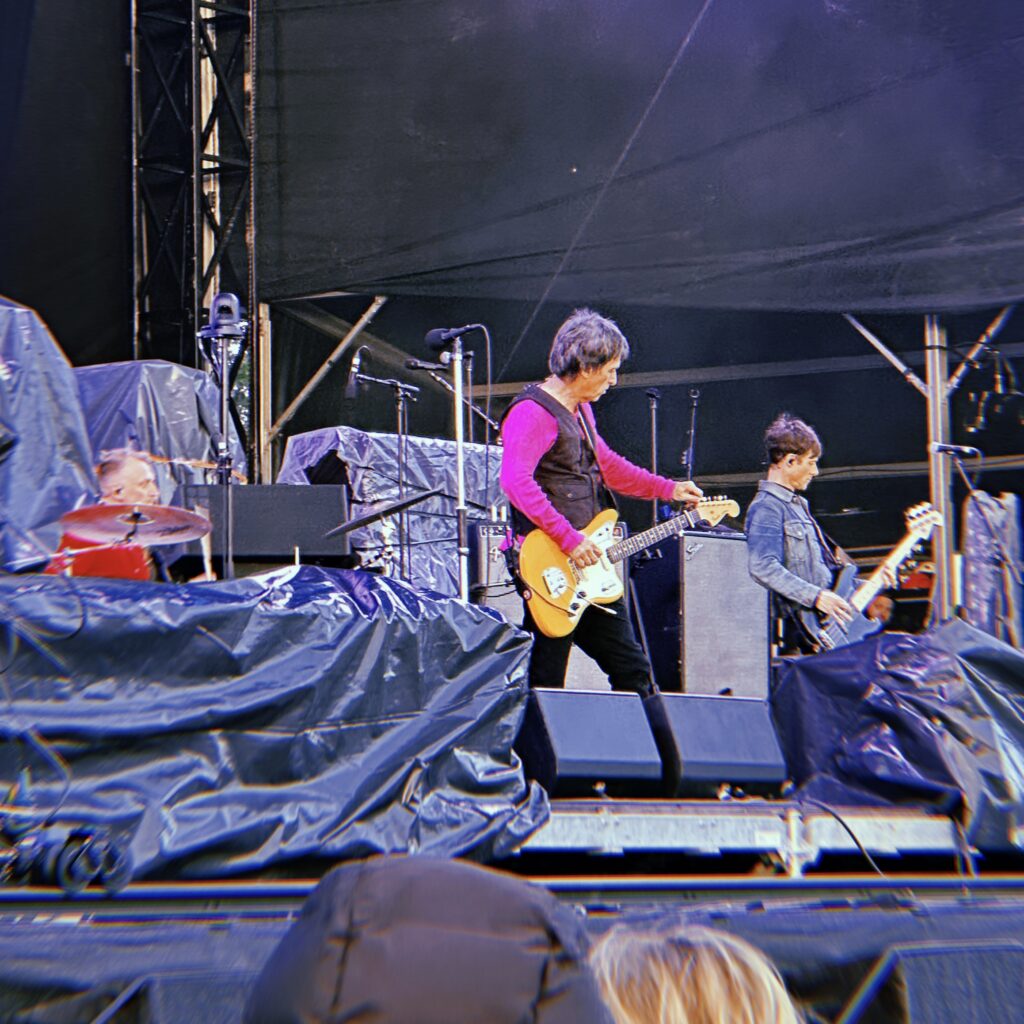 In 2022, The Killers embarked on one of their biggest tours yet – conquering the UK, Europe , Canada and the states. Renowned for being supported by a wealth of prolific and exciting names, Johnny Marr joined them and despite having caught their opening night in Vancouver, we were left pining for them to bring the same lineup to the UK in the future. Luckily, they answered our prayers and this week sees Johnny join The Killers in Edinburgh, Belfast and at Electric Picnic Festival.
It's been a busy Summer for Johnny, who is about to come to the end of a UK and European tour that's consisted of independent venues and festival appearances. Wasting no time, the Manchester legend launched into the frenzied Smiths anthem 'Panic', before keeping energy levels high with 'Armatopia' and 'Spirit, Power & Soul'. Having recently celebrated a decade since launching his solo career, Johnny has quite the back catalogue and even with a support slot, he was able to curate a setlist that reflects the different areas of it – even treating the crowd to a shimmering new track titled 'Somewhere', which boasts some of his finest lyrics yet.
Expectedly, Smiths songs such as 'Bigmouth Strikes Again' and 'How Soon Is Now' received the biggest reactions, but they were far from the highlight of Johnny's set – that came in the form of the pensive 'Walk into the Sea'. Beginning with subdued piano work from James Doviak, a light beat from Jack Mitchell and a bright guitar melody from Johnny himself, the slow burning track saw the stage caked in dry ice – perfectly matching the atmosphere. Definitely not an artist to be defined by one genre or style, Johnny went on to shake things up with a raucous cover of Depeche Mode's 'I Feel You' and a stunning rendition of 'Please, Please, Please, Let Me Get What I Want'. Bringing a moment of pure sublimity to the set, the latter showcased not just Johnny's skillset as a guitarist, but also as a vocalist – with his smooth vocals providing a complete juxtaposition with the discordance of 'I Feel You'.
Johnny's set came to a triumphant end with 'There is a Light that Never Goes Out'. Dedicated to the late Andy Rourke – Johnny's best friend and former Smiths band mate – the melodic track saw a sea of arms from front to back and provided the first mass singalong of the night. Armed with his dynamic band, Johnny never disappoints and with the knowledge that he joined the Killers for a couple of tracks on each night of last year's North American tour, the crowd were left pining for him to return to the stage in just a couple of hours time.
Having been on the scene for over twenty years, The Killers are a band who unquestionably know how to please a crowd and that's easy to see from a quick look at one of their set-lists. For their first ever show in Edinburgh, the indie veterans shook things up and surprised everybody in attendance by kicking off proceedings with 'Mr Brightside' – their biggest hit to date that's practically the UK's national anthem. You'd be right to wonder how they could possibly follow such a strong start, but they had absolutely no problems whatsoever and classics 'Jenny Was a Friend of Mine', 'Smile Like You Mean It' and 'Shot at the Night' had all made an appearance within the first five songs.
The Killers continue to be one of the best live bands out there and this was enhanced by their slick, large scale production, which was particularly impressive during the synth-fuelled 'Human'. Though production isn't something that the band have to rely on and this was proven when they propelled into 'Somebody Told Me' – an electrifying blast from start to finish, it had a field of thousands of people screaming the lyrics at their top of their lungs. Though they have more than enough material in their back catalogue, The Killers have always had a penchant for a good cover and they followed 'Somebody Told Me' with a joyous cover of 'The Whole of the Moon' by The Waterboys.
One of rock's most charismatic modern-day frontmen, Brandon Flowers is a force to be reckoned with and it was impossible to take your eyes off him as he enthusiastically bounced across the stage, strutting across the platform and showcasing his best moves. Though the talent onstage doesn't end with Brandon. Showcasing the talents of each and every individual that's part of the band's live shows, the tracks in the lengthy setlist seamlessly transitioned into each other, with 'Runaways' and 'Read My Mind' blending together to deliver a moment of pure euphoria. After a double whammy of greatness with 'Dying Breed' and 'Caution', the main set came to an end with the anthemic 'All These Things That I Have Done' – with its stirring chorus that everybody is familiar with.
After returning to the stage with 'The Man' – an enticing track from the band's fifth studio album, Wonderful Wonderful – Brandon took a moment to share his genuine joy at being reunited with Johnny Marr, before inviting the guitar hero back onstage. Before a note was played and a lyric was sang, it was clear to see the mutual respect between everyone onstage and both Johnny and Brandon looked to be having the time of their lives as they stormed through 'This Charming Man' – an iconic Smiths track that Johnny famously joined the band to perform during their phenomenal Glastonbury 2019 headline performance. Before leaving the stage, the band and Johnny had one more surprise in store and that was performing their perniciously catchy hit, 'When You Were Young'.
You can catch The Killers on tour across the states from September.