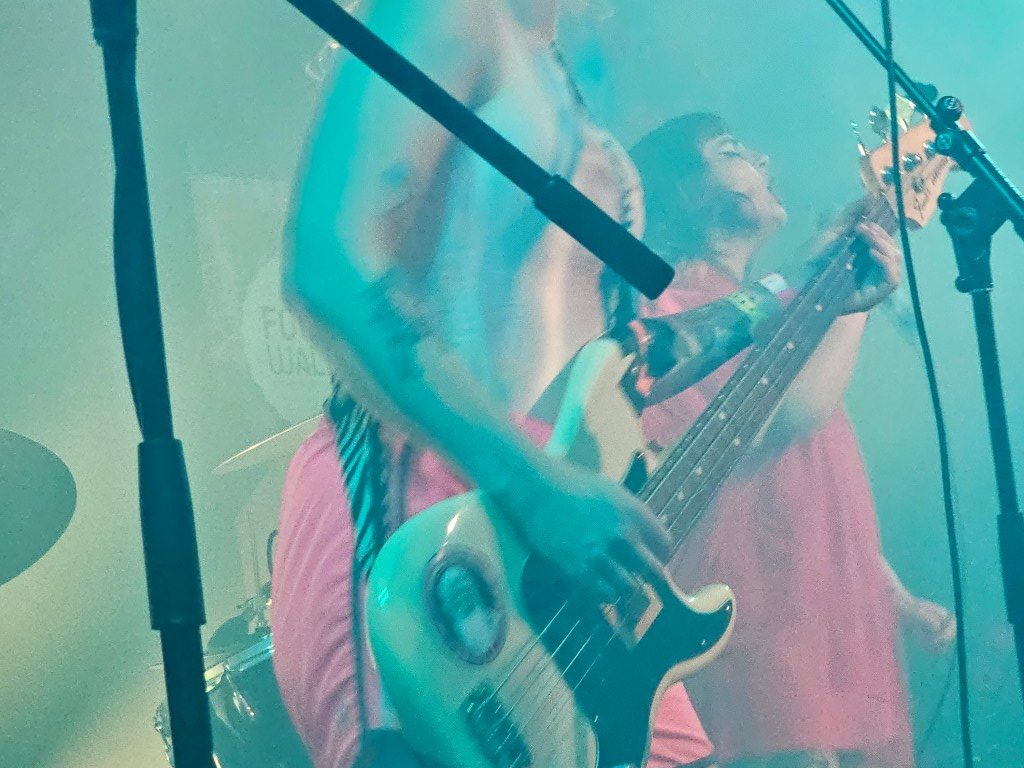 There are 1,500 artists performing at SXSW. Let me repeat that, 1,500 artists. And 99.9% will be doing multiple shows. Decision-making takes research, contacts who know how to source information and organisation. But then once you have planned your day, be prepared for last minute tweaks and moments of simply going with the flow.
This is exactly what happened on Thursday. The day began at the venue Idle Hands on Rainey Street. A small outdoor stage beautifully laid out with a tree right in the middle of the standing area. Child Seat, Avalanche Party, English Teacher, and Sorry Mom made for a fun afternoon. The showcase was sponsored by Portland Pickles and the mascot Dillon the Pickle was quite frankly surreally hilarious in this setting. A lovely moment when English Teacher invited a fan onstage to join them for one of their songs as he had been at every show of theirs and knew all the words. He grabbed the opportunity and obviously loved every second.
Moving next door, yes that's right, next door to Icenhauser it was good to get a bit of shade. Softcult, Glass Mansions and Slow Fiction were all excellent. Canadian band Softcult are about to tour the UK with Scotland's swim school in support, and I was amazed to learn that Slow Fiction are unsigned. Their self-titled debut EP was released in February and it really is excellent.
It was then a dash to the Creek and the Cave to see the Focus Wales and Wide Days Scotland showcases. The two organisations were sharing the same venue with Wales on the inside stage and Scotland on the outside stage which meant once admitted the crowd was easily able to move between the two. Wales must surely have had one of the most diverse showcases of this years SXSW. I saw Chroma, Edie Bens, The Trials of Cato, N'famady Kouyate and Panic Shack – what an incredible showcase from Focus Wales.
It was thrilling to see Mercury nominated Fergus McCreadle upclose and personal on the outside stage for Wide Days Scotland. And then the weather Gods were so cruel. Lightning and heavy rain saw all the outdoor stages closed across the festival. It became a waiting game but sadly Redolent, Poster Paints and Brooke Combe were not able to play. Although they all had other sets during SXSW, it was heart-breaking to have travelled so far and not participate in their home country's showcase. Elephant Sessions did get the party restarted again. What a thrilling band they are, taking folk music and giving it a contemporary twist to make it perfect for the dancefloor. BBC Radio Scotland DJ Vic Galloway was in attendance introducing the artists and Glasgow's indie-rock trio dead pony were next up. The energy levels were raised again and technical problems aside they gave it everything. With the Tunnocks teacakes being shared with the crowd, Vlure were last onstage. Vlure have gained a reputation in the UK for their euphoric club vibe electronica. With added guitars and drums the five piece were here and there was no way they weren't going to play. In fact they didn't stop until the plug was finally pulled on them at 2am. What a way to end the night with lead singer Hamish and guitarist Conor dancing in the crowd. Euphoria indeed.