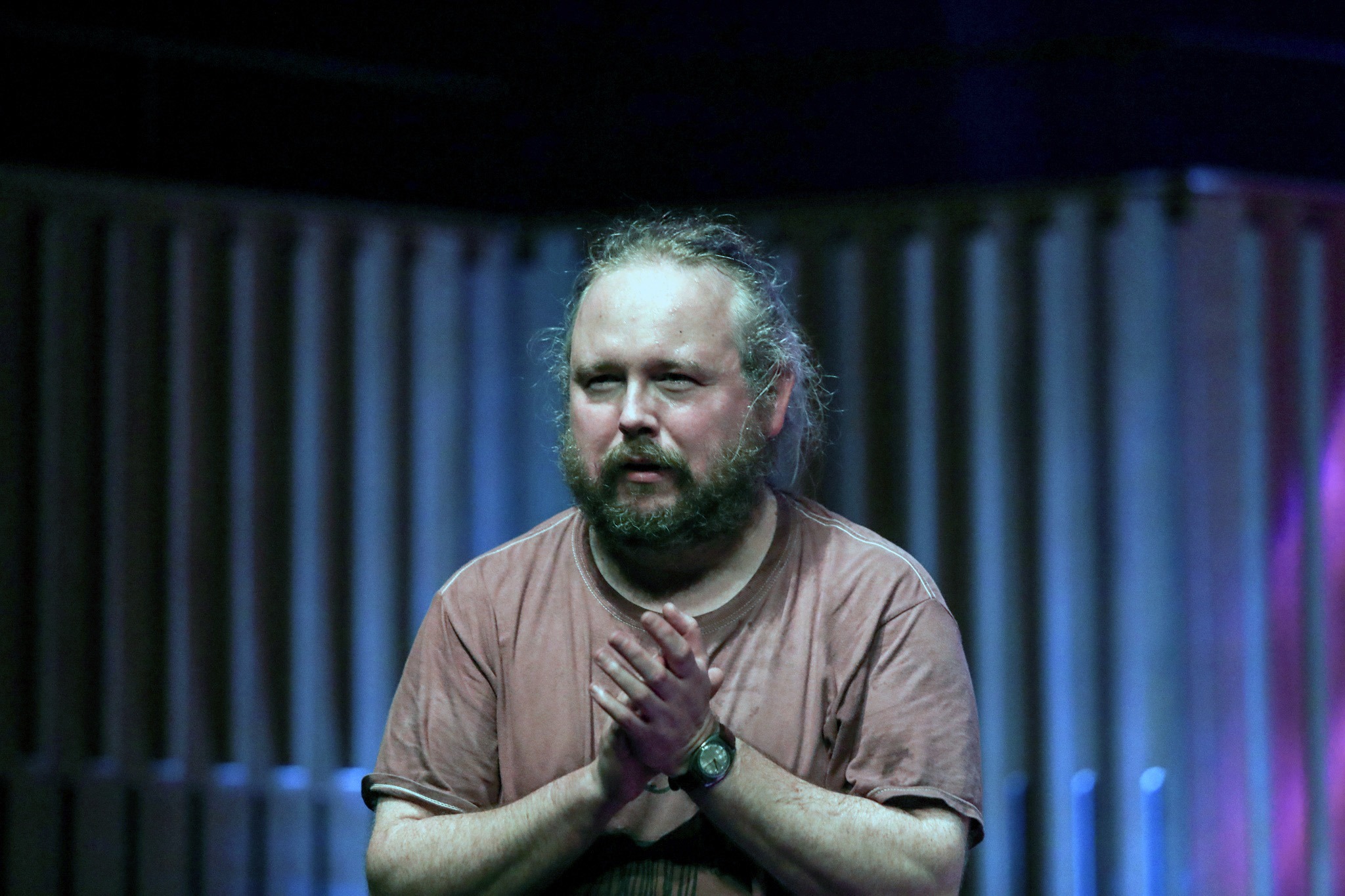 "For those of you who have been starved of live music," Richard Dawson begins, referencing the recent restrictions enforced upon us all by the coronavirus pandemic, "I bet you weren't gagging to hear a 12 minute song about a 19thcentury quilt maker." It is not your conventional introduction to a concert. But there again Richard Dawson is not your conventional person. The outlander experimental folk musician from Newcastle is remarkably self-effacing, to a point whereby he seems either unable to fully comprehend his unquestionable talent or even why people should want to pay good money to come and see him. Then, in further preparing the sell-out audience for what lies ahead of them this evening, Dawson says "tonight I will be doing a lot of tuning. And talking bollocks."  And almost by way of a further apology he adds, "I don't know the names of notes. And I'm not a good guitarist."
Richard Dawson then proceeds to perform the aforementioned song – 'Joe the Quilt Maker'(from his 2013 album The Glass Trunk) – a cappella and in a voice that vacillates between the broadest bellow of a stentorian guard and something altogether more tremulous and higher-pitched. It is simply breath-taking. And some 75 minutes later, as he squeezes the very last drop out of his allotted time, Dawson goes back to the same record and repeats the feat with another unaccompanied rendition, this time 'The Ghost of a Tree.' It makes for perfect symmetry on what is a perfect evening.
Both songs may well highlight Richard Dawson's folk heritage but the 10 others that lie between these magnificent bookends embrace a much wider and beautifully contorted musical vision. 'Judas Iscariot' illustrates this in spades; a wild, splintered, stuttering guitar instrumental that owes more to Frank Zappa than ever it does Martin Carthy. And to the avant-garde Dawson adds elements of slanted pop, punk, psychedelia and even rock – some of his metal posturing when he lets loose on his guitar, all flailing arms and an intermittently raised left leg, is absolutely wonderful – to the unique sound that he creates.
And then there are the songs themselves, replete with insightful observations about the state of the nation in general and the peculiarities of human behaviour in particular, each one walking a high wire between personal struggles, the abject terror therein and the levity of gentle humour. It is a balancing act that Richard Dawson gets right time and time again, be it 'Jogging', his "biggest pop hit" about a school councillor having been made redundant; 'Dead Dog In An Alleyway', wherein a homeless man is brutally assaulted; or 'Fresher's Ball' which deals with the trauma of driving your children to university for the first time and leaving them there.
Photos: Simon Godley
A few more photos are HERE