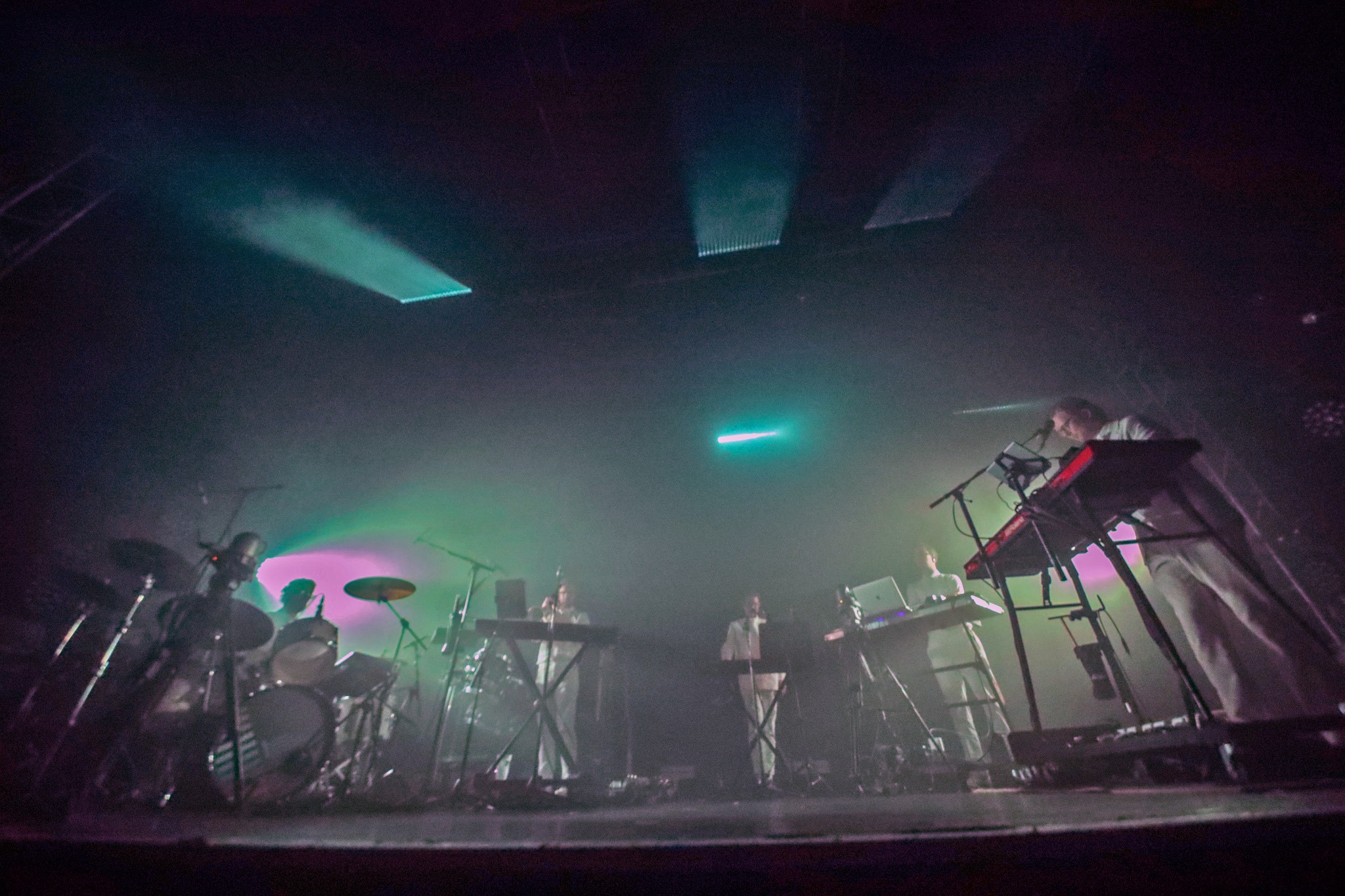 The first time ever I saw Public Service Broadcasting was a couple of miles up the road from here at the Brudenell Social Club. It was May 2013. And the South London duo, as was then, had just released their debut album, Inform-Educate-Entertain. Located in front of an outsized 1950's Bakelite television set and flanked by a series of smaller TVs through which a stream of archive images were beamed, the two band members, J Willgoose Esq. and Wrigglesworth, together hammered out an explosive soundtrack fusing electronics and post-modernist Krautrock.
Much has changed for Public Service Broadcasting since that time. They have flown into outer space, travelled to the Welsh valleys and more recently spent time over in Berlin. Two has become four as the hitherto duo have been joined by JF Abraham and Mr B, the latter having admittedly been there eight years ago, albeit behind the scenes in a projectionist capacity. To this number on stage we can now add the occasional cameos by a super-animated three-piece horn section – The Brassy Gents, no less – a couple of spacemen plus, for the duration of these shows at least, the regular presence of the rather excellent Norwegian musician EERA who also just happens to be the support act on this tour. Not only are Public Service Broadcasting bigger, and even though they were still pretty good to start with, they are now clearly even better.
They herald their entrance on stage tonight by blasting out David Bowie's 'Sound and Vision' through the venue PA system. Given the iconic status of this song, this could be seen as an act of sheer folly, tremendous bravery or supreme confidence on Public Service Broadcasting's part. On tonight's evidence the answer to this question clearly lies firmly within into the latter two categories.
By playing Bowie's 1977 hit single, complete with the line 'waiting for the gift of sound and vision', Public Service Broadcasting are advising everyone present exactly what lies in store for them. Furthermore, Low, the record from which that track is taken, was largely written and recorded in Berlin, a city to which J Willgoose Esq. relocated in April 2019 for nine months and from where he developed his ideas for the band's latest album, Bright Magic. Willgoose says "the whole shape and structure of the record (Bright Magic) is very much in debt to Low."
 And it is to the new record that Public Service Broadcasting immediately go tonight. 'Der Sumpf (Sinfonie der Großstadt)', 'Im Licht' and 'Der Rhythmus Der Maschinen' merge seamlessly into each other, evoking the spirituality and atmosphere of the German city as they do so. The fact that each band member is dressed entirely in white – the days of the corduroy jackets and bowties are gone, at least for the time being – magnifies the music's almost transcendental detail.
As they move across the trajectory of their set, Public Service Broadcasting take us on an often-mesmeric journey, stopping off periodically at all four of their studio albums in what is a perfectly balanced selection of songs. With Wrigglesworth's thunderous drumming, 'Spitfire' from Inform-Educate-Entertain acquires an even greater muscularity. 'The Other Side', taken from their second album The Race for Space, continues to raise hairs on the back of the neck such is its deep emotional impact. And just to prove that not everything has changed in the world of Public Service Broadcasting, their final song still remains the euphoric 'Everest'.
With the stunning array of accompanying visuals the entire performance turns into a complete multimedia experience, a futuristic combination of sound, image, and graphic design that transports those of us lucky enough to be here tonight into a far better place.
Photos: Simon Godley
More photos from this performance can be found HERE