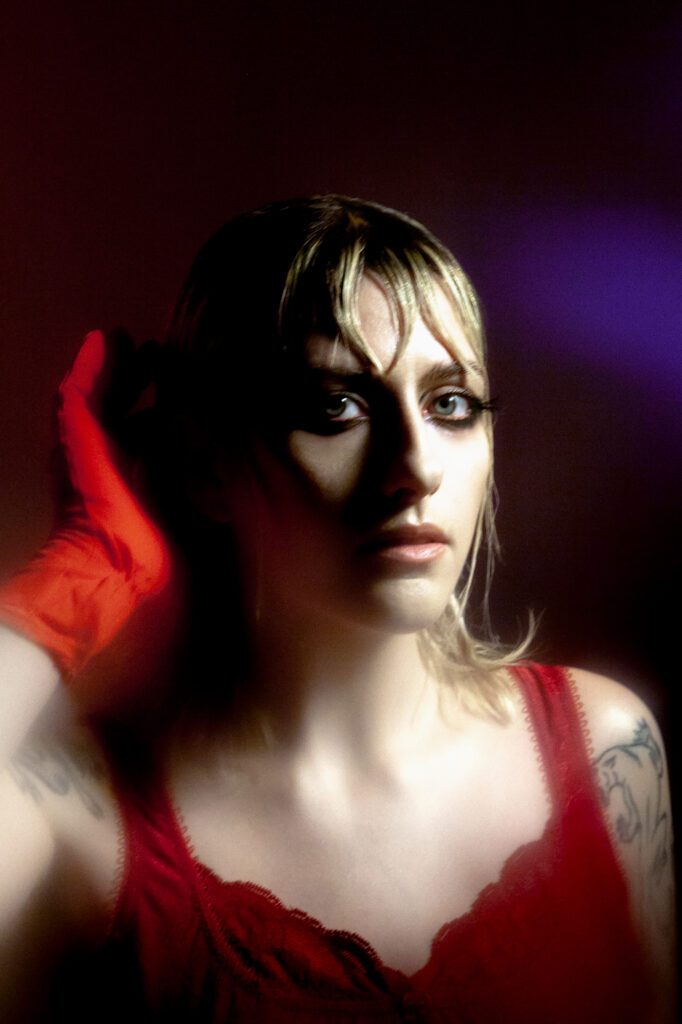 One of the sleeper records of 2023 comes from Laurence-Anne and her third studio album Oniromancie due out via Bonsound (Corridor, Flore Laurentienne). Evocative, immersive and atmospheric songs with a distinct sound are a tapestry of hypnotic melodies sung in English, French and Spanish and rippling alt-pop textures sewn together with elements of dream pop, synth pop and electronica. It dives deep into the nocturnal world, moving seamlessly between sweet dreams and paralysing nightmares. The singer-songwriter describes her attempts to tame fear in the dream realm, a volatile environment that can go from serene to frightening in a manner of seconds.
Beguiling opening track 'Fantome' is a haunting soundscape underpinned by sinewy basslines, and a intoxicating melody,  it has 80s elements and French torch songs and maybe a touch of Beach House.  'Polymorphe', finds Anne's elliptical vocal melodies carried on the shoulders of elegant percussion, lush synth arrangements unfurling into a heart-warming chorus. Whilst the oscillating 'Politess' unveils a darker a sound that is more akin to darkwave than dream pop, propelled by a hypnotic rhythms, tumbling percussion and arpeggio synths comparable to the likes Poliça or Melody's Echo Chamber. Laurence-Anne is crafting a beguiling world of dreams, you want to explore.  We sent her some questions to get to know her better.
Hi, how are you ?
Hey, I'm good! thanks 🙂
I really love the album, it creates a real immersive atmosphere that takes on journey, was this your intention?
Yes, I think it's a common point within all my albums. I love to create soundscapes that animates the imagination. Music has always been a synonym of experience to me. It feels so special to be absorbed into it.
I really love the production did working with François Zaïdan offer a different perspective?
It was my first time working on an album that way, two brains, long term. It was really great to collaborate with François, who I find has such a good taste in music. As a vinyl collector, he has the most obscure, strange, interesting albums from bands and artists you've never heard of. It was fun to explore different tones and experiment on some mystic synths, as the DX7, renowned for its new age sound bank.
 You talk about many of the songs being inspired by anxiety and dreams, and sleep paralysis, is your songwriting a way of confronting these fears?
We could say that. By expressing these experiences through music, it helps transform them into something lighter.
There's a shift through the album from the haunting soundscape of Fantome that has 80s elements and those of French torch songs, to a more tumbling track Politesse. how do you find the right sound to fit the mood and themes of a song?
The sound and the mood come together, first. Then, it inspires the theme. When I compose, I just let myself slide on the notes. I don't have a precise idea of what I'll do. I just do random stuff until it hits something emotional, a little sparkle. I love both lighter and darker vibes, I love playing with this contrast.
[embedded content]
'Polymorphe' has a rich synth tapestry, are you influenced by any classic synth pop records?
Well, yes. I mean, I'm more into dream pop. I'm a big fan of Beach House. I love Cocteau Twins, Stereolab.
You sing in French, Spanish and English, how do you know which language fits the song?
It's a question of vibe. It's the language that comes naturally that'll fit the music. Sometimes, it depends on what I want to talk about. The poetry is so different from one language to the other, some things are easier to say in English or Spanish than they are in French.
How would you say Oniromancie differs from your previous records?
I feel it's a little darker than the previous ones. It's also more direct and personal. It reveals more about me.
Are there any French language songs that really inspire you?
There's a band you should listen to, it's called Population II. They have just released their second album Électrons Libres du Québec.
What's the Montreal music scene like?
It's cool. There's a lot happening. It's a small effervescent scene, with many amazing bands and artists. We kind of all know each other.
How do you find making it work financially as an artist in 2023?
It's hard making touring worth it. Luckily, we have access to some grants in Québec and it helps to break even, with the album production also. But I honestly don't think I could play with such talented musicians in my band if it was not from the financial support of my label and team.
You've played some really cool festivals, are there any you would still like to play?
Of course, I always aim higher! It'd be fun to play someday in a major festival, you know the ones.
You have some tour dates coming up. I saw you toured Europe last year I was at Focus Wales I wish I had seen you, would you like to come back?
I would love to come back, yes! I had such a great time in the UK. It also felt really inspiring. It would be nice to come back to work on some new music.
[embedded content]
Order: https://bonsound.co/oniromancieco
Bandcamp: https://laurence-anne.bandcamp.com/album/oniromancie