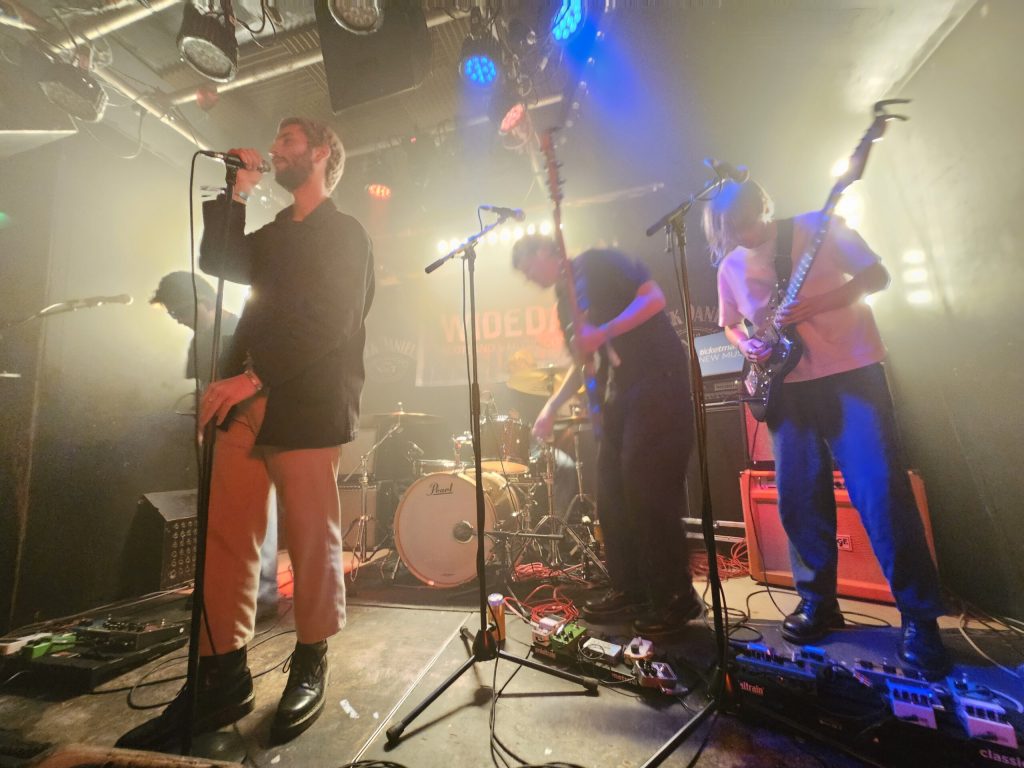 Glasgow's Humour released their debut EP Pure Misery on So Young Records in November 2022. 2023 is proving to be a busy year for the five piece as they embark on a headline tour beginning in Brighton on 5 June, numerous festivals including The Great Escape, dot2dot in Bristol and Nottingham, Truck festival and Sheffield's Float Along festival as well as supporting Enumclaw on a few of their UK dates at the end of this month. So I was delighted to have a chat with Jack Lyall (guitar), Ross Patrizio (guitar) and Andreas Christodoulidis (vocals) to find out a little more just how Humour got to this point.
Welcome Humour! I'd like to with SXSW. I interviewed Slow Fiction from Brooklyn who saw you play and were singing your praises. How was your SXSW experience?
It was so good, we're still coming down! It was so much fun. A few of us had never been to America so it was all new and all very exciting.
Were you really focused on playing or did you have an opportunity to see other artists?
Because we were there for six days we actually had a lot of time. We met Slow Fiction because we played with them at the Sahara Lounge. They were great, we ended up at some proper American party with them with red plastic cups, playing beer pong! They were amazing. We saw Militarie Gun, they were so good, hardcore band from LA. Proper insane, heavy in a tiny little packed bar right on the main street, it was amazing. And Enumclaw from Tacoma who we're playing with next month.
Going back to the beginning of Humour, were you initially in different bands?
We were all playing together but we weren't taking it very seriously. We weren't very good basically! Our last band stopped before lockdown anyway so it wasn't like a lockdown thing initially. We had about nine months when we hadn't been writing music and we hadn't been playing and we were just doing other things. The three of us lived together here in lockdown so we started writing music again. It wasn't like we had a plan to deliberately restart, we didn't have a timeline in mind. It was a lockdown thing eventually because that's what made us start writing music again and thinking that it sounded like a new band. We weren't conscious that it was something we were ever going to show to anybody. There was no time we thought it was going to exist because we didn't think that was going to happen for a long time. It kind of changed the way we did it all. We learnt to record it ourselves and pushed it in ways that it we definitely wouldn't have done had that not happened.
And am I right in saying that Lewis Doig (bass) and Ruairidh Smith (drums) saw you building a soundproof contraption from their place across the road, and thought the world really has gone mad?
We've still got it here! (and right enough I'm shown a wooden frame contraption leaning on the wall in the corner of the room!). We pull it out and put a big soundproof cloak over it and its a full vocal booth – in under three minutes! It was lockdown, that was a big musical goal of ours to get the time down as low as possible! It does look incredibly sinister from outside.
Although I never want to put music into boxes, your music is experimental for want of a better expression. I was reading about how you create your songs and its probably no big surprise that its quite different. You gave Andreas quirky rules that he had to stick to. Is that generally how your song creation process works?
For some songs but for others it was more straight-forward, more organic. But I think for a few of songs it helped to have these rules or a brief, but then others it was a bit more standard where all the instruments come first and then I do something over the top of it. For a few of the songs it really worked doing it that way.
Congratulations on the EP, which by the way at 6 tracks is three quarters of an album. Some of the songs are very personal and some cover quite obscure subject matter. With Pure Misery for example, it made me laugh because its about standing up in front of people being in a band and saying whatever and the ridiculousness of it. Andreas are you the main lyricist?
Yes, although there have been a few songs where Jack and Ross had a line that would be the basis for the song. In 'Pure Misery' it was "I've got to tell you something". They had written the basic music for the song and they sent me a voice note just saying over and over "I've got to tell you something". So I wrote the rest of the lyrics around that line. That's happened for a couple of songs.
I'm not really sure that counts as song-writing what we did! I'm not sure we should get THAT much credit for that! Its a fun way to write it. We did it for a couple of them. It's quite exciting for us, to have that input and then leave it. We had nothing to do with it after that, we just wait to see what Andrea writes around this. We didn't have anything in mind. We just thought it sounded funny. And then Andreas writes this whole thing about feeling you need to say something and then not having much to say. Its a funny idea. Its wasn't that intentional
I also think sometimes when you're writing it must be quite hard, with the impossible amount of things you could write about that exists. But to be given something so stupid as that one line it focuses in on it.
I think the way you work as well, the five of you must connect. If one of you was out of synch it wouldn't work. Don't you think?
Yeah definitely, I think weirdly none of us are big music people. The way we write music together, we've found something that we really love doing and we want to push it and see where it goes. Its not like we all work in studios or doing other music related stuff outside of it. I think it works in this way and that is to do with the five of us.
How did you come to the attention of So Young? They seem to become aware of you quite early.
It was through a friend. In lockdown we didn't know what to do with our demos so we sent them to a couple of our friends. I don't know how she knows them but she sent it to them and they wanted to chat and that was it.
With So Young they have a live presence as well and play on their showcasing and meeting other bands must be great. I noticed you're playing The Great Escape in Brighton. Have you played there before?
We played in Brighton for the first time last week at an all day festival, its a very cool place.
Andreas you have done all the artwork. Is that still continuing?
I've just started working on some new ideas for whatever the next project is. I want it to be similar to the last releases but not too similar. In the same vein. We definitely want it to be the same aesthetic I suppose as the last releases but with new ideas.
You had mentioned that you're in the studio at the moment. Are you recording new music?
Yeah we've been recording for a while. We're trying out different ways of doing it because we did it in quite a particular way for the EP. It was in the contraption we showed you. We're experimenting just now and seeing if we want to stick to that thing for a while or try more full live soundings. We don't know yet. It was quite weird being forced to do it from home for the EP. We're experimenting with stuff just now. The EP ended up being bass and drums done in a studio because we couldn't do them here. Then vocals and guitars were done here and then other bits done in our local rehearsal studio, so it was a bit all over the place. We're trying to work out which bits to do where or to do them all together. We're not sure yet.
I hadn't fully appreciated that so much of the EP was recorded in your contraption. It must have been incredible to have the tangible vinyl release of the EP. Is it possible to put into words what it meant?
I love it and the artwork as well. That's one of the most important thing for me. The fact that it all could have been so different. If Andreas had done different artwork, or if we managed to build that thing in the flat. There's something really nice, and almost fragile about that. When we first started writing those songs in lockdown we would've loved to have a physical tangible vinyl. It feels like if you don't do that it feels like the songs don't really exist in a real way. So to have an actual vinyl with our artwork on it did feel really good. I think So Young were also a massive part of that. They really insisted on taking time on the artwork and making sure we had it right. They were really encouraging. They were really keen for Andreas to try stuff. I think they do this as part of the label in general, there was always going to be a physical vinyl somehow – so that makes it feel more real.
What are you working on right now? Are you working towards an album?
We're pretty flexible. I don't think we have anything that we feel we have to stick to. I think we're going to see how the songs turn out. We would quite happily put something out quite soon if we felt it was something that would be a meaningful step since the EP. But if not we're also quite happy to wait a bit. Depends how they sound. There could be a single really quickly, or it could be wait a while and do something longer.
One thing I must comment on is your live performance. Obviously I'm not a musician but I'm full of admiration as your music is quite chaotic, that's a beauty of it. Its not straightforward chord progressions. But the delivery is very tight. I can't imagine its written down anywhere! Then you all finish together when you're supposed to!
Sometimes we're surprised by that as well!! A lot of the songs we wrote in lockdown and I worked on my laptops for some of the drum parts and it turned out that you couldn't physically play them unless you have more limbs than humans actually have! They were impossible to play. 'Alive and Well' on the EP we couldn't play for a year, we just couldn't do it. We were going to give up at one point, and then one day it just worked.
For more information on Humour please check their facebook and twitter.