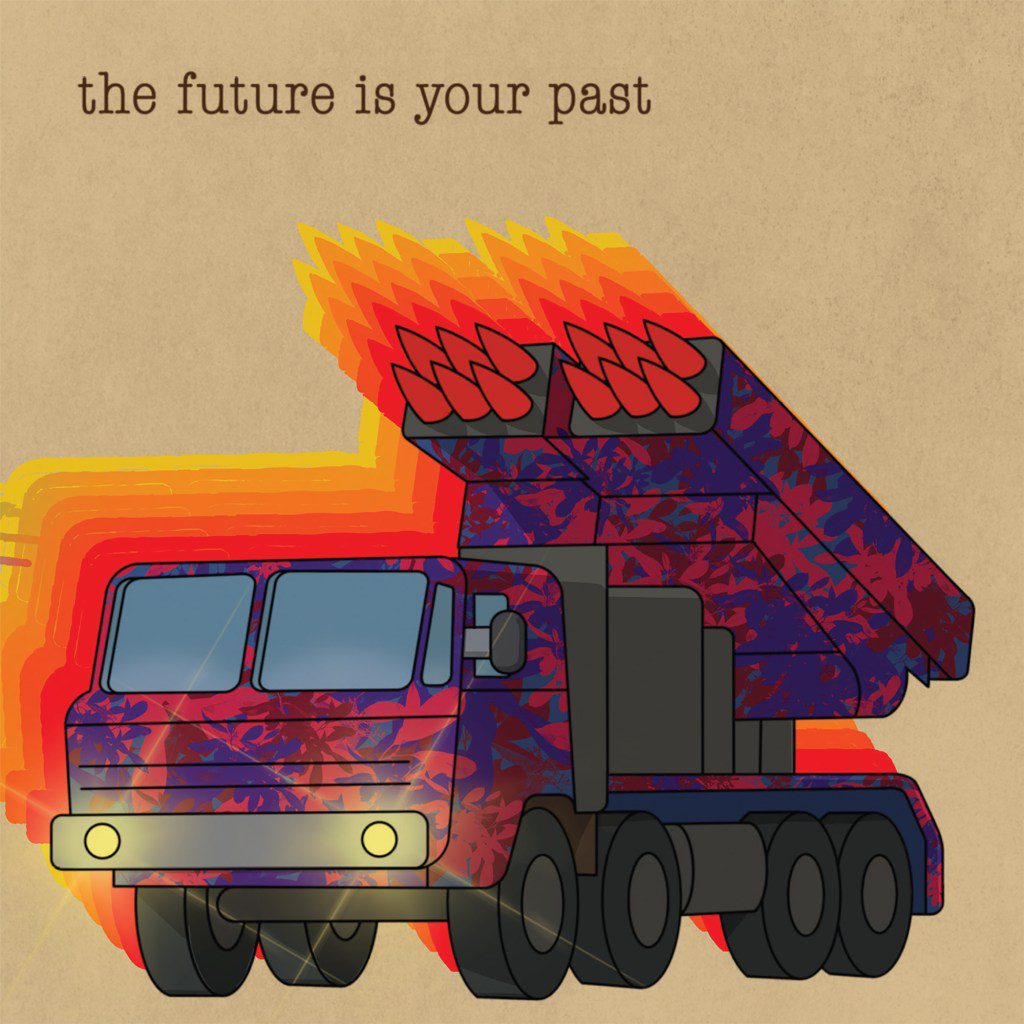 There's a new Brian Jonestown Massacre album on its way in a couple of weeks – yes, another – so I bag myself a catch up with Anton Newcombe, on a day he's very much living his 'I like to keep busy' mantra. Shindig magazine's already grilled him earlier on over what he's digging right now, music-wise. 'I have such crazy great taste,' he says with zero modesty whatsoever, lighting up a cigarette. Anton's over at his place in Berlin and as we settle down over Zoom he enthuses about jazz visionary Alice Coltrane high up on his chosen list and describes why the place is earned, in great and enthusiastic detail. Any conversation with the singer, songwriter, musician, producer, passionate foodie – more on that later – one inevitably comes out of the other side throughly informed, educated and entertained. Slightly Reithian, but with a decidedly alternative twist. The epitome of an independent artist, creating and maintaining his own musical and cultural world and economy, Anton is the combination of free thought with, in some ways, a confidently traditional mindset. And an excellent investment time-wise.
The Future Is Your Past is BJM's 20th album and out in February, coming months after 2022's Fire Doesn't Grown On Trees. The band played a ton of dates in the US last year ('We toured these songs before either album came out. And people were just in shock. in a good way', he reports) and hits the UK this weekend to kick off a 17-date tour. At the time of writing the bulk of shows sold out weeks back. As ever, no need to advertise; audience power and loyalty does the heavy lifting.
Anton's up for sharing truths this afternoon but remains mischievous with it, taking the mick out of artists we'll not name. 'We don't need to push anybody down to pull ourselves higher, right? But banging out jam records, it's asking a lot of those people that love you. That's why I'm a wise guy, I'm putting out two records (in a year) and they both have songs…'  Quality is part of the BJM-audience contract, after all. It's very honest this new record, I put to him. He doesn't go into detail in response but acknowledges the songs as affirmations, short sentences of powerful words putting us straight, helping us remember what's right. The titles of 'Nothing Can Stop The Sound" and 'The Light is about to Change' speak for themselves – look forward, all will be well. 'We've all been going from existential crisis to existential crisis. You need these affirmations sometimes, and in these difficult times we're all facing,' he says. 'Remember you're made of good stuff and are part of this silver cord that goes back all the way through history. You need to snap yourself out of it at times, be there for other people and remember everything is an eco-system.'
There have been losses these recent years and he mentions well known names The Specials/Colourfield's Terry Hall and chef Anthony Bourdain but it's a universally shared and necessary experience to reflect on loved ones and heroes and things and circumstances now gone. Our existence is different post-Covid and as we naturally age. It's much felt in the new songs. 'I must say I do miss your smile,' he acknowledges in 'Cross Eyed Gods', and accepts life moves on and that's ok in 'All The Feels' – a song which literally gets you right there; the sweet, heart-tugging slide guitar is gorgeous, darn right it is. But he can play that with his lighter if needs be, no fancy bits of kit. 'It's slide, bottleneck. Just rudimentary stuff.  There are people with real skill that need to be respected but there are no real secrets to that stuff.' 'Fudge' is motivational – 'wake up, you've been sleeping most of your life, you've slept enough', sage advice indeed. On 'Do Rainbows Have Ends', 'love is all I have to give' is straight up sharing of vulnerability. 'Giving all you got is the only way to live', he continues reciting the lyric. 'All that stuff is true, and I love playing it live. They are very much my thoughts, my life stories.'
Anton's belief system of keeping on going in the rough times, an awareness of inner strengths and determination come from his own bloodline, he explains. As a boy spending extended periods with older women in his family, he saw them enjoy long fruitful lives, the young nourishing the old and vice versa. The women taught him life skills, the practical hands-on preserving of food and shared stories of surviving World Wars and the Depression, and the importance of family ties and traditions. 'She'd want to make clam fritters,' he recalls of his great grandmother. 'And we'd have to turn off the stove for her an hour later because they'd neglected to do it. And she'd be following you round with a spoon saying, "I'm going to spank you" and laughing.'
Along with romanticism of years gone by playing its part in the creation of The Future Is Your Past was the utilisation of a time-efficient Brill Building-style one stop shop approach to writing and quickly recording. Instead of hits for 1960s girl groups and teen idols penned a bustling New York, Newcombe created contemporary anthems birthed in a twilight zone-pandemic Berlin. A song per day in the bag has been a longtime approach, for this record Hakon Adalsteinsson (guitar) and Uri Rennert (drums) were in the studio with him to support the process. 'I don't care who's playing what part of my idea, I just want the idea to be alive,' he says. It was a sad and lonely time for many, hopeless; but in a typical Anton quotable quote he wanted the songs to say, 'I was not helpless'.
Some songs, like 'Your Mind Is My Cafe', and The Future Is Your Past were in-house in more ways than one, inspired by ideas imagined up by Anton's young son. That, and the vinyl edition of the record coming with a pack of coloring pencils so we can let out our inner child and colour in the album cover suggests a sense of playfulness one doesn't necessarily associate with The Brian Jonestown Massacre.
'But that's not true exactly,' is the polite argument in return. 'Because I always saw myself as this spiny tropical fruit that might smell funny but is the most delicious thing.' Anton grins. 'But all the other animals in the jungle know not to eat it. There's something about this salamander or that glowing mushroom…'
And yet this curious psychedelic fungi takes us back to that classic disciplined songwriting, writing in the third person, looping back to an industrious approach. 'I was working on something with Tess Parks and she was singing "I this, I that", and I said look, stop. Think about The Beatles, they said I want to hold YOUR hand and she loves YOU, yeah yeah. And Jefferson Airplane said Don't YOU want someone to love. Who cares about who broke your heart, everybody's been there. Flip your art around to include the listener.'
You sing about God a lot on this record.
'I'm always talking about God.'
Does he have a relationship with God?
'Of course. but I don't have a problem with anyone else that doesn't. I appreciate the true paths of other people too. I'm not puritanical or authoritarian or anything like that. I laugh of people who are (puts on deep voice) 'hail Satan'. The worst are Christians who say "you need to go out to do this or that for you to stand and fight the devil". My god created the devil and my god can certainly deal with him.'
Your singing is markedly different these days. More up front. Every word heard. He admits a tendency to 'mumble' as a younger man.  'My main goal was to influence other people to give themselves permission to do what they want despite their means and not wait for daddy white bucks in some office to say I think you've got what it takes or nah, I don't see a hit mate, keep walkin' . So other than go for the Mercury award or the Grammies or whatever, a video on tv or be on the cover of the NME, it was to start their own band.'
It's an important message he persists, music saved him from a feeling of alienation even amongst friends and loved ones growing up. A sense of belonging affirmed by relevant culture. 'And then you see people like Bowie, art in the pages of books and you go, "I'm not alone". I'm not Bowie, or trying to be a cross dresser, whatever it is, that's not the point, as a little kid you see this person's making it up. I loved that.'
Writing sheet music is a recent skill he's learned. How's that going?
'You know, they have all these programmes and anybody can hire people to do strings on their tracks but they don't have the feel. And that's what is important. That's why recordings can be a little bit stiff as opposed to the things they aspire to. George Martin was a genius, you know? That's why The Beatles works, it's not like they just pulled some guy off the street that somebody's cousin knew.'
He offers a virtual tour of his studio. Who would say no? It's a colourful room of guitars, guitars, guitars and '60s amps he's had imported, his Hammond D3 and collection of organs, classic old mics, reverbs and delays and instead of a mixing desk he uses Sergeant Pepper Neve and Chandler desks. What stories each both past and present could tell. 'I hop from thing to thing,' he explains and one easily imagines him grabbing whatever strikes his fancy, guided by instinct and experience.  He points out the organ bringing the beautiful purple smoke of psychedelia on the quite brilliant 'Nothing Can Stop The Sound' . It's an Italian Farfisa he explains, and takes the time to spell it out.
As well as the studio tour, I get taken round his kitchen. 'It's set up so I can live as I work. Right now, I'm making a borscht and this is a vegetable stock I'm reducing from scratch.' He's not blagging, either. A big pot simmers deliciously on a stove. Cooking is a creative endeavour, I suggest.
'It is, but it's also a science. You can look at the recipe and go "this is easy, and follow the directions". But don't go and watch Love Island when the bread's in the oven and wonder why it burns. Like King Alfred, you've got one job to do – watch them cakes.'
You add ingredients, spices and make it your own, surely?
'Yes, but what makes French cooking great is that a lot of times you don't have to add anything. and that's the key too. It's what you don't do. Don't mess with it.'
He had Anthony Bourdain over at his place once, Anton writing and recording 'Remember Me This' – which later appeared on the 2019 The Brian Jonestown Massacre album – whilst cooking dinner for over a dozen people. 'I made both from scratch, did all the shopping and he was how did you do both and I said "every woman in the '40s did this! Did the laundry, did the cooking all the plates spinning!'"
Cooking is clearly a rock n roll pursuit these days; when I mention Echo & the Bunnymen's Will Sergeant, Anton pipes up 'He's the master of sour dough!' Will's inciteful 2020 memoir Bunnyman was very well received. Has Anton ever been tempted to join the literary set?
'I get asked by the same people who ask all these guys,' he says. 'Look, I wouldn't be here if it wasn't for women and I'm not saying I'm a lothario but I would be dead since square one without women. And there's a lot of complex relationships, I've probably never not had a significant other in my life. You've got to respect people's privacy. What am I going to do, write about girls? Who cares about all the money I made and blew, the dope that I shot up my arm? Who cares. it's pointless.'
But as we all know, people say a lot about him. Everyone has an opinion. He brings up Ondi Timoner, director of the notorious Dig!, 2004's full-on technicolour interpretation with bells and whistles of the then relationship between Anton, members of BJM and the Dandy Warhols. Timoner's twitter bio describes her as making movies about 'inspiring people who push the boundaries'. He challenges a lack of objecitvity in her work, focussing on her latest covering the death of her own father. 'It should be objective. Like David Attenbrough watching a baby seal get eaten by a shark.' It's interesting that each time the Timoner makes a movie, Anton is inevitably referred to. 'They write about it and the first sentence, they write about me. and about how they think I've had a failed career or whatever, troublesome genius wrecked every chance. It's bullshit.' Being talked about is preferable to the alternative, one supposes. BJM's Joel Gion is writing a book and has Anton's blessing. 'I have no problem with people saying whatever they want to say about me. I don't care what people think.'
You get called cool a lot. What does he think it means?
'Hip slinging cool means jails, institutions and death. We don't know what cool means. We could sit here all day and drum up a list of what isn't cool. Live and let live is cool, to the best of your ability. But pretending everything is fine, everything is great and true is bullshit.'
He pauses.
'Am I being too heavy?'
It's ok, I tell him. You can tell some jokes at the end.
I do a Shindig and ask about his favourite things, nonmusical this time. What's his favourite food?
'Lately?'
Ever.
'I don't have favourites. Lately I've enjoyed making split pea soup, from scratch. it's lovely stuff. and you can live off it, it sustains you. I get up in the middle of the night and eat split pea soup. There's something about it in this cold.'
Is it cold in Berlin?
'It gets in my bones.'
'What about favourite films, books? Go as mainstream as you like. 'I'm not a mainstream type of guy.' He loved Arabian Nights as a kid though. 'I read the Bible five times. But I like esoteric books.' He mentions the recent David Hockney book. After we've said our goodbyes – that borscht has an audience later – I look it up. Secret Knowledge: Rediscovering the lost techniques of the Old Masters lifts the lid on the techniques the master artists of the past used. How they managed to depict the world around them so accurately and vividly. It's because of them that we, in the here and now, we can fully imagine what life was like back then. And understand history.  I reflect on the best part of an hour spent with Anton Newcombe. Him telling how it is, no BS, pure fact. Talking and walking me through how he makes and creates. Giving a glimpse of of how and where the magic happens but, quite wonderfully, taking none of that magic away.
The Future Is Your Past is out on 10 Feb through A Records
The Brian Jonestown Massacre's UK tour dates:
28/01/23 Falmouth – Princess Pavilions
29/01/23 Bristol – SWX
30/01/23 Brighton- Concorde 2
31/01/23 Brighton – Concorde 2
01/02/23 Brighton – Concorde 2
02/02/23 Norwich- Epic Studios
03/02/23 Birmingham – Academy 2
04/02/23 Manchester – Ritz
05/02/23 Glasgow – Barrowlands
06/02/23 Edinburgh – La Belle Angele
07/02/23 Newcastle – Riverside
09/02/23 Dublin – Academy
10/02/23 Belfast – Limelight T
11/02/23 Liverpool – Camp & Furnace
12/02/23 Nottingham – Rock City
14/02/23 Leeds – Stylus
15/02/23 London – Forum
Anton Newcombe photo credit : Mehdi Benkler