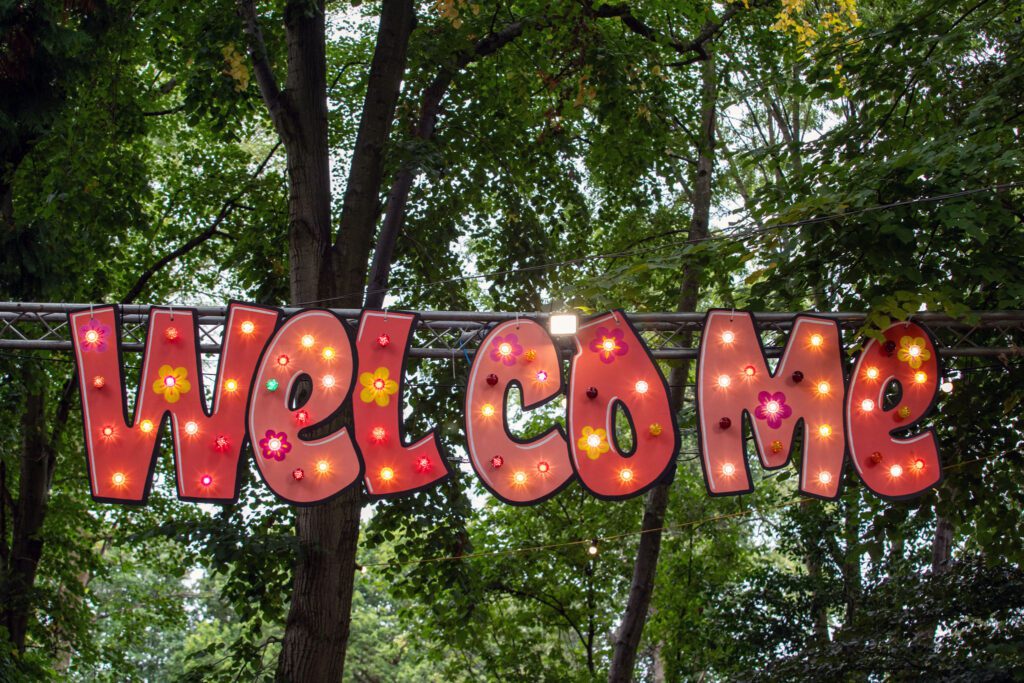 When: 1st – 3rd September 2023
Where: Moseley Park and Pool, Birmingham, England
Since it first saw life in 2006, Moseley Folk & Arts Festival has firmly established itself on the UK's annual music festival calendar. The keys to the event's success have been its warmest of welcomes, a strong commitment to inclusivity, the consistent curation of a bill that places quality and diversity above commercial gain, and, in what is a marked contrast to any radical conceptual overhaul, an ongoing process of subtle evolution.
This year there has been some relatively minor yet undoubtedly positive alterations to the layout of the festival site, most notably with regards to the location of the toilets. There is the introduction of another stage for 2023 – The Stone Club Stage, which presents a number of films (mostly focused on folklore and its influence on music over the years), panels, creative workshops, and DJ sets – but perhaps the biggest and most effective change has been to the entry procedures which have dramatically reduced the amount of time that it takes to get into the festival.
And then there is also the no little matter of Moseley Folk's local identity. Along with its earlier summer sibling, the Mostly Jazz Funk and Soul Festival, it is held in eleven acres of beautiful parkland; an oasis of calm surrounded by trees, featuring a stunning lake that lies a couple of miles from Birmingham city centre which has remained untouched for more than a hundred years. With their strong community spirit, both events have become an integral part of the local landscape.
For this its 17th edition, Moseley Folk & Arts Festival has once more put together a cracking programme of entertainment, one that is packed full of some of the very best contemporary music that is around today, as well as some equally top-class talks, comedy – compered each night this year by local comedian and writer Phil Pagett – and spoken word events. There is unquestionably bags of fun to be had in this suburb of England's second city come the first weekend of September.
Friday
As bruised skies thankfully start to slowly clear, Philippa Zawe embraces all the positivity of Moseley Folk. Playing on the festival's third music stage, the Kitchen Garden Café Stage, the Birmingham-based singer-songwriter highlights the event's principle of promoting local talent. 'Would You Lean' from her recent EP, Shudder Pt. 1 had "originally been released in the hope of getting radio airplay." With the purity of Zawe's voice and the song's infectious melody, quite why it didn't will remain one of life's mysteries.
Two EPs into her recording career and now with a raft of live appearances behind her, another relative newcomer Elanor Moss continues to go from strength to strength. Augmented by keyboards and saxophone, her words and music acquire an even more haunting texture. Accompanied solely by piano, her cover of Judee Sill's 'The Kiss' is revelatory.
Gwenno is a festival natural. Whatever the surroundings she moves just as effortlessly between synth-pop and psych-folk as she does the Welsh and Cornish languages. The politically charged 'N.Y.C.A.W.' (Nid Yw Cymru Ar Werth – Wales Is Not For Sale) is a potent reminder of music's capacity to rail against injustice and serve as an instrument for change.
A man also still fuelled by righteous anger is Graham Nash. And more than 54 years after having performed the song at the Woodstock Festival as part of Crosby, Stills, Nash and Young (their first public appearance together) he dedicates 'Find the Cost of Freedom' to the people of Ukraine. With Putin firmly in his lyrical crosshairs, he follows with another anti-war protest song, 'Military Madness.' Accompanied by Todd Caldwell (keys) and Shane Fontayne (guitar), and with his voice still in remarkably pristine shape, Nash rolls back the years and continues to touch hearts and minds.
It's probably not until you see them in concert that you are reminded of just how many timeless classic pop songs Squeeze have written. From the opening 'Take Me I'm Yours' to the concluding 'Black Coffee in Bed' nearly twenty songs later, their catalogue remains as rich as anything that is around in popular music today. Their songwriters Chris Difford and Glenn Tilbrook continue to have this unerring facility to wrap vivid details of ordinary life in such glorious melodies.
Saturday
Two young artists starting out on their respective musical careers are Kitty May and Susy Wall and whilst they are unfortunately scheduled to play at the same time on different stages they both ease the lunchtime crowd into another glorious Moseley Folk day with their individual charm and gently mesmerising songs.
A particular highlight of the day takes place in Speakers' Corner with an In Conversation – one of a number over the weekend – with presenter and music afficionado Mark Radcliffe. No stranger to the Moseley Folk Festival, having performed here previously with his band Galleon Blast (now called Mark Radcliffe and Company, having since moved on, realising that the band's pirate garb was "a late midlife crisis"). With so much knowledge and lived experience of the music scene, gained since his first foray into the world of broadcasting on Manchester's Piccadilly Radio in 1979, he shares plenty of anecdotes such as the one where he and Marc Riley – as Mark and Lard – once introduced David Bowie on stage, "pissed as crickets", after pilfering from the artist's rider. The intro slot would normally last for about 45 seconds but ended up being a whole eight and a half minutes long!
Mark Radcliffe speaks a lot about his ventures with Marc Riley, including the possible reunion of The Shirehorses (Autumn 2024, if it happens), and their show from a studio in Manchester when the BBC was still "very London-centric." Radcliffe describes their show with much self-deprecation as "… just two blokes talking in a pub' but you realise it was much more than that. He is a true pioneer of the 'regionalisation' of radio.
But the day ultimately belongs to the Irish. The crowd swells to its 6,000 capacity and the Armagh Rhymers – a folk music and theatre ensemble from the island of Ireland – set the scene mid-afternoon with their carefully crafted masks, mumming, music, storytelling, and drama which harnesses their national history and tradition. "Leave all your cares and woes behind you" they tell us with what turns out to be remarkable prescience.
By the time that The Mary Wallopers and The Saw Doctors follow each other onto the festival's main stage later in the evening, Moseley Park is in full-on party mode. All the way from Dundalk in County Louth, The Mary Wallopers have brought with them plenty of bodhrán beats, ballads, blarney and, you suspect, lots of their home country's stout. Taken together it all makes for some unquestionably raucous and rebellious Irish soul.
In the packed crowd at the front of the stage, a young lad in a Mayo GAA sports top holds aloft a homemade banner. Please play the Green & Red of Mayo, it pleads. And The Saw Doctors duly oblige by opening their headline set with this 30 year old song, Davy Carton's voice still impressive after all these years as they turn on the Gaelic charm with a string of emotionally-charged tunes.
Sunday
And with Moseley Park and Pool bathed in the most beautiful Indian Summer sunshine the twenty-piece shanty live music show that is the Old Time Sailors ensures that the previous evening's party spirit continues well into the Sabbath. Seafaring versions of 'Dirty Old Town' and, naturally, 'Yellow Submarine' add to the nautically-themed fun.
Moseley Park forms a natural amphitheatre at the bottom of which are positioned the festival's two main stages. They are scheduled in such a way that from noon until night the music alternates seamlessly between the two and the park's natural layout affords the audience unobstructed views of the action. With the lake just beyond, it is the most perfect of settings in which to enjoy live music.
She will later join Welsh journalist Jude Rogers at Speakers Corner for an enlightening In Conversation, but next on the Janice Long Stage – named after the hugely popular regular compere of this festival prior to her untimely passing in 2021 – is Angeline Morrison. She performs songs from her recent album, The Sorrow Songs: Folk Songs Of Black British Experience, "a re-storying of Britain's lost and forgotten black ancestors." The stories that unfold through her words and music are haunting, harrowing, and riven with Morrison's own humanity.
After the festival's customary procession –a joyful celebration of life, inspired by ancient ceremonials and this year led by a Corn Dolly – it is time for Billy Bragg, an old friend of the festival and someone who never, ever disappoints. The highly acclaimed songwriter and committed labour rights advocate continues to fight the good fight for the common man and woman. Following the recent unsolicited kissing of the World Cup winning captain Jenni Hermoso by the country's male football chief – an act that echoed the abuse suffered by millions of women around the world – Bragg dedicates 'There Is Power in a Union' to the Spanish Women's Football Union. God bless Billy Bragg, a man of the people.
And Moseley Folk & Arts Festival sticks resolutely to that adage of saving the very best to last. Enter Wilco. Now almost three decades into their career, the band from Chicago, Illinois have travelled far and wide and they bring all of that breadth, experience, complexity, and downright brilliance to this south Birmingham suburb tonight. This, without shadow of a doubt, is the best live music I have seen and heard in years. 'Bird Without a Tail/Base of My Skull' from last year's Cruel Country album slowly crackles, burns, and eventually bursts into astonishing life. The interplay between the three guitarists, Jeff Tweedy, Nels Cline and Patrick Sansone is as intuitive as it is innovative. 'Impossible Germany' is similarly dramatic and further affirmation that Wilco are one of the greatest rock bands still walking this earth.
In what has now become a long list of memorable occasions, this year's Moseley Folk & Arts Festival has to surely have been the best one yet. It continues to be an impressively well-organised event, intimate and inclusive, exuding one of the most friendly welcoming festival vibes in the country. Long may it prosper.
Additional reporting: Claire Eggleston
Photos: Simon Godley
More photos from Moseley Folk & Arts Festival 2023 can be found here: