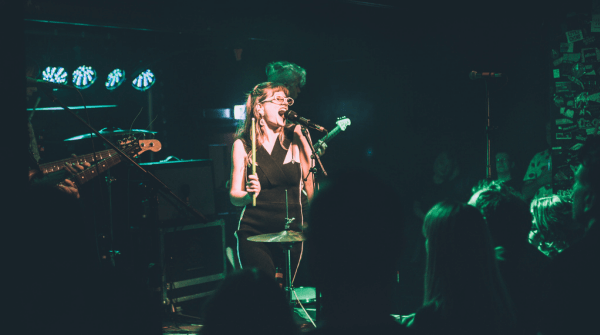 In the ever-evolving landscape of the music industry, there's a persistent challenge that often goes unnoticed – the barriers that hinder talented young individuals from underrepresented backgrounds in their pursuit of music careers. Route, a Community Interest Company, is not just aware of these barriers; they are actively working to break them down.
Route's mission is clear: they're on a quest to support young people from marginalised backgrounds as they embark on their journeys toward a career in music.
We spoke to Georgia Hardy, one of the co-founders of Route, to discuss the organisation's mission and its efforts to provide equal access to the music industry.
What inspired you to start Route and what is the overarching mission and vision of your organisation?
Myself and Jamal started Route together we were both working at a company called LNZRT that runs the Moth Club, Shacklewell Arms, and Wide Awake Festival, it was really from working together there, becoming more senior in our roles and chatting between ourselves that we noticed that the people below us coming through tended to be from clearly privileged backgrounds (private schools etc). We could both see that we weren't getting any applicants from working-class backgrounds. So we started it as a way to encourage people from other backgrounds to apply for these jobs and that's mainly through raising awareness of the jobs that are available in the first place.
If you're from a background where you don't know anyone who works in a creative industry it's very hard to find out about what's happening within it and about the jobs that exist there which is the very first hurdle. So it started as just an online content platform where we kind of demystified the industry, we interviewed other people to find out how they got their foot in the door, how they found out about their roles and helped explain industry jargon.
As well as this we had a jobs board that would basically only be entry-level jobs or intermediate jobs because if you go on the big music job platforms there are plenty of jobs which are like "Sony Executive Manager" and it's like only like 0.1 percent of people who are already in the music industry who will be able to apply for that job so we wanted to filter it out more for young people
The overall aim is to try and get more young people from working-class backgrounds or just from a variety of backgrounds to get into the music industry because at the minute it's quite a homogeneous place to work.
How do you identify and connect with young talent in the early stages of their music careers and what support and resources does Route provide to them?
We built our base network to begin with as an online platform but in the pandemic, we offered a CV service where if you were unemployed and under 25 you could send us your CV and we would help tweak it to better suit the music industry. That gave us gave us a good starting point for being able to connect with people who needed it on a one-to-one basis.
We did over 100 CVs in the end and then from there we've kind of grown we've worked with different partners and just connected with different different people and businesses. We also recently partnered with Waltham Forest Council to work with the disadvantaged people in the borough to engage them in music so partnerships like that where we can directly link up with the people that need it need it the most.
There are a number of artists who are performing as part of the Excursions event you are due to be hosting soon how did you come to select those?
So with the Excursions event, there are two sides to the coin. The whole idea came from the fact that one of the biggest barriers to music is your location, where you're from. People who are often the hardest hit are actually those who live just outside of major cities in commuter belt towns because they often have all their resources sucked in by the nearest city.
I'm from Luton and Jamal is originally from Milton Keynes so the idea of the event was to kind of showcase the venues that that do exist in these places. We're hosting Excursions at Bedford Esquires which is one of my favourite venues in the country. We're going to be connecting the young people who are from that area to the music industry by bringing the music industry to them.
We've got a day of talks and workshops and then in terms of the artists we wanted a mixture of established artists who might not necessarily go play Bedford Esquires normally. Perhaps the venue might not ordinarily be able to convince that artist to play so it was a mixture of wanting to show that Esquires is a really great venue to play, to try and get bigger touring artists there and then also having local bands. We're working with three young people who have been working on a placement program and they've helped us curate some of the artists on the lineup.
One of the panels taking place as part of Excursions is related to gaining access to music funding this is a theme that comes up frequently with new artists who are often struggling to make ends meet these days have you found there is much funding available for musicians at the moment?
I think that there is actually a decent amount of funding going around and funders are particularly interested in in funding people from places and schemes from places that they haven't before so that's like a really positive step – that funders are actually pulling money out from London and putting it elsewhere. I think the main issue is that it's really hard to find out about what funds are available and how you can apply to them and also knowing the language that you need to use to successfully apply for funds is also a massive barrier.
Some people are much better at talking whilst other people are much better at writing but funding applications are genuinely quite long and arduous and you have to use a certain type of language and jargon, so if you've never applied for funds before you just won't know this. The purpose of this talk is to try and demystify that process a bit and highlight some of the funds that are available
What advice would you give to someone looking to get started in the music industry who is a little bit nervous about networking and showing up at events like Excursions?
I would say just forget about the word networking. Chuck it out the window completely, forget that word. It's not it's not networking, it's just your life it's just the people you meet, the friends you make on the way who end up becoming the people that you work with or who you make music with or do fun creative things with.
I don't think I've ever gone into a situation and thought I'm here to network, come to Excursions because you want to have a fun day and because you want to learn a little bit more about the industry for yourself not because you think that you need to put on a show for anyone.
I was surprised by some of the figures that were mentioned in your handbook it mentioned that in 2022 people from working-class origins earned 13.5% less than their more advantaged peers, effectively working one day out of seven for free. That's really awful! Why is it that you think people from working-class backgrounds find themselves in a more vulnerable situation?
I think one reason is that a lot of working-class people don't make it and if they do make it to a job then they don't make it past that first job because the music industry is (when you're first starting out) notoriously underpaid, unreliable work and if you don't have a parent who can financially support you then it's really hard to sustain a career in music to begin with. I think that is one of the biggest reasons why working-class people end up not having a fulfilling career in music because they can't make it past that first hurdle.
In your opinion, how important is going to university and getting a degree in relation to working in the music industry?
I don't think it's important at all. I studied music at uni but was working in the industry alongside this and found that actually a lot of what I was being taught at university relating to the music industry was already outdated.
The music industry is so fast evolving that it's nearly impossible for a formal education setting to stay up-to-date. I'd say university is a good place to meet new people and extend your horizons but no employer has ever asked me about my degree in music – they're way more interested in hearing about my hands-on experience which I gained through going out and meeting people, not through sitting in a classroom.
I think conferences like our Excursions festival are much more valuable for young people to actually meet the industry face-to-face. We've experienced young people gaining jobs off the back of attending some of our workshops via the people they've met there rather than at uni.
Have you experienced any challenges and barriers throughout your work relating to its mission to diversify the music industry, and how have you worked to address them?
The majority of people say that they want to see the industry diversify but one of the biggest challenges is getting employers to commit to the reality of what it means. It means understanding that people come from backgrounds different from their own and that their culture, upbringing, and experiences are different. Someone who is the first in their family or friend circle to try to work in a creative industry might not naturally have the same cultural cues that someone who's brought up with a family that works in creative spaces does.
We've had people ask about the dress code for jobs which employers find funny, but if you've never known anyone that works in a creative industry then how are you to know that you don't need to dress smart when traditionally you're told in school to wear a shirt and tie for interviews?
Looking ahead, what are your long-term goals and aspirations for Route, and how do you envision the organisation's role in shaping the future of the music industry?
This year we launched a Placement Programme scheme that placed three young people from working-class backgrounds into their first music industry jobs. We're hoping for the placements to become a yearly scheme. We're also trying to focus on working with younger age groups – the earlier we can educate people about the music industry the better chance they have of considering it for a career. 
You can book your place at Excursions which will be taking place on Saturday 7 October from 12pm – 11pm at Bedford Esquires.