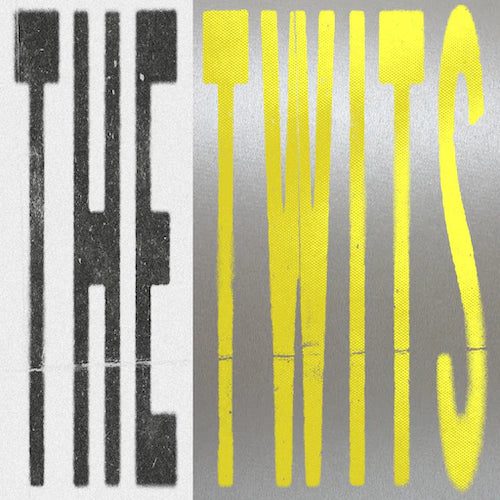 You can imagine the black bedecked members of bar italia hiding away in the Mallorca studio they recorded The Twits in, shutters closed, no lights on, horizontal slits of sun creating a barrier across the room, a mild February Balearic breeze drifting in, a broken spined, battered copy of Roald Dahl's story about a revolting couple who hate the world and washing themselves opened face down on the floor, dust floating in the air. Not that the four members look unkempt. Far from it, they are the epitome of cool nonchalance and mystery.
Coming at breakneck speed off the back of their debut LP on Matador, Tracey Denim (hell, the vinyl was only released in September), the follow up apple doesn't fall very far from the first album tree. When the thing ain't broke, you don't need to reinvent the wheel. Or something like that.
There have been reviews that question the hype around the band, also whether they've gotten better since their early EPs and albums (some say they aren't fully formed albums). Is the hype purely based on their aloof cool and minimal social media usage? That element of detachment seems to frustrate the young and restless who demand things now now now, so the lack of videos and posts of them goofing around on Tik Tok probably just agitates people.
Two LPs in such quick succession suggests a band on a hot streak, this isn't a case of leftovers from the debut album, there's gold in dem hills. So it seems odd people have an issue with their perceived lack of engagement.
Kicking off with 'my little tony' arguably their most immediate and accessible single to date, a seat of your pants intro, as if you've been dropped into the middle of a jam. It stops abruptly too which makes you wonder if this was a part of a medley or an incarnation of the project originally intended. The Twits suggests a concept album and as we have very little to go on, it's fun to interpret and put your own spin on things.
'Real house wibes (desperate house vibes)' is a psych inflected looping liquid guitar melange with their archetypal droning three way vocals (you'd be hard pushed to call them harmonies, but then that's the charm).
'twist' is quite a touching lament, as close to a Ballad as you'll get from bar italia. The clean guitar hooks intertwine with Nina Cristante's imploring vocals. The response vocals from either Sam or Jezmi works when perhaps it shouldn't and this is a perfect epitaph for bar italia; it works when perhaps it shouldn't. It's the most simplistic in delivery as they have done over the two long players and it could be argued comes too early.
'the world's greatest emoter' isn't as deadpan as it sounds but doesn't quite hit the sweet spot. As the most recent single from the LP, it hasn't quite got the chops that "nurse' or 'changer has. It's not as dynamic as the previous releases from this record, a touch one dimensional but could fly live.
'calm down with me' returns to the more intricate guitar work, subtlety returns, with effecting layers of guitar that compete and drown each other out in turn which is mixed and mastered inch perfectly with Nina's "hey, beautiful boy" refrain with her italian delivery making those words sound like they've never been uttered before.
This and the likes of 'Hi Fiver' illustrate the concentration on the recording of the guitars, where the vocals sit in the mix of them, they are clearer and tighter than on Tracey Denim with special care attached to how they intertwine and play. It takes a few listens to let the songs embed themselves into your psyche and then your notice the detail. It's an art. Woven deeply in tracks like "Brush w Faith' where there may be around five layers of guitar all bringing something different.
'sounds like you had to be there' is every inch the next single if there's any justice in this world, and we all know there isn't. Whilst it may be the most downbeat track, it is one of those that gets under the skin, like it's your favourite Cure song Robert Smith didn't write. If you listen really carefully, you can him sing it, especially the whispered "of course we stay closer to the tracks". Ending it felt like an after thought they decided to ignore but we'll forgive them that.
'Jelsy' is fairly well known already, the monochrome video of the three of them sat at a bar breaking the fourth wall like they're telling secrets on each other.
Such is the level of mystique that you wonder if we'll hear from them for years now, or they'll have another LP out in the Spring. The not knowing is the best bit. It's at once pre-Internet and social media nostalgic and a black hole in the over sharing of the Tik Tok now. Refreshing.