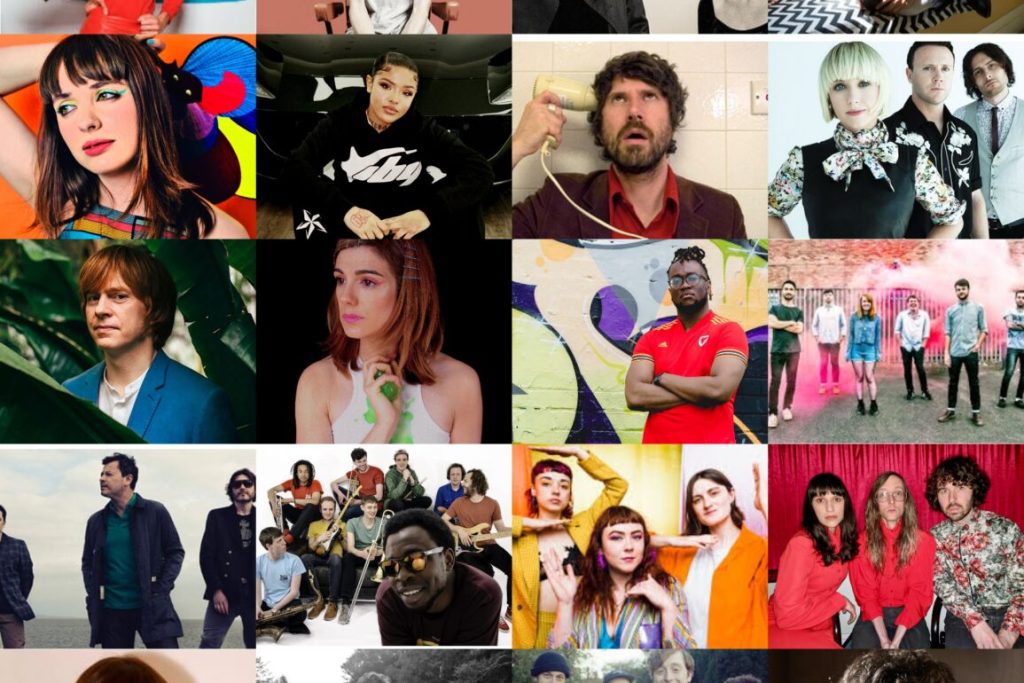 To celebrate our twentieth anniversary and our love of Welsh music. Cath Holland and I have curated a list of twenty of our favourite Welsh songs of the last twenty years, by no means definitive but a snapshot of the finest Welsh songwriters and artists from the Principality.
Adwaith – Feli I Fod
Carmarthen trio Adwaith emerged with a brilliant debut album 'Melyn'  in 2018, their live shows showcasing their gorgeous, yearning, inspiring and effortlessly crafted songs, possessing both attitude and charm. It marked them out as a coming force in Welsh pop.
Widescreen standout 'Fel i Fod' with chiming arpeggios and longing vocals casts eyes into the middle distance and distils that feeling of being lost and trying to find meaning and it really moves me. Its echoing refrains coupled with magnificent atmospherics and chiming guitars that hover into view through grey clouds, it possesses a transformative power. It's already one of the most streamed Welsh language songs of all time. (Bill Cummings)
Afrocluster – Love Thing
Afro Cluster are a hip-hop/funk crossover collective from Cardiff who bubbled over ground with 'Love Thing', the vibrant first track from their EP We Don Land.  A deliciously rambunctious party tune that sways between the funky horns of The Average White Band and the joyous work of positive old school organic hip-hop acts like the Roots or De La Soul.
It's laced with the personal and politically conscious rhymes of leader Skunkadelic whose self-aware vocals survey the damage around him – "All they want is segregation/Replace love with hatred/To generate paper/Create war amongst third nations/And take from them… Then looks skyward/Gimmie that one thing's/Better than nothing/All of my people!" he sings, infusing positivity and collectivism into the gloomiest of world situations.  All together now…(Bill Cummings)
Ani Glass – Mirores
Ani Glass's debut album Mirores was a heady mixture of the English and Welsh language, the former tending to turn up in sample form – Huw Edwards on the news, an all female choir singing – while Glass herself chooses to sing mainly, but not exclusively, in the latter tongue. On a more sensory plane, though, the 11-track selection is a gorgeous sweet spot where pure pop and experimentalism encircle each other in a sensuous, bewitching dance.
The main star of the LP, of course, is the voice of Ani Glass, proving not only powerful but versatile too, equally wondrous at a whisper or full pelt. Opening track 'The Ballad of a Good City' sees her nearing operatic power, but the title track 'Minores' feels as intimate as a breathless voice close up to your ear, coasting along on Human League-like dayglo innocence, managing to be uplifting and melancholy all at the same time. (Ben Willmott)
Alex Dingley – Lovely Life to Leave
On his third album Beat The Babble, Alex Dingley does not fuck about. He's straight in, scruffy piano and bare vocal, singing his broken heart out. It's a stark yet sobering song of love and loss but above all, love. The album was recorded in California with Tim Presley, Cate Le Bon and Samur Khouja, yet this song above all of them is very much from this side of the pond. It raises an image of him banging the song out, alone in a church hall. Cannot fail to crack and begin the thaw of the iciest of frozen hearts. Originally released only in the US via Birth Records, Libertino brought Beat The Babble to these shores in 2018. (Cath Holland)
Boy Azooga – Loner Boogie
 Boy Azooga craft a multicoloured, refreshing shot of shape shifting sounds: a kaleidoscope of gleeful sun-dappled psych pop, underpinned by rave tinged, funky grooves that won't fail to get your body moving, informed by one too many evenings spent drinking listening to Nigerian William Oneyabor, The Beastie Boys and Can records, welded with fizzy glam soaked riffs and threaded by addictive, unfussy chant along vocals and entwined melodies all delivered with beaming grins written on their faces. (Bill Cummings)
Carwyn Ellis – Ola!
Joyous, brilliant and widescreen 'Olá', that's bossa nova and samba rhythms and flourishes are framed with gorgeous instrumentation, including strings and an enthusiastic flute solo. While Carwyn's Welsh language narration captures it all in melody. It's like a stroll across a Rio beach on a sunny day! (Bill Cummings)
Cate Le Bon – Are You With Me Now?
With her third album Mug Museum in 2013, Le Bon marked herself out as a songwriter to watch. This charmingly and artfully crafted track pairs spindling guitars, and intricate harmonies leavened with the kind of artful imagination of Nico, glows with a welcoming communality as she urges someone close to trust her and as listeners, we are along for the ride too. Le Bon may have spread her wings on subsequent releases, but this memorable piece of songcraft is the pick. (Bill Cummings)
Datblygu – Maes E 2018
David R. Edwards passed away in June of this year, one of the giants of modern Welsh culture whose uncompromising, challenging and individual talent as a poet, vocalist, and musician made him one of the most idiosyncratic and influential Welsh artists of his generation. His attitude towards the artistic bourgeoisie and politicians in Wales, and his work in his own language at a time when Welsh bands were expected to sing in English, liberated and influenced a whole generation of bands such as Super Furry Animals, Country Teasers, The In Ou, Gorkys Zygotic Mynci, and many more who certainly owe a debt to the work done of the band. They were, in their own words, "non-conforming non-conformists."
David R. Edwards talked of working in the Welsh Language:
"I'm biased because it's my first language, but I do think it's a more beautiful language than English; it works well for lyrics and poetry. And I feel that I can say more in Welsh than I can using English." 
His group Datblygu, (Welsh for 'progress', 'evolution' and/or 'development') started in 1982 while David R. Edwards was still at school in Aberteifi, Ceredigion. At first, it was him and instrumentalist T Wyn Davies before Patricia Morgan joined in 1984. Datblygu's music was, as their name suggests, often experimental.
In their time, they played in such diverse styles as experimental post-punk, disco, country, nursery rhymes, crooning and just about anything else. The NME described them as "Kraftwerk with a hangover". Their debut EP 'Hwgr Grawth-Og' was released in 1986 on Anhrefn. The following year they recorded the first of five John Peel sessions. Their run of early albums Wyau(1988), Pyst(1990) a Libertino(1994) serving as touchpoints in Welsh language music. Here is a remix of 'Maes E' by super producer David Wrench revitalised one of his finest offerings. (Bill Cummings)
Euros Childs – Siwgr Siwgr Siwgr
Siwgr Siwgr Siwgr translates as Sugar, Sugar Sugar and this foot stomping romp from Euros Childs's solo album Bore Da, its a rollicking heady delight. Showcasing his effervescent ability to inhabit a song, the rushing almost nursery rhythm like melodies bouncing into a fizzy mélange of riffs. Childs is one of the finest songwriters this country has produced as part of
Bore Da is a Welsh phrase that means 'Good Morning,' and showcases his sunny disposition and ability to meld different genres into instant classic songs, there's a stripped back 60s/70s feel to many of the compositions on Bore Da, It vividly depicts his knack for melodies that won't leave your head for days. Euros is a national treasure. (Bill Cummings)
The Gentle Good – Bound for Lampedusa
Taken from the Welsh Music Prize-winning Adfeilion / Ruins, the title of 'Bound For Lampedusa' says it all really. Simple and elegant and beautiful, it tells the especially pertinent story of refugees crossing the Mediterranean heading to the Italian island and the failure of European governments to help, or improve their plight. (Cath Holland)
Georgia Ruth – The Doldrums
The first single lifted from her 2016 album Fossil Scale, 'The Doldrums,' a luscious track that marries Ruth's languid vocals with strings, guitars, and twinkling piano.  Speaking of 'The Doldrums,' she said: "' The Doldrums' was one of the first songs I wrote for the album.  I'd just moved to Caernarfon and had become totally transfixed by the view out over the Menai Straits (a narrow stretch of tidal water about 16 miles long that separates mainland Gwynedd from Anglesey).  It was absolutely beautiful. But there was something that felt ominous, something to do with the stillness of the water. And this sort of chimed with how I'd been feeling; the sometimes disconcerting stillness of being happy!" (Eugenie Johnson)
Gruff Rhys – Shark Riven Waters
2011's Hotel Shampoo was Gruff Rhys's most realised solo album and brimful of multi coloured melodies, imagination and restless creativity. Rhys drawing on his palette of psychedelia, surf and heaven sent melodies.This is Gruff on fine form his Beach Boys and Burt Bacharach mingles with lounge sounds, some of it may even hark back to Super Furry Animals records like Radiator and Guerrilla yet it's a riot of sounds burnished in Rhys's singular, mercurial imagination. 'Shark Ridden Waters' tumbles playfully as a pebble rolling across the beach, like a trip across the waters in song form, the hushed melodies and super cool groove form a tuneful toe tapper and one of Gruff's most accessible moments from his solo career. (Bill Cummings)
Gwenno – Tir Ha Mor
Swathed in 70s synths, like the sways of a Chandelier, and sinewy bass lines, leaving room for Gwenno's sweeping vocals, that are both sensuous and instructive. There's a subtle use of kaleidoscopic  dynamics, Tir Ha Mor is a mysterious yet beguiling track that hints at the influence of French pop yet is rooted in Gwenno's own heritage in Wales and Cornwall. It's lifted from her 2017 album Le Kov album that was written entirely in Cornish.
Le Kov is an exploration of the individual and collective subconscious, the myths and drolls of Cornwall, and the survival of Britain's lesser known Brythonic language. As one of the language's few fluent speakers, Gwenno felt a duty to make her second album entirely in Cornish: to create a document of a living language, explore her identity and the endless creative possibilities of a tongue that has a very small surviving artistic output, despite having been around for at least 15 centuries. She said "This album is a combination of accepting the culture which your parents have valued enough to want to pass on to you, regardless how small, and utilising it in a positive way to try and make sense of the world around you, it's also about having to accept and respect the nuances that make us all different and discovering that all of our stories share the same truth."
Meilyr Jones – All is Equal in Love
This didn't make the 2'013′ album, instead was hidden away as a B-side to 'How To Recognise A Work of Art'. But with a few years' lived experience since release, now's the time to acknowledge that's a happy safe place for it, separate from what is a highly emotional record. All Is Equal In Love's gently plucked banjo, lap steel guitar, so sweet and mellow, is ghostlike and eerie with the violin dipping in and out. Live, the song transformed into something quite different, violins turned passionate and high vocals, pushing it further into a more intense experience.(Cath Holland)
Islet – Geese
The wonderful 'Geese' is a centrepiece of the 2020 album Eyelet from Islet. A glorious and hypnotic mini-symphony riven with intricate details, throbbing beat, supple bass lines that has then bat-like wings of the titular bird and nagging comedown keyboard motifs interspersed with the freedom of Emma's skyward refrains. "Fly Fly Fly" she beckons skywards, a call to the landscape and the wild, and to past generations who once stood where we stand now. It was inspired by Welsh cultural theorist Raymond Williams' novel, People Of The Black Mountains.(Bill Cummings)
Juice Menace – Money Dance
With a kicking beat, and a hip shaking rhythm 'Money Dance' was her second track in 2020 from, fledgling Cardiff rapper Juice Menace who made quite entrance, that year maring herself out as at the vanguard of the exciting Welsh hip hop scene. Playing around with and mocking those that show off their wealth and displaying a indestructible confidence, Menace's flow is intricate, playful and lazer focused. She said it was inspired by "Just good vibes in the studio the beat got sent in and I remember I couldn't think of a hook, so I just repeated myself and finished recording and was like this is kinda hard." (Bill Cummings)
The Joy Formidable – Austere
North Wales is barren for rock kicks, but Joy Formidable, on record and live you would not credit that there are only three noise makers involved – but the best trios embody something bigger than the sum of their parts. Ritzy fronts the JF with her sometimes-pretty-with-twirling-melody/sometimes-coruscating-with-crashing-chords guitar and elegant but energised vocals. Then there's her beau, Rhydian propelling things with his undulating bass, and sticks man Matt stapling the chaos together with crisp rhythm. Live, things can get wild, with Ritzy being known to hurl herself headlong into the pit, or else the crowd themselves go into a deranged state of frenzy. (Fliss Collier)
Los Campesinos – Death to Los Campesinos
Re-recorded and ever-so-slightly altered since the original demo E.P version back in 2006, 'Death to Los Campesinos!' sounds as exhilarating as ever. Opening with a lone(ly), gritty guitar the song kicks off nine seconds in with an extensive collision of instruments and a shared vocal for lead singers Aleksandra and Gareth. "Peasant child, you're into botany/splitting necks and calling the dichotomy" Gareth exclaims as the melodies twist and turn and the frantic pace rolls on. Raging guitars, shouty yet lucid backing vocals and a churning keyboard provide the song with its signature sound, and in a snappy 2 minutes 50 seconds it's all over without drawing a breath.
"Death to Los Campesinos!" is just as indie-pop was originally intended; sharp, intelligent, danceable, brimming with melody and rough around the edges. What a song! (Dan Round)
Manic Street Preachers – Sullen Welsh Heart
Ageing, a subject not oft broached in popular music, yet with brutal honesty Rewind the Film pondered on the theme with grace, heart and with the power to move. Some Manics fans dislike RTF because of its acoustic textures and its multiple guests, but for me it sparked my interest in the band after the disappointments of PFAYM and SATT- a starkly honest, stripped back record punctuated by beautiful moments and a set of their strongest songs as a pure trio for many years. (discounting the excellent Albini produced Journal for Plagued Lovers)
Delicate opener 'Sullen Welsh heart' featuring Lucy Rose wears its heart on its sleeve as its creeping thoughts of mortality are heart-breaking.
Sage Todz – O HYD
Combining the young and emerging with the established, bi-lingual rapper Sage Todz embraced Welsh history and brought it with the new, knitting in elements of Dafydd Iwan's classic protest anthem Yma o Hyd. The track is stirring and bracing, and passionate. It captured the excitement and pride of Wales' inclusion of last year's World Cup after decades of non-qualification.