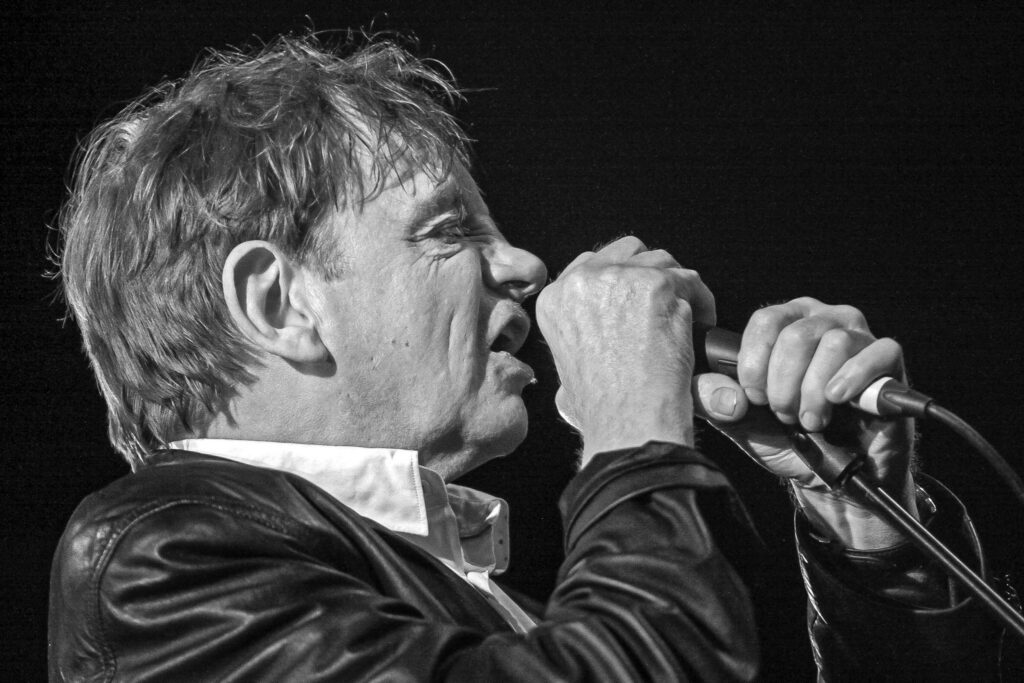 To celebrate the wonderful occasion of God Is In The TV's 20th birthday, I thought I would look back on the past couple of decades and pick 20 of some of my most memorable live music experiences from during that period. I have selected one from each of these years, from 2004 to 2023, respectively. These gigs and festival shows are not necessarily the best I have ever seen, but certainly ones that stick out in my memory.
This feature has come in two parts, the first of which covered the years from 2004-13 inclusive, with this, the second, from 2014-23
2014: The Fall – Beacons Festival, Skipton, 10th August
This was to be the fourth and, sadly, final Beacons Festival. It sticks in the memory for many reasons, not least the fact that Hurricane Bertha – a tropical cyclone that had crossed the Atlantic, bringing with it heavy rainfall and incredibly strong winds – arrived on the festival site late Sunday afternoon just as The Fall took to the main stage.  As the rest of the event started to quickly batten down the hatches, The Fall just played on. The power was eventually switched off by the time of their fourth song ( 'First One Today') but still Mark E. Smith refused to leave the stage, continuing to sing without any amplification. He was a man, you suspect, who didn't have too much time for health and safety procedures. He was eventually manhandled off the stage by a zealous security person.
The hurricane did finally abate and The Fall did return, ending their truncated set with a riotous cover of Iggy & The Stooges' 'Cock in my Pocket'.  
2015: The Fall – Lunar Festival, Tanworth-in-Arden, 5th June
Another year, another festival, another appearance from The Fall. This time The Fall were on mid-afternoon and Mark E. Smith was at his most cantankerous, knob-twiddling best. He seemed to spend most of the set skulking around at the back of the stage adjusting various volume controls on the amps, though he did come forward occasionally to spit out some songs – mostly from what would turn out to be The Fall's penultimate studio album, Sub-Lingual Tablet – and fire off the occasional volley of industrial language. When it was gently pointed out to him that this was a family-friendly festival, MES immediately responded by barking "and you can fuck off too" to a bunch of poor unsuspecting kids who were stood down near the front.
2016: Terry Reid – Springhill Bar, Portrush, Northern Ireland, 8th May
This show was made even more special for me by virtue of location and it being a reunion with four of the lads I had grown up with back home in East Kilbride in the '70s. One of that number now lives in Belfast. We met him there and he drove us up, via the Giant's Causeway, to the seaside resort of Portrush on the north coast of County Antrim. The gig was held in a busy public bar in the town and the locals were already in party mode by early evening.
Terry Reid who famously turned down the lead vocalist gigs for both Led Zeppelin and Deep Purple is a man who is no stranger to drink himself. By the time we got to the venue he had clearly already had a few "looseners". As the evening progressed the levels of inebriation on and off the stage increased and as can be seen in my video below, you could hardly hear Terry sing over the cacophony of noise that was going on in the background.
2017: Nick Cave and the Bad Seeds – PalaLottomatica, Rome, Italy, 8th November
Of the many times that I have seen Nick Cave and the Bad Seeds, both before and since, this show still comfortably remains the best. It also ranks highly in my top ten gigs of all time. On the band's then Skeleton Tree tour, it is firmly located in my memory by both time and place. Here is my then review of the show: 
2018: Aidan Moffat & RM Hubbert – The Crescent, York, 1st November
What The Night Bestows Us is a live album from Aidan Moffat & RM Hubbert recorded on a 5-date tour of England in November 2018 and released the following April. I was at the York gig on this tour and it was great – Aidan and Hubby gigs always were – but what makes this particular show even more notable for me is that I took a few photographs at it and some of these shots were then used on the cover of this album.
2019: James Chance and Die Contortions – Brudenell Social Club, Leeds, 14th March
A really poignant occasion. This was third and, in all likelihood, very sadly the last time that I would ever see James Chance in concert.  He was one of the unquestionable leaders of the Funk/Punk/Jazz/No Wave movements that had begun in New York City in the late 1970s with his groundbreaking groups The Contortions and James White and the Blacks. But despite this show still holding much innovative and unconventional appeal (see review below), something didn't feel quite right. James Chance didn't appear to have too much petrol left in the tank and it came as no surprise to hear that within months he had had to cut short his then European tour due to a sudden health crisis and has never performed since.  Now 70 years of age, he is in constant pain and no longer mobile and an ongoing gofundme campaign covers his medical and living expenses.  It is a very sad end to have befallen one of the greatest and most unique live performers I have ever had the privilege of seeing.
2020: The Jesus and Mary Chain – Rockaway Beach Festival, Butlin's, Bognor Regis, 11th January
Little did we know this at the time but within a matter of weeks the coronavirus pandemic would be upon us, we would find ourselves living in lockdown conditions, and the live music industry would be severely decimated. This was the last major music festival to take place in this country before any of this happened and The Jesus and Mary Chain were one of the event's headliners.
But what sticks most in my memory from that occasion was meeting both William and James Reid from the band at a signing event beforehand. William, in particular, had sat behind a table with a look of total boredom on his face as wave after wave of (mostly) elderly chaps filed by getting some sort of JAMC memorabilia signed and/or their photo taken with the brothers. When it came to my turn I said to William "I'm from East Kilbride" ( we all come from the same Scottish town). His face suddenly lit up. "Ur ye? Where did ye drink?" he asked (the standard first question asked of Scotsmen by other Scotsmen when meeting outside their home country). "The Monty", I replied (referring to the Montgomery Arms in the town's old village). "Did ye used tae go intae Archie's?", he enquired, speaking about the off licence opposite the Monty. "Aye", I said. And that was the sum total of my conversation with William Reid. But it was all rather thrilling in a very peculiar sort of way.
2021: Songs Under Skies: Nadedja + Kell Chambers – National Centre for Early Music, York, 6th June
As we began to slowly emerge from lockdown and the various restrictive conditions thereof, live music began to cough and splutter its way back into life. This was the first concert I had been to in almost seven months. It was the longest such absence I had had from live music in 30 years. Open air and subject to strictly enforced social distancing requirements, it was nonetheless a musical event and for that to have taken place at all in the prevailing circumstances we are indebted to the combined efforts of York's National Centre for Early Music and local live music promoters The Fulford Arms, The Crescent Community Venue, and Please Please You.  It all felt incredibly liberating and life-affirming.
2022: Doune The Rabbit Hole Festival, Cardross, Stirlingshire, Scotland, 17th July
A personal milestone of an event, Doune The Rabbit Hole marked the 50th anniversary of my first ever music festival, the Great Western Express in Grangemouth. What made it even more special was that both events were held in my native country and on each occasion I went with my oldest friend, Dave. It felt incredibly significant that we could share this experience together. Read my review of both festivals that were separated by 30 miles and half a century.
2023: Pretenders – KITE Festival, Oxfordshire, 11th June
As if with almost perfect symmetry and just like Beacons ten years previous, KITE Festival was beset by meteorological problems. The heavens opened on the final day and the Pretenders were sent scurrying for cover mid-set. But unlike The Fall a decade beforehand they were unable to return such was the deluge that descended upon Kirtlington Park that evening. Which was a real shame as they were right in the groove, rattling through a series of their classics from 'Message of Love' to 'Stop Your Sobbing' by way of 'Kid' and Chrissie Hynde's voice had never sounded so good.
Here's to another 20 years of God Is In The TV and, hopefully, many more memorable live music experiences to come.
Photos: Simon Godley