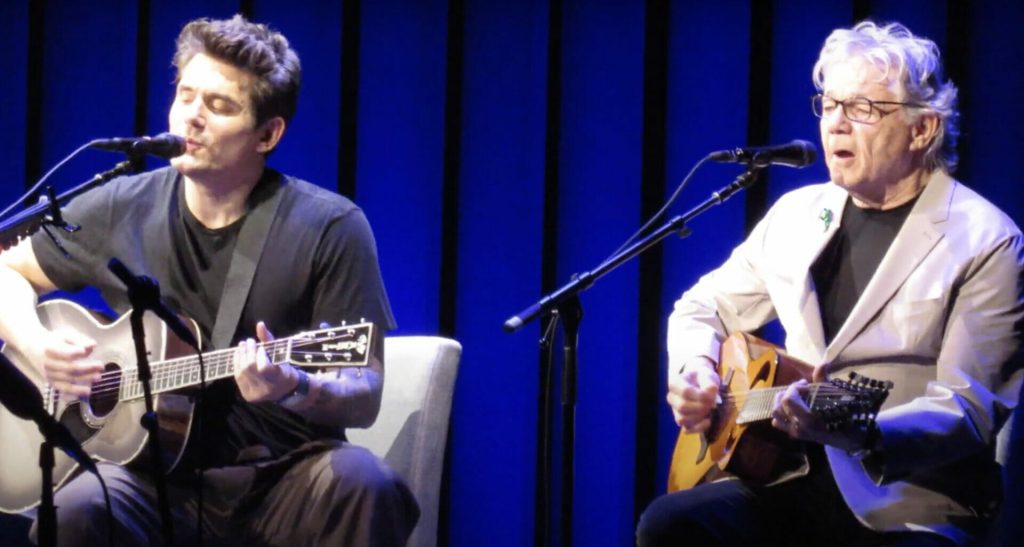 Watch: Steve Miller Joins John Mayer at MSG for "The Joker" Cover
Hana Gustafson on October 4, 2023
Last night, John Mayer continued his Solo Acoustic tour with the first of two nights on stage at New York's Madison Square Garden. During the Oct. 3 performance, the headliner welcomed the Rock Hall of Fame inductee and celebrated musician Steve Miller, who led his host through the 1973 rock anthem, "The Joker." Watch. 
As expected on the current tour, Mayer broke the evening into different musical segments, starting with 11 songs on acoustic guitar before moving over to the piano for two tunes–one of which, "Changing,"  received an electric guitar outro. Upon the artist's return to acoustic, he dipped into "Stop This Train" fixed with a "Homeward Bound" outro, prior to fan favorites, such as "Slow Dancing in a Burning Room" and others, leading into the collaboration. 
Upon Miller's arrival on stage, the musician was fitted and positioned for the impending pairing on the Billboard Hot 100 single (1974). From the first recognizable guitar strums from both artists, it was clear what path the musicians were taking: one of nostalgia and classic rock flavor. As seen in the video, Miller took the lyrical lead on his tune, with Mayer serving as instrumental support and adding harmonies during the chorus. 
Throughout the entirety of the cover, the Madison Square Garden audience sang the lyrics back to the musicians, emphasizing all the right lines to the amusement and pleasure of the song's creator. While Mayer and Miller hadn't played the track as a duo prior to Tuesday night, they did team up, along with a plethora of other artists, at a 2018 concert honoring Dick Boak (Martin Guitars). 
Watch last night's "The Joker" collaboration below.