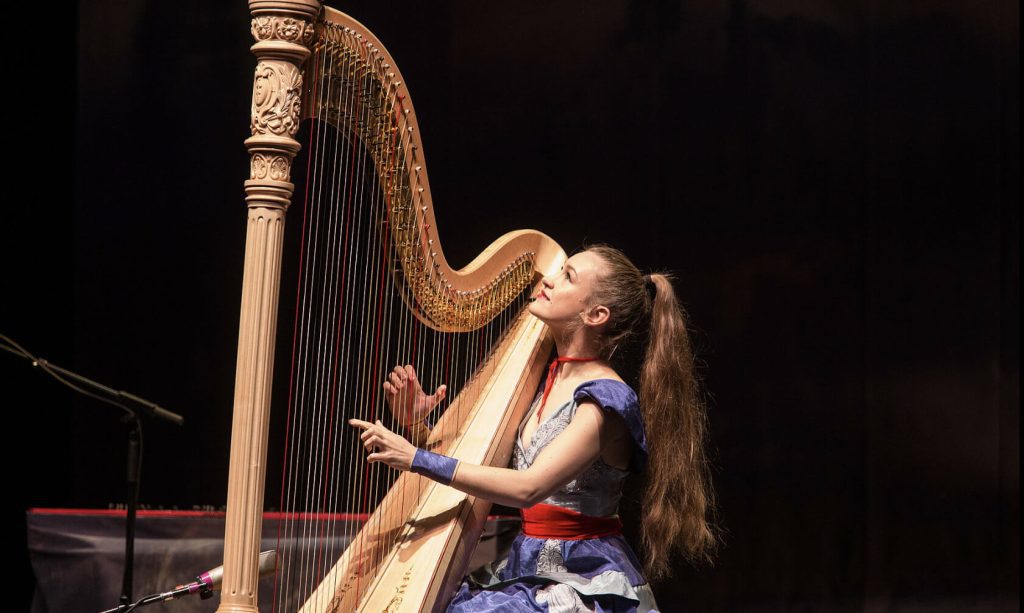 Last night, American singer-songwriter Joanna Newsom performed her first live show since 2020 when she served as the unannounced opening act for Fleet Foxes at the Belasco in Los Angeles. During her appearance, the Robin Pecknold designated "high priestess of acoustic music," performed seven songs – five of which were never before heard.
The previously released material shared during her return to the stage included renditions of her 12-verse epic released in 2010, "Go Long," and a yearning performance of 2006's "Sawdust & Diamonds." The five other tracks were new and performed live for the first time during the opening act, according to fans on social media. Newsom posted a setlist on her Instagram story with new song titles, including "Bombs are Whistling," "Marie at the Mill," "Little Hand," "The Air Again," and "No Wonder."
Further along in the night, during Fleet Foxes' headlining performance, she took to the stage once again to duet with Pecknold over "Blue Spotted Tail" and the full band on a cover of her song "Good Intentions Paving Company."
The last material Newsom released, the LP Divers, came out in 2015. Before the pandemic in 2019, she performed in New York, Chicago, Philadelphia and Milwaukee, which marked her first live shows since 2016.
Read more about Fleet Foxes' ongoing tour in support of their album Shore here.
Watch fan-captured videos of Newsom below.
Joanna Newsom is playing "Good Intentions Paving Co" WITH Fleet Foxes. pic.twitter.com/c9z9mfNCQf

— Wet Wipe Buffoonicorn (@buffoonicorn) March 23, 2023