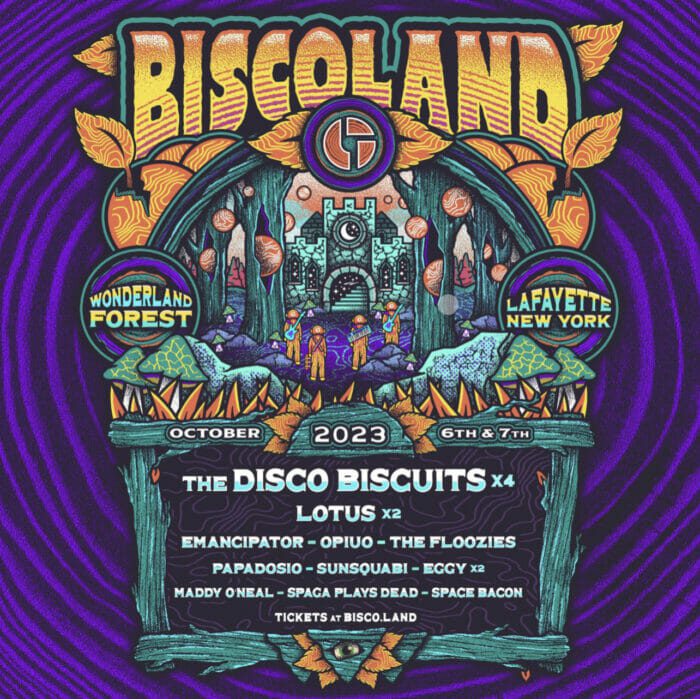 The pioneering trance-fusion band, The Disco Biscuits, have unveiled exciting plans for a brand new two-day festival-style BISCOLAND. Taking place on Oct. 6 and 7, the jubilee will be held at the otherworldly Wonderland Forest in Lafayette, N.Y. The new event space, campground, and concert venue nestled in the rolling hills of Central New York's Apple Valley will set the stage for a weekend of unforgettable music and community.
BISCOLAND marks a fresh chapter for The Disco Biscuits as they bring their signature sound and energetic performances to this carefully curated festival experience, which follows the lifelong memories of events they've curated in the past, including many Camp Biscos and, more recently City Bisco. The gathering's website describes the location as a space where concert-goers can "create new connections through a love of music and nature in a pristine landscape of lush forests, spectacular waterfalls, and glorious vistas."
The news of BISCOLAND comes hot off the heels of the band's captivating three-night run in the woods of Montana, which included incredible long-form, improvisational performances and tender sense of community for fans. Read more about the celebrations here.
The Disco Biscuits' Marc Brownstein expressed his enthusiasm for the upcoming event, stating, "2 nights in central New York with our Biscuits family, a carefully curated lineup, a blank canvas, a new beginning – that is a dream for the band and our community."
The inaugural lineup for BISCOLAND features an array of long-time friends and collaborators from the jam, jamtronica, and electronic music scenes. Performances include four sets by The Disco Biscuits, two sets by Lotus, along with an impressive roster of artists, including Emancipator, Papadosio, Opiuo, Sunsquabi, The Floozies, Eggy (who will perform two sets), Maddy O'Neal, Space Bacon, and a special Spaga Plays Dead set featuring Aron Magner of The Disco Biscuits.
Music enthusiasts will have the opportunity to secure their spots at BISCOLAND with the Early Bird GA and VIP Weekend Packages. In addition to access to the festival, camping passes and various transportation options such as RV parking and shuttle services will also be available. Tickets and passes will go on sale starting Friday, July 14, at 10 a.m. ET, and can be purchased at Bisco.land.
Learn more and find tickets to BISCOLAND here.