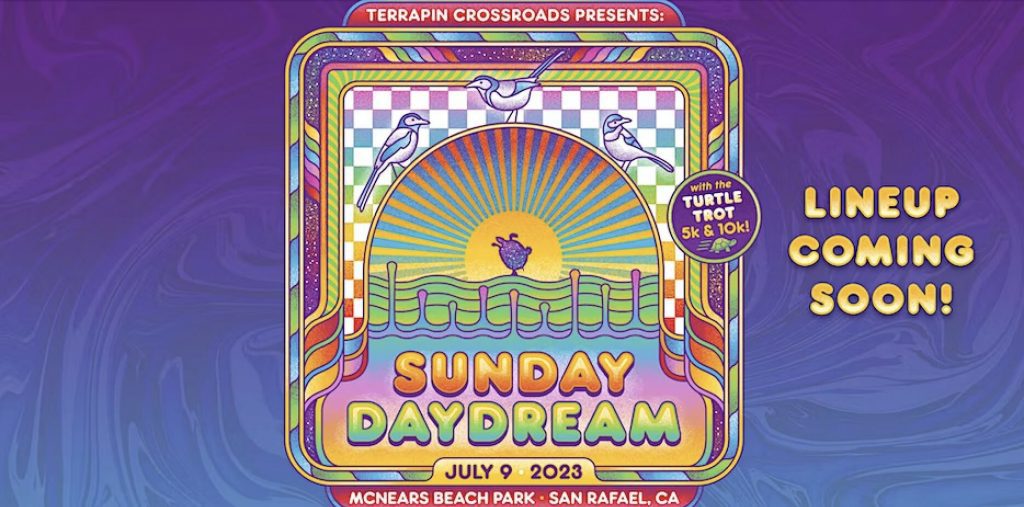 On July 9, Terrapin Crossroads will present its inaugural, Sunday Daydream event. The one-day music festival is scheduled to take place at McNears Beach Park in San Rafael, Calif., and will include a Turtle Trot, comprised of 5K, 10K, and kids run. 
The aforementioned race will be followed by Sunday Daydream proper, a festival of exceptional live music, amazing food, local beers, and much more. A full lineup, including three sets of music from favored Terrapin Crossroads musicians, will be announced shortly. 
In a post shared by Grahame Lesh, son of acclaimed Grateful Dead bassist, Phil Lesh, he wrote: "The love that our Terrapin community sustained since the OG location closed almost 18 months ago helped make our launch day more of a success than I could ever have hoped for – trust me, this event is going to be truly one for the ages."
The Midnight North bandmember went on to add, "And based on your response, there will definitely be more [love] now that we know you're all coming it's our job to make it the best Terrapin-style experience possible for all of you, and I can't wait to get down to work doing just that!" 
Grahame Lesh concluded his statement via Instagram, stating, "And! We're gonna include a 5k & 10k race, and I'm 100% gonna run it. We're definitely gonna have some sort of "beat the band" or "run faster than Grahame" prize TBD, so I'll see y'all in the China Camp/Tam Watershed hills to train."
Terrapin Crossroads, the live music venue, bar and restaurant was founded by Phil Lesh and opened its doors in 2011. The San Rafael space was known for bringing together Bay Area musicians for superlative jams and memorable musical moments, up until it closed its doors in  2021. 
As a continuation of its mission to garner special improvised scenes steeped in rhythm, the folks behind the aforementioned Terrapin Crossroads have launched a one-day music festival to elongate its connection to the community, fans and more. 
While the artist lineup for the inaugural  Sunday Daydream event has not been released, those interested in purchasing a ticket to the mid-summer gathering can do so by following this link.