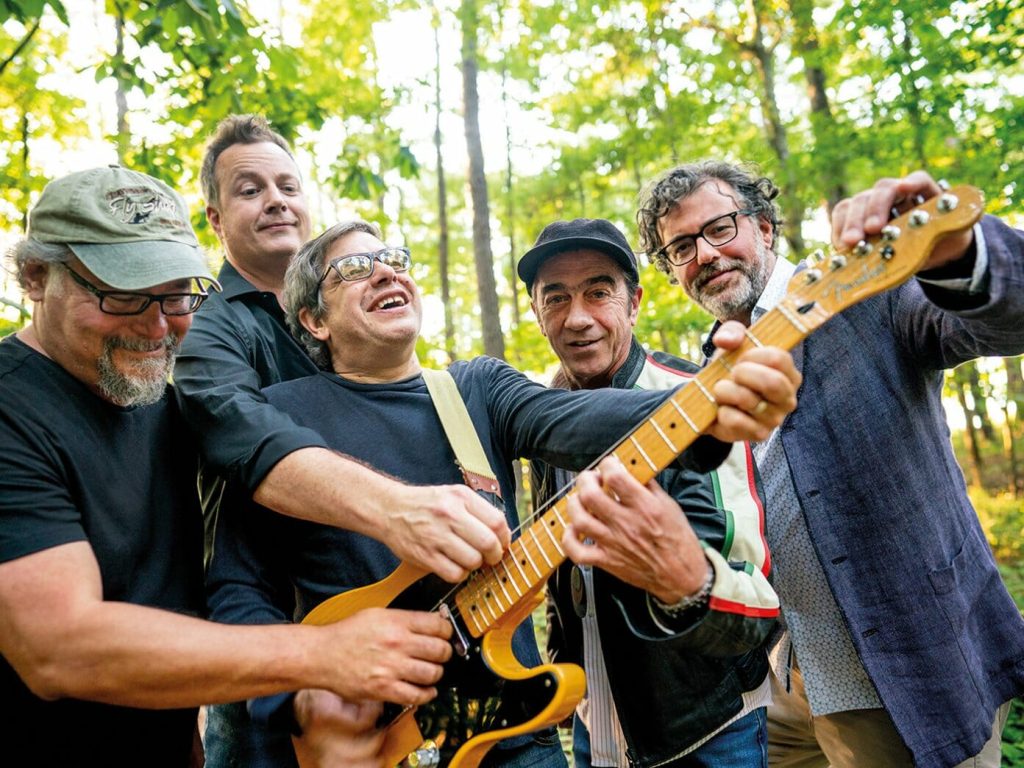 credit: Thrasher Photo
***
 "I've been playing drums since the age of 9. I'm at a point in my life where my priorities have shifted. I loved my 17 years with R.E.M., but I'm ready to move to a different phase of my life," Bill Berry said in a 1997 statement announcing his departure from the Athens, Ga., alt-rock outfit. News of the drummer's withdrawal arrived two years after he suffered from a brain aneurysm that occurred while onstage at the Patinoire Auditorium in Lausanne, Switzerland.
In the years that followed Berry's self-appointed "retirement," he sporadically dipped his toes back into the music scene: He appeared on a Tourette Syndrome Charity album, Welcome Champions, took the stage in Winterville, Ga., as part of Mayor Ferrelle and the Councilmen during a long-forgotten election cycle, jammed with Widespread Panic at Athens' Classic Center and participated in a few partial R.E.M. reunions. Then, Berry decided to join The Bad Ends.
That outfit is led by Mike Mantione, the frontman of Athens mainstays Five Eight. The Bad Ends also includes Dave Domizi, who added upright bass to Five Eight's 1991 cut "Hurt You," Curly Maple's Christian Lopez—who takes the group's music past the cosmos with otherworldly reverberations plucks on mandolin, banjo and guitar—and Josh Joplin Group multi-instrumentalist Geoff Melkonian, who had a hand in producing Five Eight's self-titled 2004 collection, which they all fittingly refer to as "The Black Album." (The nickname is a play on the LP's inky art.)
"Dave, Christian and I had become friends through our kids," Mantione explains. "We were hanging out by the pool, and I was showing them some songs I'd written for some pretty amazing people who had committed suicide in Athens. I played the songs; they loved them. It was in the back of my mind that I was going to try and do something with this group of tunes. And then one day, I was walking down the street, and Bill was there.
"We were talking, and I said, 'Dude, are you doing anything?' And he was like, 'No, Mikey, I'm retired now,'" Mantione continues. "And I responded, 'Would you consider playing on a couple of songs I've got? I think you might like them.' He said, 'I can't say yes.' So I actually sent him a video that Christian had made for one of the songs. It was 'Little Black Cloud.' And he loved it and called me up immediately and said, 'Let's do something.'"
"He asked for help making his solo record, and I liked what I heard when he played rough versions of what he had," Berry adds. "The other musicians had already been working on Mike's songs by the time I showed up for the first rehearsal."
Mantione goes on to explain, "In 2017, my mom made a spaghetti and meatball dinner, and we all ate together after a really great practice. And as everybody was leaving, Bill was like, 'I think I'm in a band again, guys!'"
Fast forward four-plus years and the musicians have now released their debut, The Power and The Glory—a nine-track assemblage of blazing drum solos and soaring guitar riffs harnessed to Mantione's raw and often cutting lyrics.
At times, the new collection bears a resemblance to both R.E.M. and another Athens institution, Neutral Milk Hotel. "I must confess that I did channel the song 'Harborcoat' for the intro to 'Mile Marker 29.' The fact that it was sequenced first on the record makes it a little more obvious. Whoops, but at least I was plagiarizing myself," Berry says of the forgotten 1984 R.E.M. song that he nods to on The Bad Ends' album opener.
"Mile Marker 29" is a distinguished starting point. Berry's steady beat powers the cut, building alongside a few slashing chords and Mantione's inviting introductory: "Pick up the phone and call me/ Meet me underneath the stars that shine/ Through the blinding daylight/ On mile marker twenty nine." However, the track is still rather soft compared to its morbid follow-up, "All Your Friends Are Dying," which pays homage to Big Star's Alex Chilton and other gone, but certainly not forgotten, musicians.
On "Ode to Jose," the callouts continue. "[That one] was a composition that arrived in my head while plucking random guitar strings to check its tuning," says Berry who, in addition to his trademark drums, proves his abilities on guitar, electric sitar and a variety of other instruments throughout The Power and The Glory. "The song wrote itself quickly. Its title alludes to a great friend and master chef, Jose Zambrano who operates a fab restaurant 10 minutes from my home. It's an instrumental so I could name it anything I wanted. It's my nod to Jose for keeping me so well-sustained for years."
Mantione then adds with a laugh: "I tried to write lyrics for it, but Berry was like, 'There are enough words on this album.'"
The lone instrumental arrives before Mantione's wailing "The Ballad of Satan's Bride," which, he says, "was cut after about 20,000 takes."
He says, "I just went over the top with it. It's completely bombastic and pretentious. And I'm not afraid to go off the cliff. And that song pretty much goes off the cliff."
Berry adds that it is his favorite number on The Power and The Glory. "We pulled it off nimbly, despite our age," he says.
Meanwhile, the LP's final track, "New York Murder Suicide," is a haunting send-off that conjures some pretty stirring imagery with its lyrics: "In a New York murder suicide/ And you can lay smiling/ By my side my dear."
"The first notes are Bill strumming and the last note is his whistle," Mantione says, when asked about the album's blood-curdling conclusion.
While this group of alt-rock stalwarts is eager to take their tunes on the road, don't expect to catch Berry onstage. "Bill doesn't like to travel. He's not really interested in that anymore," Mantione says when asked about what's next for The Bad Ends. And while that answer might not be what R.E.M. fans are looking for, they can find solace knowing that Berry is both back in the studio and behind the kit.
As he says, "I enjoyed, for the first time in my life, the civilized convenience of preparing for and producing a record without having to leave the comforts of my hometown."